Aquatop PF40-UV Hang-On Back Aquarium UV Sterilizer Power Filter, 40-gal
Temporarily Out of Stock
Get notified when this item is back in stock.
Compare Similar Items
| | | | | | |
| --- | --- | --- | --- | --- | --- |
| | | | | | |
| Customer Rating | | | | | |
| Price | | | | | |
| Fish Type | Tropical Freshwater, Marine Fish | Tropical Freshwater, Marine Fish | Tropical Freshwater, Betta, Bottom Feeder, Cichlid, Goldfish | Tropical Freshwater, Marine Fish | Tropical Freshwater, Betta, Cichlid, Goldfish, Marine Fish |
| Aquarium Type | Freshwater, Saltwater | Freshwater, Saltwater | Freshwater, Saltwater | Freshwater, Saltwater | Freshwater, Saltwater |
| Material | Plastic, Glass, Silicone | Plastic | Plastic | Plastic | Plastic |
| Features | N/A | N/A | — | N/A | N/A |
---
About This Item
Hang-on-back aquarium filter includes surface skimmer and built-in UV sterilizer.
Keeps the water clean, clear and helps eliminate unwanted algae blooms and free-floating parasites.
UV sterilizer needs no extra plumbing so it's easy to set up with no additional hardware.
Available from 64 -128 gallons/hour filtering capacity with adjustable flow rate, and comes equipped for mechanical and chemical filtration.
Great for marine or freshwater aquariums up to 40 gallons, and fits on aquarium rims up to 3/4-inch thickness.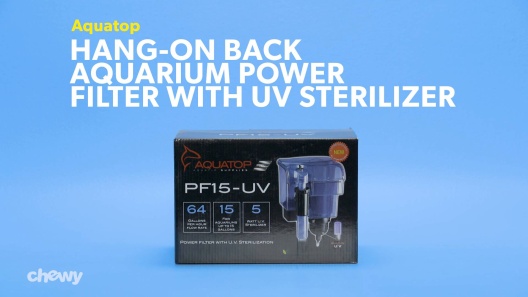 Learn More About Aquatop From Our Team of Experts
---
---
Questions & Answers
18 Customer Questions
---
Will this UV light kill the good nitrogen-fixing bacterium?
Answer by • Mar 30, 2018
This product helps eliminate unwanted algae blooms, free-floating parasites, and disease pathogens.
---
Is this safe to use with an aquarium full of freshwater plants? Will I need to use some kind of shield or block to protect the plants from the light? Since it kills algae?
Answer by • Apr 21, 2018
This filter is intended for marine fish, tropical freshwater, and marine invertebrate. The plants won't need protection because the filter will only kill the bad elements in the tank.
---
how long do you suggest leaving the UV light on per day ?
Answer by • Jul 23, 2019
There is currently no designated amount of time that the UV light should stay on. However, it should not be used when first cycling the aquarium, as it may kill beneficial bacteria before they attach to the bio-media or gravel.
---
what filters do I buy to keep this running
Answer by • Jun 15, 2022
The "Aquatop Hang-On Back Aquarium Power Filter Replacement Carbon Cartridge" are compatible with this filter.
---
---
---
By Matt on Sep 18, 2021
tremendous!!
bought this as a birthday present for my wife ... she tinkered with it all day while i was at work, and when i got back, the tank was completely clear ... this usually only happens just after the regular filters are changed, and that only lasts for a short while, but this time it's permanent ... what a treat to see the fish and not the funk ... couldn't be happier
---
By TotalZero on Oct 10, 2021
This is a total zero
Constantly stops working. Constantly leaks. Overpriced junk. Sadly I did not take it out of its box and put it together before the return window.
---
By Kayla27 on Jul 14, 2021
doesn't work
Purchased this filter for my 25 gal tank and it did not work at all, the tank was filthy the next day. Took all proper precautions during assembly, and had a very hard time getting the filter to even suction any water. If there is anyone at chewy who could help me refund this item I would really appreciate it.
---
By Jlinny on Mar 5, 2021
Worth the investment
I cannot recommend this highly enough. I had struggled with our aquarium for months and no amount of vacuuming/water changes/etc. could touch the green water. Finally, I gave in and spent the money on this in hopes that the UV light would help. In the matter of a few days, it went from not being able to see more than 3 - 4" into the water to crystal clear. Setup was extremely easy. Best advice I can give is if you are trying to fix really green water, slow the intake (very easy with the black dial) and rinse the filter once or twice a day until the water clears. It will get gummed up and slow the amount of water that goes by the uv light and more that will just spill back into the aquarium.
---
By Mark on Jul 23, 2021
UV light hob filter
Terrific product really satisfied with my purchase Awesome filter Fast delivery!
---
By Kristen on Jan 15, 2021
Wonder filter
Ordered this because battled algae blooms for over a year. Numerous chemicals used, polishing pads and filter media, even removed fish twice and broke down tank for cleaning. I have kept fresh and saltwater fish for 40 years with tanks over 500 gallons and never had this happen. Started Aquatop uv filter on 55 gallon tank (made for 40 gallons) and after 4 days tank is crystal. GREATEST filter ever. Had to tighten the motor to stop leaking but other than that, no problems. Going to put them on all my tanks. Soooo Happy.
---
By Somebody on Feb 28, 2021
Keep Shopping
I've had this 6 days. Set it up and never touched it again. Noticed this morning it's stopped pumping water. The cheap plastic seems to be leaking air, preventing it from sucking water in.
---
By sgrammer on Oct 29, 2020
Waste of money!!!
Worst HOB filter i have used...bought a Penguin Biowheel to try replace with.
---
By JenR on May 31, 2020
Baby Fish Warning
Please be aware that not only will you need a sponge on filter intake tube; you will also need one on the return as a baffle and this product also has a surface skimmer which can suck your babies into the impeller. Heart Broken. You must pull the skimmer up to the top of the intake tube until it snugs to deactivate it. This filter is very powerful and the overflow overflows even when you turn it down to almost closed. It's supposed to be an aquarium not a washing machine.
---
By fishman6 on Sep 20, 2020
it's broke man
Ok I haven't had this filter for very long and the pump part is about to explode.
---