Cat Mate Lockable Cat Flap, White
Frequently Bought Together
---
About This Item
The 2-way locking cat flap offers peace of mind and security.
Designed with a silent feature, so it doesn't scare your pet or disturb you.
A built-in brush strip and magnetic closure help protect your home from the elements.
The transparent flap is made from tough polymer and gives your kitty visibility.
Available in two colors so you can find the right fit for your home.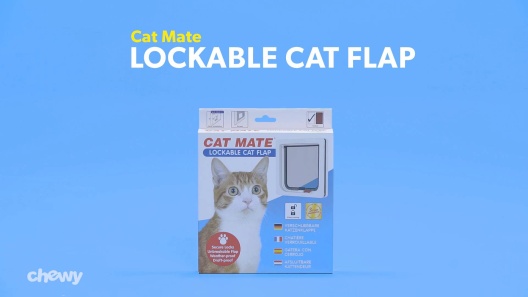 Learn More About Cat Mate From Our Team of Experts
Get Cat Mate's Wall Liner for easy wall installation.
---
---
Questions & Answers
18 Customer Questions
---
Are there screws that connect the front to the back panels of the door? Or, are the two halves held on to the door with two sided tape? I want a door in which the screws will hold the frame together. Thank you!
Answer by • Aug 06, 2018
This cat flap uses screws to hold in place.
---
This act door will be used for my rabbits to go from their inside to outside cages. Will this door hold up?
Answer by • Feb 18, 2018
The door is intended for cats but should hold up to rabbits.
---
Is it possible to take off the flap? I'm using this for access to a litter box cabinet, and I don't want my cat to have to work to get to it.
Answer by • Oct 06, 2020
The swinging flap does not need to be installed, if preferred.
---
Can this be locked from the outside in?
Answer by • May 10, 2022
This pet door features a 2-way lock that controls when your cat leaves. It can be set to fully lock (no exit or entry) or partially lock so that a pet may enter but not exit.
---
---
---
By nikki on Sep 23, 2022
Screws too tight, magnet too strong
The screws were very hard to screw in and so I stripped most of them. The magnet was too strong for my 5 lb kitties and so I used a knife to pry it out. Don't recommend that. I'm making it work but, they seemed like the wrong screws. I installed it on a screen door btw so the screws were going into the plastic door only.
---
By Barb on Jul 3, 2022
BYO screws
This cat door is great and easy to install (plus, the price is right!) BUT the screws provided are not big enough for standard exterior door. So while you wait for it to ship, measure your door and run by the hardware store for screws that will go all the way through. That will save you heartache when you have to install it.
---
By pokealong on Jul 5, 2022
A perfect solution
I installed this door in a piece of plywood I'd cut to fit in a front window. Now the cat can go back and forth between the living room and the screened-in front porch without help from me. Yay! Freedom for both of us.
---
By kitty11 on May 8, 2022
Worst door ever
Ive installed two other brands of cat doors on exterior doors. This door hasn't a wide enough sleeve in the middle to cover the inside foam core of an exterior door. I had to make one out of aluminum myself. The kit only has for screws when there's eight holes. This kit is garbage.
---
By Loran on Jun 9, 2022
Designed for Screen or Panel 1/2" Thick or Less
Great product for screen or 1/2" thick or less panel. If you need a cat flap for a door up to 2" thick you"ll want to purchase the Cat Mate 4-Way-Locking Cat Flap with Door Liner.
---
By Vonn on Mar 15, 2022
Great Service
The quick response to my order of a cat door was a surprise. I needed the door for 5 cats and all can go through it even the fat old lady. Order with confidence from Chewy as I did.
---
By 3littlepigs on Dec 12, 2021
Needs longer screws
The screws this kitty door comes with are so short the kitty door could literally only be put on a piece of paper. Lucky my husband is hand and a bit of a hoarder when it comes to parts so he found some some extra long screws. Other then that it's a great door!
---
By Ditto on Oct 15, 2021
Easy, convenient & handy
The store was so easy to install I couldn't believe it! I installed it on my sliding screen door and it took only five minutes. I did take a few times of helping kitty push the door open with her head until she understood but now she's going in and out on her own and it's made my life so much easier!
---
By molino on Dec 23, 2021
Great cat door
Good product at a great price and relatively easy to install.
---
By HaveFourFurBabies on Jun 18, 2021
Maybe it's bigger on the inside?
I'm more annoyed with myself for not paying attention to the dimensions when I ordered this. I have no idea what critter this door flap is actually intended for. It's not adult cats. Maybe kittens but . . . why? Maybe ferets? I suppose a toy poodle could fit through it. Otherwise, it's very small. I keep trying to convince my cats to squeeze through it but they're not having it. I'll need to order another and pay better attention next time. That said, this should even be on the market. It is too small even for the smallest cat. I also think that should have been made more plain.
---