Comfort Zone Spray & Scratch Control Calming Spray for Cats
Autoship
(Save an extra 5%)
Choose Autoship at checkout for regular deliveries.
Why Autoship?
FREE access to chat with licensed vets 7 days a week.
Save 5% on all future Autoship orders.
No fees, no commitments - cancel Autoship anytime.
---
About This Item
Odorless, drug-free formula mimics natural cat pheromones that signal a safe environment they can relax in.
Spray formula helps cats feel more calm and relaxed to help reduce stress-related behaviors.
Clinically proven to help reduce stress-related urine marking and scratching, and is great for vet visits, moving, introducing new pets or when traveling.
Odor-less formula can be sprayed on furniture, doors and other areas prone to urine marking and scratching, as well as on beds, scratchers and other kitty favorites.
Won't affect any other pets so you can use it around dogs and anywhere in your home, and doesn't leave any scent behind.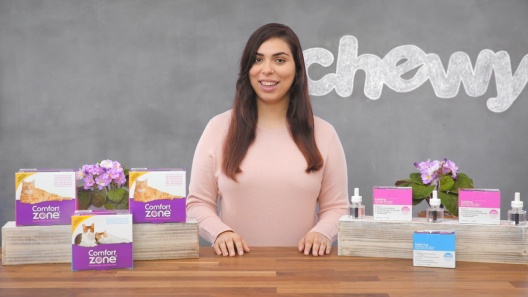 Learn More About Comfort Zone From Our Team of Experts
---
Compare Similar Items
| | | | | | |
| --- | --- | --- | --- | --- | --- |
| | | | | | |
| Customer Rating | | | — | | |
| Price | | | | | |
| Autoship | | — | | | |
| Top Ingredients | N/A | N/A | Purified Water, Special Proprietary Blend of Fragrance Extracts (Simulated Feline Pheromones) Sodium Lauryl Sulfate, Rosemary Oil... | N/A | Special Proprietary Blend of Fragrance Extracts (Simulated Feline Pheromones), Sodium Lauryl Sulfate (1.8%), Rosemary Oil (0.8%)... |
| Lifestage | Adult, Kitten | Adult | Adult | Adult | Adult |
| Closure Type | N/A | N/A | N/A | N/A | N/A |
| Health Feature | Calming | Calming | Calming | Calming | Calming |
---
Questions & Answers
12 Customer Questions
---
If I spray it too closely to an area and her paw gets some of this on her, is it safe if she licks her paw?
Answer by • Feb 21, 2019
It's safe if your pet licks their paw and the spray is on it. This calming spray contains 15% Analogue of Feline Pheromone, and 85% Diethylene Glycol Monoethyl Ether.
---
What is the difference between the classic and the multi-car formulas?
Answer by • Sep 17, 2019
The calming formula is better for pet owners calming a cat with spraying or scratching issues, while the multicat formula helps eliminate conflict and tension among cats.
---
Are any of your sprays completely odorless? I am allergic to fragrance? How about the diffuser?
Answer by • Aug 09, 2019
This feline spray is odorless, drug-free, and only contains two ingredients: Analogue of Feline Pheramone 15% and Diethylene Glycol Monoethyl Ether 85%.
---
Can I spray it on the cat's collar ?
Answer by • Feb 28, 2020
This calming spray has been tested on many common household fabrics and surfaces, and found no evidence of staining. Spray a small area first before applying a lot of product to be sure.
---
---
---
By Dedaugh on May 12, 2022
Pleasant Surprise
I have an 18 year old cat that went blind recently. He keeps me awake all night with his roaming & meowing. He just never settles down or sleeps very much. I ran across a bottle of Comfort Zone in my closet that I purchased a year ago & thought I would give it a try even tho it indicated it was for reducing scratching & marking of furniture/carpet. It was the first night in 2 months that I got uninterrupted sleep and thus far for the past several nights. He's constantly pacing during the day wanting outside. I take him out in the backyard several times during the day & keep an eye on him so he gets fresh air & calms down but he hasn't been begging to get out when I use the Comfort Zone during the day. I just ordered 2 spray bottles & may get the plug in with hopes this will continue.
---
By miranda on May 14, 2022
Damaged my wood floor
I sprayed a couch and curtains with this product, the smell is awful - don't know how to describe it but it is nauseating and has not gone after 3 days. Where it touched the floor beneath the couch I didn't notice until today it has caused the finish on the wood to bubble, crack, and peel. I am so upset and frustrated. Especially after reading the questions in which they explicitly say it is safe for use on wood.
---
By Ellie on May 1, 2022
wonderfully surprised!
I hate to say I was surprised that this works, but I really wasn't sure about spray pheromones ;) we have a new rug that our cats were pulling the threads up in a big way ~~ I have not noticed any new pulls since I sprayed this product on that rug a few times. My one cat does not like to be in the room when I am spraying it, so I don't know how calming it is. But if it keeps him from tearing up the rug, I'm a fan.
---
By Pagemaster216 on May 7, 2022
Worked great at first
I bought this as my cat seemed to think my box spring was her own personal scratch post/ jungle gym. Worked great for months but I had to re-apply which I figured would happen after a while but it seems to have been less effective second time around and I had to apply even more for it to be effective again.
---
By NCNana on May 16, 2022
Very effective at stopping bad behavior
I have 2 cats that love to claw my furniture even though they have scratchers around the house. They had shredded one chair in particular & we recently had it reupholstered & wanted to preserve it. I read an article rating various anti-scratch sprays & this one was highly rated for effectiveness so I tried it. I agree it is very effective. It seems to have stopped my cats from scratching a chair we have. I got a new rug too & before I could stop him, one of my cats peed on my new rug. Ugh! I cleaned that up & have been spraying the rug with Comfort Zone too. My 2 cats do not get along. They have skirmishes & fight. This spray seems to have helped with that as well. They still fight but not as frequently. Comfort Zone seems to have a calming effect on them both. My complaints are that the product is somewhat high priced for the per ounce cost. Even that was noted in the "review" of various anti-scratch products. I think it might have been the most expensive of the products reviewed. Because it was rated the highest for effectiveness I decided to buy it anyway. (I don't recall the cost analysis so can't tell the per ounce cost comparison). One comment on that review I read mentioned Comfort Zone seemed to last longer than other sprays. I'm not sure how to determine that. I have used another spray mentioned in that same review & they commented it wasn't as long lasting. I did notice that with the other spray that my cats ignored the chair for a while but then went back to scratch. I sprayed Comfort Zone on the newly upholstered chair as soon as we brought it in the house & so far (3 wks later) the cats haven't scratched it. I have applied the spray about once per week just to be sure. Due to the small quantity (2.0oz) it is being used up fast. I am also misting my new rug. It could be the overall calming effect in that room that is stopping the scratching. My other complaint is the small spray bottle has a very poor quality sprayer. It is a finger plunger style rather than a trigger style. As you depress the plunger some product seems to spill over or leak down onto the top of the sprayer which wastes expensive product & wets it making it slippery, messy, and harder to hold. The plunger also seems to rotate. It isn't supposed to rotate, the hole should stay facing straight ahead. The top sprayer plunger that you depress migrates in different directions. Therefore when you aim it someplace it may have shifted a little & you are spraying off to the side rather than straight ahead. The mechanism also is poorly designed. The top plunger thing gets stuck in the down position & it takes a few seconds for it to come all the way back up so it takes longer to spray several squirts in succession. For effectiveness I rate it high. For design & function of the spray bottle I rate it low. For competitive pricing I rate it low. Since it's effective I guess it's worth it.
---
By Wolfpets on Apr 25, 2022
It actually works!
I was skeptical about this product at first, and was worried it wouldn't work at all. But in only two days my cat had completely stopped scratching on the furniture! I learned the hard way that this formula does not do well on leather... ruined the leather and now having to replace... but otherwise, this product works like magic!
---
Good for marking control
One of my male cat started marking on the furniture and wall after introduced a new kitten. I tried cat repellent spray around the areas of marking, but it didn't help too much. So I started use this Comfort Zone Spray & Scratch Control spray and calming collar. After 3 days of using these products, his marking behavior decreased significantly. Now he is on these products for over 18 days and he doesn't spray anymore. The spray bottle is cheaper than the competitor, but it still pricey to use on wide spread areas. The spray head stopped working after a while, so I needed to transferred the solution into other empty bottle. Just be careful when spraying on hardwood floor, it leaves sticky residue.
---
By Anna on Feb 15, 2022
Wonderful product
These pheromones don't work for every cat but I would recommend anyone try it because when it does work, it's amazing. I have 2 cats that don't always get along. One of them also has anxiety and over-grooms herself. I use the wall plug-in for this pheromone as well as this spray on a regular basis. I spray the areas that the cats spend most time in. I also use the spray generously throughout the house when I anticipate a stressful event (e.g. house visitors, vet visits etc). When I forget or run out of this product the behavior difference is night and day. With the pheromones the cat fights are reduced, and anxiety is reduced. I tried the "Multi cat" version of this pheromone and it actually didn't do anything. This "calming" one stops the cat fights.
---
By Pearly on Apr 28, 2022
Great calming spray
We live with 5 indoor cats - need I say more! They get a bit obnoxious first thing in the morning before their breakfast. This product seems to calm them before I can fill their food bowls.
---
By Jaime on Apr 6, 2022
Disappointing
I had high hopes for this but with in 45 minutes of spraying it on the chair our cat went on a shred fest. Got the side, got the back even rubbed all over it making it his. We are back to keeping the door closed to this room.
---