Cozy Products Flat Panel Chicken Coop Heater
Frequently Bought Together
---
About This Item
Flat-panel poultry coop heater keeps chickens warm and prevents frostbite safely and efficiently through winter.
Low wattage means lower electric bills and less risk of overheating, with 90% less energy usage than a space heater.
Uses radiant and convection heat for more complete heating, with two heat settings for customized heating and built-in thermostat.
Safety-rated zero clearance to minimize fire hazard, with easy-to-see on/off display for added peace of mind, and in-cord switch for ease of use.
Provides winter heating alternative without the need for high wattage lamps, and is easy to install in any chicken coop style or size.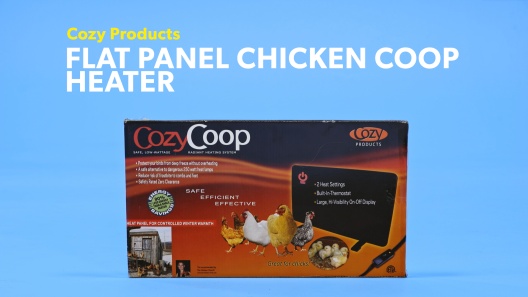 Learn More About Cozy Products From Our Team of Experts
---
Compare Similar Items
| | | | | | |
| --- | --- | --- | --- | --- | --- |
| | | | | | |
| Customer Rating | | | | | |
| Price | | | | | |
| Bird Type | Chicken | Chicken | Chicken | Chicken | Chicken |
| Material | Plastic | Plastic | Plastic | Aluminum, Metal | Wood |
| FarmAnimalType | Poultry | Poultry | Poultry | Poultry | — |
| Bed Shape | — | — | Rectangular | — | — |
| Features | — | — | Heated | — | — |
---
Questions & Answers
37 Customer Questions
---
Will the flat panel chicken coop heater start a fire if its tipped over?
Answer by Encee • Nov 01, 2021
My ladies constantly tip it over and try to purch on it. Thankfully never had a fire however I check it every day and have it on a timer. Also adding weight by securing the legs to bricks helps a lot with tipping (see photo)
---
Can this be placed in a chicken coop that contains shavings? Or should this be used away from shavings to prevent a fire hazard?
Answer by • Dec 15, 2018
This product is an ETL certified Zero-Clearance item, meaning it can be placed on or against combustible items without causing a fire hazard.
---
Can this be hung on a wall?
Answer by • Apr 19, 2018
The back of this has two holes and it comes with screws for mounting this onto a wall.
---
Would this work on new chicks that are inside?
Answer by • Jun 08, 2018
This flat-panel poultry coop heater keeps your birds warm through the winter to promote their well-being and prevent frostbite to combs and feet. It is okay to use inside a coop or your house.
---
---
---
By Charmore on May 26, 2022
Happy spoiled chickens
We have a tiny coop for our 4 hens in Colorado- we get subzero in the winters and even now in the spring it gets down to freezing and below. When they were old enough we put the plate heater in but now that they are larger one girl was bogarting the plate heater. I was concerned it would be too big, but the girls seem happy. I will be mounting it on the wall opposite their roosting bar.
---
By Prodigygirl97426 on Jan 22, 2022
Indifferent, Be cautious!!
So I bought 3 of these to keep my chickens warm in the winter, 1 for my chick brooder and 2 in my adult chicken coop. I was impressed my chickens were warm and happy, I love/loved them. Now to the issue, I don't know if one was faulty or not, but after 2 months my fiance called me while I was at school and stated there was a fire in the coop but said he put it out and the chicks were fine. Nonetheless I left and rushed home to find the fire flared up, the chickens in the far corner huddled together. I couldn't put the fire out due to the high winds that night, so I ended up having to call the fire department. All chickens are fine but he brooder needs extensive repair and it wasn't just a slapped together with whatever we had materials, it was a nice well designed, sturdy building. I'm not saying they are all faulty. I love the other 2 in the adult coop, no issues. I just want people to be cautious and test them before putting it near living animals or structures you care about.
---
By PopeFamilyFarm on Jan 25, 2022
A MUST BUY FOR CHICKEN COOPS!
We don't typically use heat in the coop at night except on the very cold nights! We tried a heating lamp and it fell and almost caught the whole coop on fire! (All chicken are safe and still alive) So we got rid of that and was very excited to find out about a zero clearance heater! We mounted it on a wall so it doesn't take up any space. The chickens stay cozy warm on the coldest nights now. The design is very clean and sleek, it looks like our chickens have a flat screen tv in the coop now haha! The picture included was when it was mounted on the wall and we were trying to move the cord to plug it in :)
---
By Heater on Jan 29, 2022
Peace of mind
I bought this heater because in Pennsylvania it gets down into single-digit cold. I have a large coop and I was concerned my chickens won't be able to generate enough heat to keep themselves warm. This heater is perfect I have it on a wall near the floor so when it's snowing or very frigid whether they have an area where they can huddle to stay warm. I am not concerned about them knocking it over because it's attached to the wall. Don't know what my electric bill will be. So I can't make a statement on that.
---
By Crystal on Jan 3, 2022
Not what I needed
I bought this to keep outside kitties warm and it barely cast any heat. We did everything we could. Mounted it to an outside wall, set up a standing bed with heating pad. Covered the whole setup with Mylar sheets and topped with blankets so there would be no wind or rain getting in it and despite all that work, it was cold on the inside. The description and some reviews claim it can be used in the open but other than plastering themselves against the panel, you cannot fee any warmth from it. Save your money and get a real heater.
---
By Lynsey on Dec 9, 2021
Heats nice and even
I wanted to make sure my chickens had a safe space to warm themselves if the temps in my area got into single or below freezing and this does the job. I like the fact that it has two heat settings high and low (I think they call it something else) and I can change it between the two depending on how cold it is. It has two options for securing by either hanging it up using the two hooks on the back or the feet. We chose to use the feet to secure it to the dog kennel I put out for them to stand on to look out their window. We used a 2 by 4 that's about12 inches long underneath the kennel's ceiling and screwed the heater in place with two construction screws thru the kennel ceiling and into the board for a very sturdy heater so it won't tip over. So far it's working perfectly and my chickens like to sit in front of it and it doesn't get too hot so I know they won't get burned. This product does exactly what I want it to do and I know my chickens are happy and comfortable with it; in fact as soon as I got in screwed into the kennel/board they immediately went to check it out. Good product, good price happy with the purchase.
---
By Donna on Feb 2, 2022
Chickens with cold feet
My chickens were cold here in Texas with the freezing weather and I didn't know what I was going to do until I went online and found a warmer plate for them on Chewy.com. I didn't know they existed! They are now cozy and warm and happy with their coop!
---
By CoCo on Dec 19, 2021
Cozy Coop flat panel heater
This heater is the only flat panel heater I'll buy. I have purchased (2) from other makers that didn't last - one less than a week (wasn't returnable), the other about a month - same deal. But Cozy Coop heaters I have had for seasons - still working! Chewy had a better than competitive price, so I have a spare. Chewy also had incredibly fast shipping - had the heater in just a few days when we really needed it - Thanks Chewy!
---
By carolei on Jan 9, 2022
So far so good
We had below freezing temperatures in Seattle for several days in a row and I was worried about my chickens who were not accustomed to weather that cold. The coop heater does a good job of taking the chill off the coop, without really heating it up. I'm happy with the heater so far.
---
By Farmer on Jan 17, 2022
Flat panel chicken coop heater
It is hot to the touch but 6 inches away not sure if it is doing anything. It might keep coop 10 degrees warmer than outside. Need more directions on placement and use. Red heat sensitive area in corner does indicate on and off.
---