Ethical Pet Can Covers, 3 pack
---
About This Item
Pack of three multi-colored plastic can covers.
Durable plastic for long-lasting coverage.
Can covers measure 3.5 inches in diameter.
Protects from spoiling and drying out after opening to stay fresh longer.
Perfectly sized to fit just about any type of pet can.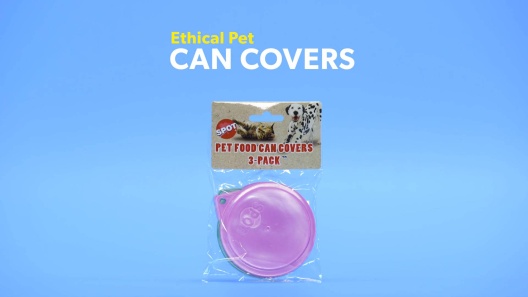 Learn More About Ethical Pet From Our Team of Experts
---
---
Questions & Answers
6 Customer Questions
---
How long will food stay good in frig. With this cap
Answer by • Dec 21, 2017
The freshness of your pet's canned food can sustain from 2-3 days with the use of the can covers.
---
Can the lids work with both sizes of can food
Answer by • Jan 28, 2021
These covers are designed to fit standard cans, with a diameter of 3.5 inches.
---
Are they dishwasher safe ?
Answer by • Oct 04, 2017
These are dishwasher safe. It's recommended that they are placed on the top shelf on a normal water temperature wash cycle as you would any plastic container.
---
Where are these made?
Answer by • Jul 13, 2018
These can covers are made in China.
---
---
---
By toypoodlemomCT on Nov 28, 2022
Great for keeping opened canned food
These securely snap on to N&D canned food and have a tight fit. Since i travel daily with my dog, these are amazing. I was using cling wrap and tin foil prior to these, and this is just a much better and more environmentally friendly solution for my needs. My pup doesnt eat much (shes 5lbs) so it's nice to have these. I've also put them in the dishwasher and they havent lost shape and hold up well. Definitely recommend if you use canned food.
---
By RitaTx on Nov 13, 2022
Pet food Can Covers
These were an economical purchase. These plastic snap on lids are a thin flexible plastic that do snap tightly & securely on the cans. Some other lids I have purchased in the past that were more rigid split or cracked after repeated use plus seemed to fit loosely after time. These lid covers work better because they are flexible & retain fitting on the can correctly eliminating spills.
---
By James on Nov 6, 2022
Can't get them to fit
Listen to the negative reviews before considering this product. You have to be the Incredible Hulk to get these to fit. By the time I was done, my hands smelled like cat food. They simply do not fit standard sized cans. I think Chewy should remove this product from their inventory. I'll try a different brand next time I place an order.
---
By Bunny on Nov 10, 2022
Difficult
These lids are very difficult to apply on cans Even after many uses could not break the secret code I fumbled endlessly and with much aggravation However once they are on they hold a good seal and wash well in dishwasher no warping stay in perfect condition
---
By DebCarDen17 on Nov 4, 2022
THEY FIT and DO NOT CRACK
These pet foot can covers are the first I have had, and I have had to replace quite a few over the years, that are flexible, heavy duty, and do not crack. Plus they are brightly colored and all around better than the ones I have had before. Two thumbs, correction, paws up.
---
By emtpjill on Dec 1, 2022
Not that great
The lid just sits on top of the can and don't lock down to make any kind of seal to keep the open can of food fresh. Luckily, wet food doesn't stick around very long in our household.
---
By Carla on Dec 4, 2022
Poor quality
They crack pretty quickly and did not fit on the can well in the first place. No, I did not put them in the dishwasher. Chewy, please carry better quality can covers.
---
By Meowzer on Oct 23, 2022
not good at all
There's a reason these are so inexpensive: they're poor quality. They are very thin, and like a cat who doesn't want to go in its carrier, put up a fight when being put on a can. I've tried multiple times, but just gave up and threw them away. Don't waste your money.
---
By Alison on Nov 14, 2022
Wish I had read the reviews…
… and measured my cat food cans. These lids do not fit my 5.5 oz cans at all. At least they aren't expensive, so I don't feel too bad about tossing them in the recycle bin.
---
By Kinsleycat517 on Oct 29, 2022
These are fairly good
They are a little work to put on our ProPlan cans, but they work! However, one tore within a couple weeks of use. The dishwasher warped another one, so I hand wash all of them now. But they do work.
---