Fluval Aquarium Power Filter
Frequently Bought Together
---
About This Item
Extensive 5 stage filter helps to produce clean and clear water conditions and a healthy environment for aquarium life to thrive.
Provides maximum surface area and optimum dwell times in all stages of the filtration process.
Features 2 stage mechanical filtration that effectively traps large and fine debris, reducing harmful ammonia and phosphate build up by removing fish waste, uneaten food, and other organic materials.
Activated carbon for chemical filtration to effectively remove dangerous toxins while the Bio-Screen pad provides encourages the growth of good bacteria.
The patented refiltration control system lets you slow down the water output, creating a gentle flow to protect delicate fish and plants.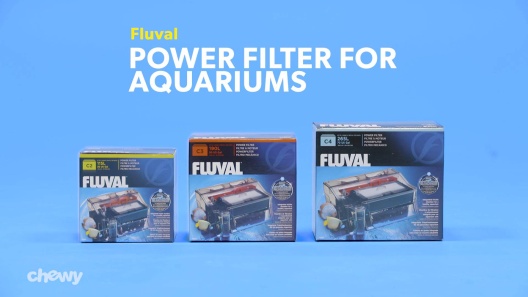 Learn More About Fluval From Our Team of Experts
---
Compare Similar Items
| | | | | | |
| --- | --- | --- | --- | --- | --- |
| | | | | | |
| Customer Rating | | | | | |
| Price | | | | | |
| Fish Type | Tropical Freshwater, Marine Fish | Tropical Freshwater, Marine Fish | Tropical Freshwater, Marine Fish | Tropical Freshwater, Marine Fish | Tropical Freshwater, Betta, Cichlid, Goldfish, Marine Fish |
| Aquarium Type | Freshwater, Saltwater | Freshwater, Saltwater | Freshwater, Saltwater | Freshwater, Saltwater | Freshwater, Saltwater |
| Material | Plastic | Plastic | Plastic | Plastic | Plastic |
---
Questions & Answers
21 Customer Questions
---
What do you recommend to be changed at least once a month... filter, cartridge foam ECT?
Answer by • Feb 22, 2018
Fluval Poly/Foam: Replace poly/foam every 4-6 weeks. Biological C-Nodes: Replace half the quantity every 6 months. Never replace all c-nodes at once. Activated Carbon Insert: Replace Activated Carbon every 2-4 weeks. Bio-Screen: Replace Bio Screen every 2-3 months. Motor O-Ring: Replace once a year to prevent leaking.
---
Does the flu Val C4 come with all the filter media and carbon when you purchase it or do you got to buy all that separate
Answer by • Jan 11, 2018
This item will include: Filter Cover, Filter Case, Leveling Device, C-Nodes, "U" Tube, Telescopic Intake Tube, Bio-Screen, Mechanical Frame, Chemical Basket, Impeller Cover Assembly, Impeller, Biological Trickle Chamber with Cover, Poly/Foam Pad, Activated Carbon and the Motor Unit with Seal Ring.
---
I have a ten gallon fish tank with 8 small goldfish will the C3 be good for me or the C4
Answer by • Aug 25, 2018
The C3 and C4 aren't recommended for your size tank especially if the proper precautions aren't taken to prevent your fish from getting sucked in. The C2 is made for tanks between 10-30 gallons and would be the best option for a 10 gallon tank.
---
Do all sizes have an adjustable flow switch?
Answer by • Apr 16, 2018
Each size has an adjustable flow switch. On the top left side there is a post that slides right or left to make slight flow adjustments.
---
---
---
By HHHH on Dec 1, 2022
Broken filter
Item did not work almost right out of the box. Followed the set up instructions and filled it with water, the filter ran for 3 seconds before going silent. Nothing I've tried has worked to fix this. Had the exact same issue with a previous filter from this company which I was replacing.
---
By Phyllis on Nov 8, 2022
Pure junk!
I used this filter system for 1 month and the motor just stopped working!! Didn't realize it until my tank stated to turn. Buyer beware!!
---
By whitechin99 on Apr 2, 2022
Over engineered
I bought 3 fluval c3 after I bought into all the hype and I have to say I'm seriously disappointed. Tech wise I guess it's 5 stage. Really though adding a pad on top of the biological and floss on a sponge to me isn't creating 2 more stages. Don't get me wrong the filter works very well when it's clean but it clogs up very quickly and requires more attention than I think you should have to give it. In particular the mechanical media comes with a floss covered sponge that loads up in no time. Also the impeller cover which has a port to spray water over the biological will plug up very quickly and they requires tearing down the whole filter to clean. Also there is not a lot of room for a tweaker like myself to hot rod anything. My recommendation is if you're ready to move up from cartridge filters buy it's cousin the Aquaclear or a Seachem Tidal.
---
By Jordan on May 24, 2022
The water doesn't rise and come out
This is not the one you guys. I was so excited for a filter where you can adjust the flow, I watched YouTube videos, read through the instructions twice and even got a replacement and it still didn't work I don't know if this is a bluff or what.
---
By GrimmWolfe on Jan 12, 2022
Kind of loud
I put the filter together and placed it in the tank , turned it on (water inside) and the motor is LOUD. I tried to reposition the intake and it still rattles. I'm not sure if the box was dropped, and since it was really, really cold (6F) when it was delivered, it did something, or this particular one is defective. I love Fluval canister filters, and this is my first Fluval HOB. Unfortunately I will have to deal with the noise for now. I usually recommend Fluval. I love that it has reusable media and that it is compact. I think if I can get the propeller to sit quiet it will be a great filter. I am not sure if this is user error, manufacturer error, or delivery error.
---
By AmberJean on Jan 18, 2022
Works Great
This system works really nice and powerful I could tell right away our fish we're Happy Campers!!!!
---
By HerbH on Oct 27, 2021
Good filter
Using two of these in a 55 gal tank. Pretty quiet and does a great job keeping the water clean!
---
By Carey on Dec 27, 2021
Aquarium pump
Easy to put together with well written directions. Quiet.
---
By Bird on Jun 21, 2021
Fluval I'm so disappointed
I purchased the Fluval C2 HOB 30 gallon filter to use on my 20 gallon guppy tank. At first it was great but within 2 months or so it started getting harder and harder to get it going again after being unplugged so to do water and filter media changes. 7 months later it can not, will not suck enough water up the tube to get going again at all any more. Had high hopes for fluval wanted to get the fx-4 for our120 gallon aquarium, but now refuse to spend $400.00 on a filter from this company after this let down. So so so dissapointed with fluval.
---
By salt on Sep 23, 2021
not good quality
This item was put in a 25 gallon fluval tank and it has jammed twice and has now completely stopped running
---