Fresh Step Febreze Scented Non-Clumping Clay Cat Litter
---
About This Item
Scented litter contains activated carbon to eliminate odors.
Absorbs liquids quickly and traps odor by filtering them out.
Weighs 30% less than other clay litters for easy cleanup.
Paw-activated fragrance after every time your paw-tner uses the box.
Low dust makes for cleaner surfaces and air.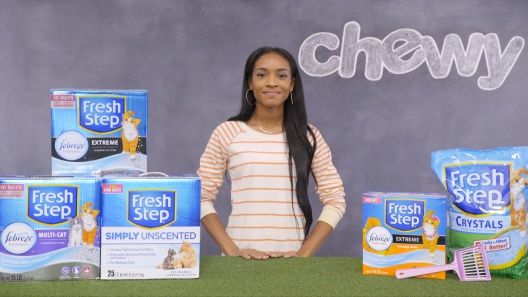 Learn More About Fresh Step From Our Team of Experts
---
---
About Fresh Step Cat Litter
A Cleaner Litter for a Better Smelling House
Fresh Step created a litter for every type of kitty imaginable, and they're all designed to handle the strongest litter box smells to keep your house odor-free. With tight-clumping scoopable options, low-maintenance crystals, great-smelling scented litter and even unscented for sensitive noses, your cat's litter box will stay fresh each time she steps in, and after she jumps out, too.
One Step Fresher
How do you get 10-day odor control that keeps fighting lingering litter box smells? Take the power of Fresh Step and add the pleasing scent of Febreeze, including the popular Aloha fragrance, for the next level of freshness. Both Fresh Step Multi-Cat and Extreme Scented Cat Litter are low-dust formulas that feature ClumpLock technology for tighter, easy-to-scoop clumps. Multi-Cat is perfect for more than one kitty, and Extreme uses antimicrobial agents to stop the growth of odor-causing bacteria.
Fragrance-Free Formula
Fresh Step Multiple Cat unscented cat litter works naturally to eliminate odors. It combines activated carbon and plant extracts for a scoopable clay litter that takes a more natural approach to litter box woes. Carbon works nonstop to trap the odors, while plant extracts quickly neutralize them—all without overpowering perfumes or dyes.
A Little Goes a Long Way
Fresh Step Clay Cat Litter requires less scooping time, and it's made to handle even the smelliest messes. Compared to other non-clumping clay litters, you'll need less to get the same odor-fighting benefits. Offensive odors are eliminated using CarbonPLUS technology to keep the litter fresher longer. Just 35 pounds equals 50 pounds of similar non-clumping clay litters, which means you get more use out of each bag.
Fresh Step Crystals Cat Litter
Crystals look nicer in the litter box, and they absorb moisture on contact—five times more efficiently than the leading clay litter. Fresh Step Crystals Cat Litter requires the least amount of daily upkeep, because you only need to scoop out solid waste, not huge clumps. It lasts up to a month and minimizes the amount of dust to almost nothing. The smooth crystals are soft on the paws and lightweight in the bag for easier carrying.
About Fresh Step
Since 1984, the makers of Fresh Step have been advancing the science of cat litter toward the ultimate goal—to keep your house free of the dreaded cat litter smell. They're committed to the happiness of pet parents and cats, which is why they created a range of products made to suit every household's needs. From odor-eliminating carbon to liquid-absorbing crystals and scoopable to non-clumping, Fresh Step has every litter box covered.
Shop Fresh Step
Compare Similar Items
| | | | | | |
| --- | --- | --- | --- | --- | --- |
| | | | | | |
| Customer Rating | | | | | |
| Price Per Unit | | | | | |
| Price | | | | | |
| Autoship | — | | | | |
| Litter Feature | Odor Control, Non-Clumping, Scented | Clumping, Scented, Multi-Cat, Odor Control, Dust Free, Low Tracking | Odor Control, Scented, Multi-Cat, Clumping, Dust Free, Low Tracking | Odor Control, Clumping, Scented, Multi-Cat, Dust Free, Low Tracking | Clumping, Multi-Cat, Scented, Odor Control, Dust Free, Low Tracking |
| Packaging Type | Bag | Bag | Bag | Bag | Bag |
| Lifestage | Adult | Adult | Adult | Adult | Adult |
| Top Ingredients | — | clay | — | Natural clay, deodorizing system | — |
---
Questions & Answers
7 Customer Questions
---
Is this bag resealable??
Answer by • Jun 05, 2019
All Fresh Step litter bags are resealable.
---
Is it low dust?
Answer by • Aug 22, 2018
This litter is not specifically formulated to be low dust. The Fresh Step Multiple Cat Scoopable Clumping Cat Litter is a low dust formula that is currently available.
---
Is this litter Hypoallergenic
Answer by • Aug 04, 2018
This litter may contain allergens, depending upon the diagnosed allergy.
---
Is this litter made in the US?
Answer by • Feb 21, 2021
This cat litter is made in the United States.
---
---
---
By Cindy on Nov 3, 2022
Great cat litter for multiple cats
Fresh Step litter has worked the best for us. We have 2 cats, one a senior and the other is very young. This litter seems to work the best (we've tried a few!). I like the fact that it does not clump.... with two the clumping is gross! This litter keeps the odor down too. We have to change it pretty often - but I attribute that to a senior cat with onset of kidney disease and a young kitten who likes to kick out the litter!
---
By Litlestarr on Nov 10, 2022
Fresh Step litter
The only thing I didn't like about this is it's very gravelly. It sticks in their paws and gets all over the place. I usually run around my house bare foot and it's most ouchy on the feet. I had gotten two bags, I gave one to a friend, And still have not gotten through the one I had opened. I must say the smell is okey, and it does last.
---
By mikey on Nov 16, 2022
purrfect!!
i have 5 cats and many are shocked when they learn this. i clean litter boxes daily. the wieght means it last for about 4 weeks. and with autoship every 3 weeks i can remove it and get my angels some other treats then put back on autoship for next delivery. paws up!!!!!
---
By veldi84 on Dec 2, 2022
Two were fine...
I have tried quite a few types of cat litters. I had to go back to this one. My girls clearly let me know they didn't like the others. I have steps and back issues so 7lb size is perfect. One bag had a tear.
---
By Ruth on Oct 5, 2022
Great but dusty.
Great litter, light weight and full coverage. Only one problem- very dusty. When emptying the litter into the litter box I have to keep my distance--cant avoid inhaling it. My cat cant avoid it obviously--her nose is inches from the dust.. After putting the litter in the box, I spray it with water to eliminate the problem somewhat. The amount of dust.would be a significant problem if a cat has redpiratory problems. Other than that it has a pleasant odor and hopefully the company will remedy the dust problem.
---
By catlady on Sep 28, 2022
It's a no
I purchased this litter because of the low price and positive reviews. I have 5 rescue (dumpster) cats who are not particularly picky about anything and have never had an issue when I've tried out different litters. So i was very surprised when i came home from work to 4 disapproving piles of poo on the floor near the litter boxes. NONE of them like this litter...the texture...the smell.....never again. 0 stars from my cat children
---
By TyFrisco on Nov 2, 2022
Low dust?! Not at all!!
A thin dust will be all over the level of the home the litter is located in. Ours is the basement which is the living space. Dark wood paneling. My gosh can you see how much dust!! Some dust understandable but this is NOT low dust!!
---
By Billyye on Aug 30, 2022
The best so far
I've tried a lot of other cat litters and I keep coming back to this. I just needed litter that controlled that ammonia smell. One of my cats hates that odor and would pee on my mats. I started adding baking soda daily and that has helped tremendously. It doesn't last for two weeks though. I change it every seven to 10 days. A lot of people complain about the strong odor. I find that the strong odor keeps the litter fresher longer and I like it and so do my cats. Fresh step should make it in varying odor strengths unscented, mild, medium and strong. I bought a bag at BJ's and the smell was strong. The odor elimination was amazing. The odor started fading slowly after 3 days. Also, the litter was a darker color than when purchased on Chewy. I even got two weeks use and used less baking soda. However, I had to lug that bag.
---
By Robyn on Nov 7, 2022
Works great!
This is my favorite non clumping cat litter. What I like to do is mix it with Fresh Step Crystals. Line the bottom of the pan with the Crystals and then top off with the non clumping litter.
---
By JenSully on Aug 27, 2022
Gnats when I buy it from Chewy
I'm not crazy over this cat litter and had switched to Feline Pine. However, I was so tired of sawdust everywhere when my oldest started having kidney problems, so I switched back. It's good cat litter and we've used it for years, it just causes my asthma to flare up. When I switched back, I bought from Chewy because I got used to not lugging cat litter in from the car. Then I remembered why I don't buy this from Chewy: gnats. I have never had this problem when I buy the same stuff from the grocery store, so the Chewy warehouse must be storing it wrong or something. I had the same problem with Fresh News litter (which we did not like) from Chewy, but not with Feline Pine. I love Chewy and they are still my go-to for all other pet needs, and I do recommend this cat litter if you need something basic, but I won't buy it from Chewy anymore. Not unless the gnat problem is solved. Maybe I will try again over the winter months and see if it's still infested.
---