---
About This Item
Eliminates odors instantly in all types of litter so your box stays fresh longer
Moisture activated scent refreshes litter every time your cat uses the box
Innovative technology helps prevent clumps from sticking to the bottom of your box
With baking soda for maximum odor control
Ideal for multiple cat households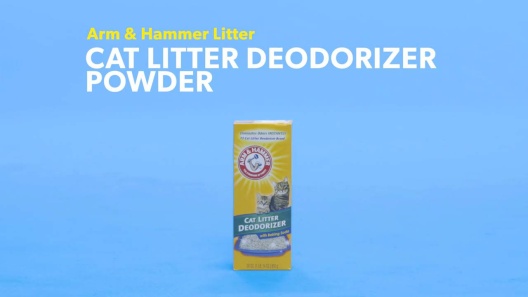 Learn More About Arm & Hammer Litter From Our Team of Experts
---
Compare Similar Items
| | | | | | |
| --- | --- | --- | --- | --- | --- |
| | | | | | |
| Customer Rating | | | | | |
| Price | | | | | |
| Autoship | — | | | — | — |
| Cleaner Type | Deodorizer, Litter Box | Deodorizer | Deodorizer, Litter Box | Deodorizer, Litter Box | Deodorizer, Litter Box |
| Cleaner Usage | Litter Box | Litter Box | Litter Box | Litter Box | Litter Box |
| Litter Feature | N/A | N/A | N/A | N/A | N/A |
| Packaging Type | N/A | — | — | — | — |
| Top Ingredients | — | N/A | N/A | N/A | Sodium Zeolite (Mineral-Derived Absorbent), Sodium Bicarbonate (Mineral-Derived Deodorizer), Sodium Zinc Polyitaconate (Bio-Based Odor Neutralizer)... |
| Material | — | Cardboard | N/A | N/A | N/A |
---
Questions & Answers
20 Customer Questions
---
Does this have any perfume in it? I am allergic to perfume and cannot have any in my home. I can handle scents (meaning things that have smell, like essential oils, food, flowers, etc.) but not those created with perfume.
Answer by • Nov 16, 2017
The moisture-activated fragrance is released every time your cat uses the box.
---
do you have larger containers? I have 4 cat boxes going and 40oz would not do it.
Answer by • Dec 10, 2017
At this time, this powder is only available in a 20 ounce or 30 ounce box.
---
What are the ingredients of this powder? Is it in anyway harmful to cats?
Answer by • Dec 04, 2017
This product's ingredients are baking soda (sodium bicarbonate - all natural) with an added scent. This deodorizer is safe for cats.
---
Does this hav3 a strong scent?
Answer by • Feb 07, 2018
This product has a mild scent.
---
---
---
By NasH on Mar 30, 2022
A sweet smell for cats with sensitive noses like mine
I have been buying this deodorizer for years because it takes away the strong scent - of urine particularly. My pair are getting up there in years, so I have a need to be sure they are comfortable using their litter boxes without any odor. This is a great answer for having older cats. And has prevented them from choosing to use the matt instead, too.
---
By Kayla on Mar 10, 2022
Odor Control
I love to use this product when I do a full litter box change and sprinkle it down on the bottom of the box before laying in the litter and mixing it together after. It also can help to use in-between full box cleans to try freshen up the box a bit and prevent excessive odor. It is not a miracle worker it doesn't prevent all smells but this combined with a hooded litter box has helped with a lot less oder issues and its cheap.
---
By qbert on Apr 27, 2022
Huge Disappointment
I was expecting more out of the baking soda. We use the odorless variety, and thought that more baking soda would help. Unfortunately, they add Febreze to it. Now it smells like cat pooh with Febreze in it.
---
By GuppyKat on Feb 23, 2022
Amazing price
I've been paying $7.99 for the smaller size for years, so Chewy's price for the large is amazing for the bigger size at half the price I'm accustomed to. I sprinkle this to extend the life of the litter when I can't get to a full change right away, and I also sprinkle it right on top when the cats leave a particularly stinky deposit, it seems to "clear" the air, maybe I'm imagining that but it works for me.
---
By KatHerder on Apr 10, 2022
Helps make job easier!
Arm & Hammer litter box deodorizer is a staple around here! We currently have 11 rescues and 9 boxes and if I don't scoop AND deodorize them every day I get surprises! Great stuff! And the cats think so too!
---
By Darlene on Apr 10, 2022
Try it; you'll like it
Great product, great price. Cats don't mind the smell. Pleasant, clean odor in any room of your house. I wish the fragrance would last longer than a few minutes. Arm & Hammer needs to work on that.
---
By Hannah on Feb 6, 2022
Yay! This really works!
This worked WAY better than I expected. I have 2 cats (and 2 litter boxes) in my small apartment and man can it get stinky in here. It's a small space so what can you do? I'll tell you what you can do, get some of this stuff! I didn't really expect it to work but it was cheap so I thought I'd try it. It obviously doesn't remove ALL odor but I'd say it reduces it by about 50%. It is scented. I thought both my cats and I would hate that but the scent dissipates pretty quickly. I'm going to be using this product for the rest of my life I think.
---
By Tyler on Feb 11, 2022
Too Smelly for My Cats!
I specifically bought this item because the description & reviews stated that it had a very mild scent to it; however I believe that it has a very strong scent. Although I find the smell appealing, my cats do not like it. The product works very well to block out odors, but if your cats are sensitive to smell then I would recommend against this product... It could lead to cat box adversion and/or skin irritation if not used carefully.
---
By Multicatowner on Feb 21, 2022
This is great stuff!
I use this in the litter box and on the carpet. I have 2 male cats and their urine smell is very strong. After I clean the litterbox I sprinkle this on the litter and the smell is gone. I also have three dogs. I sprinkle this on the carpet, let it set for several hours, and then vacuum it up. Makes the room smell fresh without a heavy perfume odor!
---
By Ziggy on Mar 24, 2022
Litter pan deodorizer
Arm and Hammer litter box deodorizer helps keep litter pan Oder at an acceptable level. Also, Kitty will continue to go in the pan as long as it's scooped and Oder is low, rather than finding another area in the house.
---