Arm & Hammer Litter Clump & Seal Multi-Cat Scented Clumping Clay Cat Litter
By Arm & Hammer Litter
---
About This Item
Proprietary blend of moisture-activated micro-granules form a tight seal around odors while baking soda destroys sealed-in odors on contact.
Complete odor-sealing litter is specially formulated for 7-day odor protection for multi-cat households.
Creates rock-solid clumps for easy removal and reduces tracking—so litter stays where it needs to be and not scattered throughout your home.
Ultra-low dust litter helps you and your feline friend to breathe easy in the comfort of your home.
Made with micro-particles for a softer feel that your feline friend will love.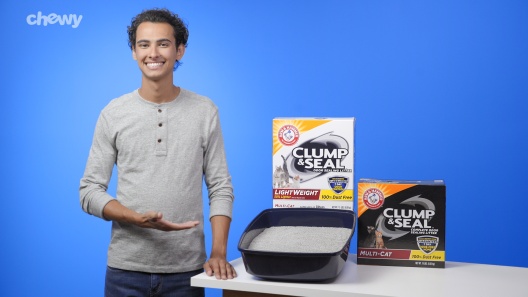 Learn More About Arm & Hammer Litter From Our Team of Experts
---
Compare Similar Items
| | | | | | |
| --- | --- | --- | --- | --- | --- |
| | | | | | |
| Customer Rating | | | | | |
| Price | | | | | |
| Autoship | — | | — | — | — |
| Litter Feature | Clumping, Odor Control, Scented, Multi-Cat, Dust Free | Clumping, Odor Control, Scented | Clumping, Multi-Cat, Odor Control, Scented, Dust Free | Clumping, Odor Control, Scented, Dust Free, Low Tracking | Unscented, Odor Control, Clumping, Low Tracking |
| Packaging Type | Box | Box | Box | Box | Box |
---
Questions & Answers
28 Customer Questions
---
Do you have lightweight litter?
Answer by • Nov 27, 2017
While this litter isn't formulated to be lightweight, the Arm & Hammer Litter Clump & Seal LightWeight Multi-Cat Litter is available.
---
Is this dust free
Answer by • Oct 12, 2017
While this formula isn't 100% dust free, it is ultra-low dust with minimal tracking.
---
Does the box come with a handle? Last one I bought did not, and it was very hard to pour and handle
Answer by • Aug 15, 2021
This litter includes a new opening - a tear strip instead of the pour spout. Using a tear strip can help reduce the package & materials needed to get the litter you and your cat love. The new packaging is only available online at this time. The 19 pound option still includes the handle.
---
How many boxes are in a case?
Answer by • Sep 17, 2018
At this time, this product is only available as individual boxes. The sizes available as a 14 pound, 19 pound and 28 pound box.
---
---
---
By CeeJay on Apr 20, 2022
No More Dust!
We are a mulit-cat household and have been using a high-quality 99% dust free unscented litter for years. However, we still had dust, and with four litter boxes, a lot of dust. I came across the Arm & Hammer Clump & Seal while housesitting and thought I would give it a try. I currently only have this litter in one box (easing the kitties into change) and so far I can say this -- zero dust from this box. None when pouring to fill, none when scooping, and none clinging to the top edge of the box after a few weeks in use. The litter is lightly scented, with very very fine grains (like play sand), and as the name says, clumps and seals (very well - so I think the litter in the box stays cleaner too). Bonus-- less tracking! Although this litter is at the higher end cost-wise, the benefits for me are worth it and I plan to shift all boxes to this brand in the coming weeks.
---
By milram62 on May 17, 2022
Terrible Smell
I went from a really cheap litter that didn't clump, it just left the urine in the box to one that clumps great, but stinks. Ugh. Again it clumps great, but the odor blaster must not be working on this batch because every time I go into the bathroom where the litter is, it stinks! Might have to go back to the expensive brand I bought months ago because I can't stand the smell.
---
By Becca on May 20, 2022
Finally Something That Works!
It took a bit of trial and error to figure out what litter works best for my cats' microbiomes, and this litter does the trick! It clumps just right and doesn't track too much. I also think my picky cat Percy likes it more than others I've tried because for once he'll actually cover up his poop himself instead of waiting for his brother to cover it up for him.
---
By Olivia on May 10, 2022
doesn't clump very well
I tried to go away from crystals because at times my fur baby tracked crystal into the hall floor and hitting this in my bare feet made me wonder how it affected my cats feet. This product says it clumps. To some degree yes but the clumps quickly fall apart she. Scooping leaving wet people of stinky litter. Cat isn't too happy either. We are goi g back to crystals
---
By ceebee on May 10, 2022
It's cat letter
The litter works fine. What I did not appreciate was the on-off delivery. First it was coming; then there was a delay; then it was late; then it wasn't coming at all. Skip to the next month--first it's late, then it's coming then it finally shows up. I have no complaint with the litter--it's litter. My complaint is with Chewey.
---
By Hannah on Apr 1, 2022
Good Litter
Biggest thing. Yes. It's pretty freaking odor free. The litter box is outside my mom's bedroom in her bathroom, and she said the only time she's been able to smell it is when my cat had an upset stomach and filled up the box pretty quick. We've gone a week before the litter itself has started smell a little. It's not 100% dust free, a little has shown up on the lid to the box, but I haven't noticed any on my cat. Tracking isn't great but if combine it with a litter mat and you'll be pretty okay. The only reason why we are considering switching from it is because we noticed a few days ago my cat had a big clump of litter stuck to his back paw that would not come off. That was about the time he had an upset stomach though, so we don't know if that happened just because he walked through the full box or if it just stuck clumped in his paw just because.
---
By Messy on May 10, 2022
Packaging problem
I purchase this product a lot. And this was the first time the seal was already opened or not sealed initially. There was a hole in the box on the side where you pour from. Every time I use the litter some escaped from somewhere else on the side on the box and I had to clean up after using. Still a good product .
---
By Ashley on May 8, 2022
Best litter
I've tried all the litter brands out there and Arm & Hammer Clump & Seal Multi-Cat Scented Cat Litter is the easiest for scoop cleanups. The waste product is captured in clumps at the surface so there isn't the chore of scraping the bottom as it is scooped. The scent isn't too powerful, but pleasant-for a cat box.
---
By Lauren on Apr 13, 2022
The new box is terrible
The litter is fine, the box is terrible. I received a coupon to try the new "improved" box design with the top handle fixed. They somehow made the box even worse. The pour spout has been removed and replaced with pull tabs that removes the entire top of the box. This makes it almost impossible to pick up to pour. It also now leaves an open topped box of litter next to my cats litter pan. There is no easy way to keep my cat from just using the fresh litter. Won't be buying this again.
---
By MotherofDragons on Mar 29, 2022
Great Litter
So far I love this litter for my GreyWorm! My baby boy seems to aim his streams along the side of the box. Once I scrape the sides and bottom, I would end up with pieces of clumped litter I could not scrape or scoop completely. This litter clumps so fast that I can scrape and still get big enough pieces to scoop out and the box stays super clean!!! Love love love! Less time scooping, less litter outside of the box, and less overpowering scent! It's also cheaper than my previous brand so I can fill the box even more! Just purchased the bigger box on autoship!
---