Frisco Refillable Catnip Cat Toy, Brown Squirrel
By Frisco
---
About This Item
Squirrel plush cat toy has the shape and fuzzy texture cats love, with a compartment for catnip.
Includes a vial of Canadian catnip to make playtime even more exciting.
Stimulates your cat's natural hunting instincts to spark up play and exercise.
Soft, plush material makes it snuggly enough for catnaps too.
Provides cats with the daily exercise and mental stimulation they need. Catnip can be removed for different play styles.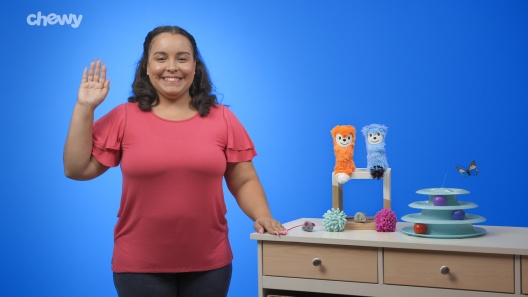 Learn More About Frisco From Our Team of Experts
---
---
Fun For
Let the games begin! With the textures, shapes and sounds cats go wild for, these toys turn up the excitement for all kitties. Some are even spiked with catnip to level-up playtime. Bring them out for a pouncing, kicking, chasing and batting good time!
The Thrill of the Hunt
Mice, string and catnip—pretty much every kitty's idea of fun! Let your cat flex those hunting muscles to promote play and exercise. How about a chase after a catnip-spiked, string-tailed mouse? Ready, set, pounce!
Nip, Play, Love
Bounce into playtime with a fuzzy mouse on a bungee cord, or toss around a skinny mouse that's stuffing-free for your kitty. Every feline loves nipping on the enticing textures when they capture their "prey".
Let's Get Ready to Rumble & Cuddle
Cat boredom has met its match. Spark curiosity and play with catnip-stuffed plush toys that are perfectly shaped for wrestling and paw kicking. They're also soft and snuggly to cuddle up for a quick catnap.
Play All Day
For cats that prefer toys without all the bells and whistles, there are tried-and-true kitty teasers that don't skimp on the fun. Choose simple designs to get cats playing, from colorful bouncy springs to a wire teaser you can whirl around.
Bat & Roll
No kitty amusement park is complete without Cat Tracks! Let's get this ball rolling. Get your kitty to bat and make the balls roll around the triple-decker tracks for a mind-stimulating game. Ooh, there's a fluttery butterfly to swat too.
About Frisco
Frisco's quality products are made for and by a family of pet lovers. And they're more than just everyday pet supplies. Crates become comforting kingdoms, potty pads transform into a favorite patch of grass, and potty bags give the signal that it's time to take care of business. From comfy mats and cat trees to potty time essentials, Frisco provides practical solutions for today's devoted pet parents. The entire Frisco line is available exclusively at Chewy.com!
Shop Frisco
---
Questions & Answers
8 Customer Questions
---
How much catnip should you put in the toy?
Answer by • Apr 02, 2021
There isn't a suggested amount. You can add as much as you think would work for your cat.
---
How big is the toy. What are the dimenshins.
Answer by • Nov 29, 2019
This toy measures 6.25 L x 3 W inches.
---
Where is it made? Thank you.
Answer by • May 14, 2020
This toy is made in China and designed and tested to meet our high-quality standards. The catnip is sourced from Canada.
---
How much catnip comes with this toy?
Answer by • Oct 30, 2019
The catnip included in this refill is approximately 3 grams.
---
---
---
By Stella68 on Apr 23, 2022
Wish I had ordered a dozen of these!
I ordered this as add -on to a cat food order hoping it might provide a distraction for one of my cats who suffers from a nervous condition. She loved it. Unfortunately, I ordered one Frisco and have two cats.It was a real hit with both cats. It can withstand gentle washing and I have put it in dryer on a gentle cycle. It is when it needs washing that I regret not having ordered a dozen because they really miss it.
---
By Bogard on May 1, 2022
Couldn't wait
My cat Bogart couldn't wait to take this out of my hand. And that was before I put the catnip in it! Once I did that, well...he tore it out of my hands. His sister took over once he dropped it and couldn't pick it up fast enough! At that point, they were both so mellow they just took a nap. lol I'm gonna buy more now so they don't have to share.
---
By CrazyCatLady on May 1, 2022
Great toy...
This little squirrel was a major hit with my floofs. The only issue I have is that I have 4 cats but only bought 1, *Sigh*... so there was some stealing, pouting, and fighting. BUT... once they realized that sharing was more favorable they had fun taking turns. I'll definitely be ordering some more.
---
By Joey on May 1, 2022
Well made little squirrel.
Our cat adores this little squirrel. He flings it everywhere, carries it up a nine foot ladder to a loft, and NEVER loses it, leaving it in the middle of the floor for me to put away when he is done. He has not torn it up in any way which is good because it's really cute. So is the cat.
---
By SpotsMom on Apr 23, 2022
Mr. Spots loves his Squirrel
Our cat, Mr. Spots, loves his catnip filled squirrel we got in our last Chewy order. He flips in the air, holds in this paws and licks it constantly. My only complaint is that they should include more catnip... the little vial that came with it didn't even fill it up completely - had to supplement with our stash.
---
By Ashley on Apr 9, 2022
He loves it!
My cat is particularly picky with toys, especially ones with catnip, and this one was a home run with him. He loves to play with it and groom it, even carries it around sometimes. It's light enough that when he throws his toys around it goes far and he can go chasing after it. The velcro is strong and has never opened while he was playing.
---
By Barbara on May 4, 2022
Fun birthday gift for my cat
A very cute toy, being able to fill it with catnip is a clever idea. I plan to give it to my cat on her birthday later this month, and I know she will love it, as she truly enjoys catnip.
---
By Linda on Mar 23, 2022
It brought hours of fun for my cats
I purchased two new toys for my two cats. (See my other review on the smaller kick toy.) Both were great toys! I put a small amount of the catnip ( came free with toy) in the pouch of this one and my cats played for hours with both toys. I highly recommend this little squirrel. It will provide hourly of play and exercise.
---
By DogMom on Feb 22, 2022
Refillable Fun
We have 2 cats. A two year old that has a select few toys that he loves and a five year old that really only plays with hair ties. We ordered one of these toys as a filler for free shipping. When we unpacked our Chewy order, our cats immediately started fighting over this toy. Our five year old went nuts over it! The catnip that comes with it doesn't smell super strong but must be super powerful to them because my goodness! We ended up ordering a second one of these so they don't have to fight over it anymore. 10/10 recommend!
---
By Stefania on Apr 15, 2022
Cats are obsessed
We have two cats and they both love this toy. I've never seen them have such a good reaction so much so that they both consistently try to hide the toy from each other. So absolute win definitely recommend to other cat owners!
---