Herm Sprenger Ultra-Plus Training Dog Prong Collar
---
About This Item
Designed to help you train your dog—especially commands like heel, sit and stay.
Features a solid fastener plate that helps both you and your pup feel secure.
Black steel plating blends well with brown fur, so it's ideal for breeds with dark hair.
Great for walking strong pullers and large dogs, or during obedience training.
Replacement links are available to increase collar size.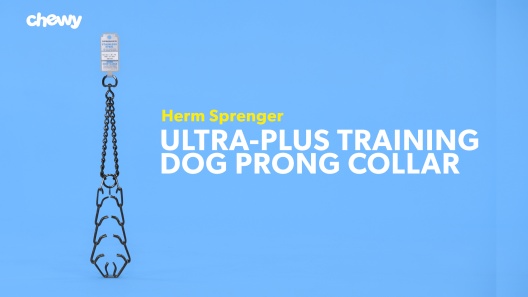 Learn More About Herm Sprenger From Our Team of Experts
---
---
Questions & Answers
9 Customer Questions
---
Will this collar stain a light colored dogs neck coat?
Answer by • May 01, 2019
This collar is made from black steel plating and is ideal for dogs with dark fur. It's not recommended for your pet to wear the collar for long periods of time, only during walking or training sessions.
---
Is there only way one to slip on and off? There isn't a release?
Answer by • Nov 25, 2020
This prong collar does not have a quick release. Never slip the pinch collar over your dog's head and then move it to the bottom of the neck. The right way of putting the prong collar is by unhooking links. Make sure that prongs are not twisted. Put the unhooked collar on the neck of your dog so that the O-ring is to the right side of the neck (not on the top and not on the bottom). Connect the collar by squeezing one link's end together and placing it in the loop of another link.
---
Are these safe for puppies?
Answer by • Aug 04, 2021
These are only recommended for puppies older than 6 months of age.
---
In the description it states the item is stainless. Is this made out of steel or stainless steel?
Answer by • May 31, 2019
This dog collar is made of stainless steel.
---
---
---
By Rangdog on Apr 6, 2022
More expensive than silver (chrome) version, but no better
I went through a few of these collars (chrome version) and they kept breaking at the fist link. It would widen where it would just pop open. These links can't be replaced since they are different than those used to add length. So, I figured I would upgrade to this version. This makes Herm Sprenger collar #3. The same issues occur and honestly the quality feels no different than the lesser expensive version. When I compare them side to side, really the only difference is the color. I know that I am fitting the collar correctly as well as using it as it is designed to be used. I have a seasoned trainer who has taught me the proper use. I cannot recommend this collar, which is a shame because the training tool itself works wonders on pulling puppies and larger dogs.
---
By Jules on May 5, 2022
Herm Sprenger Prong
Very well made and the perfect tool to refine all of his leash and obedience skills. My Cane Corso had used a slip collar for the first 9 months and then I introduced this collar. It has helped fine tune all of his training and was a great purchase. He gets so happy when I bring it out because he knows it's training time.
---
By chitownvs on Mar 20, 2022
Not as secure or effective as the stainless steel
Purchased this herm sprenger for the look but found that the link at the end (the only non replaceable one) is able to pop out of the next link with the right kind of wiggling. The correction with this collar is also ligther for the same amout of leash pressure as it would otherwise be on a stainless steel. I'll be switching back to the OG collar type
---
By BearsMom on Dec 13, 2021
Be careful
My dog was able to back out of this collar! I own 2 dogs and 2 different prong collars (both much cheaper), but I always wanted to try a Sprenger so I splurged. Well, never again. My dog backed right out of it, and wasn't even trying. He started to slow down at the end of the walk, so he wasn't even pulling at the time. He stopped to sniff when I turned and watched in horror as the collar slipped right off his head. It happened in a split second, but it seemed like slow motion because there was nothing I could do to stop it. It spooked him and he ran, in the dark, on a somewhat busy street. I was never so scared. He's a rescue with a little ptsd and doesn't have the best listening skills when he's in fight or flight mode. Thankfully, I had a pocket full of treats so I was able to lure him back. I would recommend anyone thinking of purchasing one of these collars to be very knowledgeable about their use, no matter how much experience you have. I've owned dogs for 25 years and this has never happened. (p.s. if you buy it, realize that it's also very heavy...I'm sure because of the quality of the material, but I felt bad for my dog)
---
By VeronikaV on Dec 2, 2021
Excellent Prong Collar
This is an excellent prong collar. We bought 12 inch and added extra links, as advised by the trainer who is training our Dutch Shepherd. So you can make it tighter or looser as you see fit. The quality is great (made in Germany). It is easy to add/remove links. The black color also blends well with the brindle coat of our dog. I would definitely recommend this item.
---
By Rocky on Oct 9, 2021
Must Use! I finally enjoy walking my dog.
High-end quality. I recommend speaking to a dog trainer or watching videos on how to properly use collar. Also it's very important that the dog is wearing the collar properly. My collar WAS marked made in Germany.
---
By Kelly on Jul 17, 2021
Quality Product, Great Customer Service
I'm in the process of exchanging the collar I received for the next size down. Chewy has excellent customer service and is handling the return quickly and efficiently, as they always do. Our 75 lb. German Shepard has an 18" neck so I had ordered the 20"/4.0 mm size which is too big, even after taking out 2 of the links. Once I receive the replacement I'll be able to write a review on its' fit and functionality. Almost every video I've seen on YouTube about the product confirms that it is a great tool when sized and used properly. In the meantime, I wanted to mention that the collar I received seems to have all the characteristics of the genuine "Herm Sprenger" brand. I'm including pictures so you can see for yourself. It has SPRENGER stamped on all the connectors and it DOES HAVE the "red dot" that apparently proves authenticity. Not sure why the pictures on the website don't show the "red dot" but this seems like a high quality product and I have no doubt it is a real Herm Sprenger.
---
By Dean805 on May 31, 2021
Authentic. Premium Quality. Made in Germany
After trying out harnesses with mixed results i researched prong collars and it led me to Herm Sprenger. I have an 11 month 85lb Pitbull-Village Dog mix. Very powerful, athletic dog. I ordered the 2.25mm wide collar and two 3packs of black replacement links. It is important to follow sizing instructions, fitting,, and proper training. I highly recommend this product.
---
By MLP1 on Aug 1, 2021
Quality product
well made. fits perfectly. highly recommend. She lost her simple choker collar which fell off during an off-leash walk. This one will not slip off
---
By Adlerbach on May 16, 2021
Black HS prong collar
This is a very attractive and effective collar as are all HS collars. Bought this one for my black 8 mo old German Shepherd and it looks great on him and since he has a deep coat no one can see the prongs. I have trained GSDs in schutzhund for many years and have always used these HS collars. The curogan prongs look really nice on sables.
---