Meowfia Premium Felt Cat Cave Bed
Temporarily Out of Stock
Get notified when this item is back in stock.
Compare Similar Items
| | | | | | |
| --- | --- | --- | --- | --- | --- |
| | | | | | |
| Customer Rating | | | | | |
| Price | | | | | |
| Cover Material | Wool, Natural Fabric | Wool, Felt, Synthetic Fabric, Natural Fabric | Wool, Natural Fabric | Wool, Natural Fabric | Wool, Natural Fabric |
| Bed Type | Covered | Covered | Covered | Covered | Covered |
| Pattern | Solid | Solid | Floral | Solid | Floral |
| Bed Shape | Round | Round | Round | Round | Round |
| Assembly Required | No | No | No | No | No |
| Lifestage | Adult | Adult | Adult, Kitten | Adult | Adult, Kitten |
| Tools Included | — | No Tools Required | — | — | — |
---
About This Item
Handcrafted from 100% New Zealand Merino wool by highly skilled artisans in Nepal; safe, eco-friendly process uses no chemicals or synthetics.
Made with a traditional wet-felting technique that transforms the wool yarn into a dense fabric that can stand up to kitty's claws.
Soft, supple and breathable to help him stay cool in the summer and warm in the winter; medium size cave can accommodate cats up to 12 pounds and large can accommodate cats up to 20 pounds.
Each bed is hand-molded from a single piece of fabric with no seams or stitching to burst or fray.
Sleek, contemporary design is available in five color combinations to fit your cat's unique personality and complement any décor.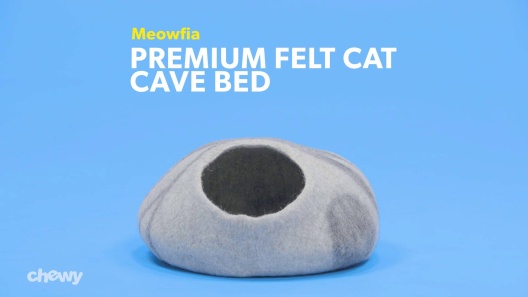 Learn More About Meowfia From Our Team of Experts
---
---
Questions & Answers
18 Customer Questions
---
I just received the bed. It was tied with a rope that took forever to get off and when I finally got it opened up, it seems kinda misshapen. Will it come out of this once warmed up? Thanks
---
Has anyone washed one of these beds? I'm interested in knowing how long it took to dry and whether cat hair (short haired cat hair) stuck to the inside.
Answer by • Oct 06, 2018
Typically, wool takes about 12-18 hours to dry completely. If doing a total washing, please hand wash in cold water with wool detergent and air dry. Slight reshaping may be required to maintain good form. It's not recommended to machine wash as it will decrease lifespan of cat cave. When spot cleaning, it's best to use cold water and a soft cloth. When light cleaning, we recommend using a vacuum to remove debris and hair.
---
What size is the opening?
Answer by • Aug 01, 2019
This cave bed features an 8-inch opening.
---
I live in Florida, wondering if this cat cave would be too warm for my cats? They are both domestic short hairs.
Answer by • Feb 06, 2021
This cave bed is soft, supple and breathable to help him stay cool in the summer and warm in the winter.
---
---
---
By KittyMom on Nov 25, 2022
Excellent Cat Cave
I bought 2 medium Cat Caves for my cats after I found one of them sleeping in the cat carrier after a Vet visit. I thought he might like something a little enclosed to snuggle up in. The Cat Caves came quickly from Chewy, are of wonderful quality and my cats LOVE them. My only suggestion is, if your cat weighs 12 lbs, go ahead and get the large size. The medium is a little small for my 12 lb Bear. Chewy is the best for its customer service and the quality of its products.
---
By Tonya on Nov 21, 2022
Almost perfect, but they collapse too easy
If these had a way to hold the shape they would be much better. My cats do use and love them but 70% of the time the cats are laying on top of the collapsed flat eggs. When the door stays open two at a time will crawl inside and I love knowing they are toasty warm when I can't be home to have the gas heater on. But it's no better than laying on a blanket if they can't get inside. I don't know why they always walk ON the huts to collapse them but cats do that will any kind of little warm house if it's not sturdy to stay up. I'm thinking of a way to add sturdy plastic strips inside to hold them up/open. Then be able to remove for summer storage. Once they collapse and are layed on they are harder to keep them up/open. I have to give 4 full stars since when the cats are actually inside vs on top, they look so cozy.
---
By zannyq on Nov 19, 2022
FurBabie Approves
Highly Recommend! Grass grows in 3-4day's and will last for a long time. Make sure ur mug hsn't cracked during shipping. Follow directions and u will hav healthy heafty growing grass. Then just buy the refil grass(all available from Chewy.com.)just make sure whtevr u use dsn't leak. To avoid mold, dn't ovr water an when it starts to "wilt" dump it out n start growg new grass. It's as easy as following the directions that come with the seeds-refil, or the planter u choose to use(like evrythg else, alwys inspect ur FurBabie's grass, toys, and evrythg ur FurBabie likes and plays with) Enjoy the fun watching ur FurBabie enjoy their fresh homegrown grass, my Riley Loves His MugOfGrass, I hope ur'z does as well. Good Luck with your new grass. It'll grow in 3 day's. Just keep it simple n water as directed n u'll hav no problems.
---
By LostMyGlasses on Nov 12, 2022
Favorite sleep hideaway
I purchased a wool felt cat cave last year about this time. When my cat was a kitten, one of her favorite things to play with was a wool ball. She was nuts about wool balls. She'd play with them until each one was a wad of fluff, so I kept a new supply of wool balls always on the ready. Now full-grown, she doesn't play with wool balls anymore, but I wondered if she would like a cave because, like any self-respecting feline, she loves to hide in dark places. I kid you not, as soon as I removed the bunched up towels that served to shape the cave when it came out of the box, my cat crawled into it and took a long nap. She then crawled into it every single night. I was astonished how quickly she became enamored of her cave. She loves to sleep on the bed with my husband and me, so I just put the cave near the end of the bed, and she's happy as can be. I'm quite grateful, really. While I love that she likes to snuggle next to me on cold, winter nights, I like to be free to toss and turn as I want. Now she can stay near us, and I don't have to be encumbered with her right next to me. My cat is just under 10 pounds, and the medium size is perfect for her. I confess that I made a terrible mistake with this cave. I thought I'd have some fun with it and make it even more special for her, so I tried to add a soft mat for her to lay on. I also sprayed some catnip mist inside of it. Messing around with her cave seems to have caused her to lose interest in it. She never went inside again. To correct my snafu, I washed the cave in cold water and put it in the dryer on air dry. Wool should never be subjected to water-- I knew that. The cave shrunk slightly and became misshapen. I gave it to my daughter-in-law for her new kitten. After several months of regret, a lesson was learned and I'm now ready to order a new cave. I will not do anything to alter it. The wool itself in its natural state seems to be what appeals to cats.
---
By Keegan on Nov 2, 2022
Cave Is nice Packaging was terrible.
Cat Cave is very nice, and came with a free toy ball too. I am giving it a 2 star because of the packaging was terrible. It came smashed which is okay it regains shape easy. There was a box which was fine, but then it was in a bag that is was not completely in. Then it had lots of tape. A lot of the tape was actually stuck to cat cave and smelt extremely strong chemical. I had to air the Cat Cave out for 3 days before I could not smell tape glue.
---
By lesliegb6720 on Nov 16, 2022
You're Going to Want More Than One
We bought this for our older cat, she took to it right away. Got the package, put it out and within an hour, she was snuggled inside. As others have said, it wasn't long before our big tom cat decided he wanted to hang out in it, so he started a fight with her to drive her out. Just ordered the second one.
---
By Maddy on Nov 8, 2022
Great bed for my cat!
I have a very old cat and wasn't sure if she would like this bed. However, she went in it right away with some coaxing and a little shove! Once she got in there, she liked it a lot and she uses it regularly, along with her other favorite spots to sleep. I do have a small blanky in there which she likes to.
---
By Lexilu1 on Nov 4, 2022
Wonderful cat bed!
I love this cat bed as it is boiled wool. Easy to clean and snugly for my 12lb. cat Holly. She got right into it and it fit her snug but she really took to it. I would not buy a small one for any cat by the way. It is made well and looks good on my couch so she can rest while I watch my shows.
---
By LandP on Nov 20, 2022
Kitty Approved
My kitty loves this bed & looks so cozy when she sleeps in it! She's 17lbs so I ordered the large. Needs a little more time reshaping due to how it's shipped, but otherwise a great purchase.
---
By Kate on Oct 26, 2022
My cat loves it!
My kitten took to it instantly. I got the L size, its fairly big so he has plenty of room to grow into it. He loves it - will dive in head first multiple times a day, bring his toys in and out, etc. Its so cute watching him, and i love that he is so happy!
---