MidWest Wabbitat Deluxe Rabbit Home
Frequently Bought Together
---
About This Item
This deluxe home for you small pet provides them with an elevated space to eat and drink, a private space underneath, and a bottom floor where they can have playtime.
It comes with a hay feeder, water bottle, and feeding bowl, so your pet has everything they need from the start.
Two available extensions can be added for maximum comfort and increased space. There are two doors, one on the top and another on the side for easy access to your pet.
Designed to be easily cleaned and less of a hassle.
No tools required for assembly. This product can be set up within minutes.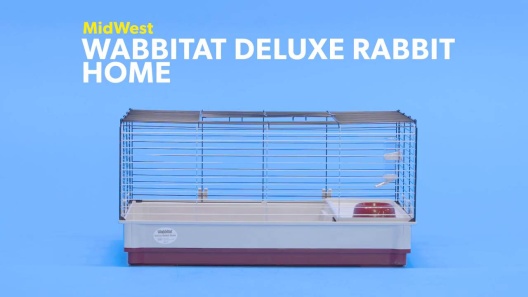 Learn More About MidWest From Our Team of Experts
---
Compare Similar Items
| | | | | | |
| --- | --- | --- | --- | --- | --- |
| | | | | | |
| Customer Rating | | | | | |
| Price | | | | | |
| Small Pet Type | Rabbit, Guinea Pig, Ferret, Chinchilla | Rabbit, Guinea Pig, Ferret, Rat, Degu, Hedgehog | Guinea Pig, Rabbit, Ferret, Chinchilla, Degu | Rabbit, Guinea Pig, Chinchilla... | Rabbit |
| Material | Plastic, Stainless Steel, Metal | Coated Metal, Metal | Coated Metal, Metal | Coated Metal, Metal | Coated Metal, Metal |
---
Questions & Answers
77 Customer Questions
---
Do you ship to Malta? How much is the shipping for one cage? And in cage do three rabbits have space to stay? How much shipping is if ask for a number of cages? Thankyou
---
Would my bunny have any room if i have one of those liter pans. Also can the evalavated shelf be removed
Answer by • Dec 21, 2020
The shelf is removable. A litter pan may be added with the correct fit. This rabbit home features an 8½-inch-deep, easy-clean plastic pan that contains messes and litter.
---
What is the size of the spacing between the bars?
Answer by • Jul 11, 2017
The wire spacing for the Wabbitat Deluxe is .86 inches x .86 inches on the ends and side panel. The spacing on the door panel is 9.44 inches x .78 inches.
---
How deep is the bottom pan?
Answer by • Feb 11, 2018
The bottom of the pan measure 5.5 inches deep.
---
---
---
By Cassie on Jun 26, 2022
BEST CAGE FOR GUINEA PIGS
It is hard to believe this cage would fit a rabbit, but it works great for guinea pigs. Most cages on the market for guinea pigs are not large enough; I bought this rabbit cage with the extension and it is a great size for two cavies. I have used it for about two years now, and it still works great without any issues. I also really like that the top of the cage folds up into one large flat piece. Highly recommend for guinea pigs.
---
By small on Jun 10, 2022
TOO SMALL FOR RABBIT
Cages like this are too small for rabbits but are constantly advertised as for rabbits it's sad. Rabbits are best free roam like a cat or dog but if you can't do that large pens that give the rabbit space to run and binky with plenty of room to spare. Please do not get cages like this is you want or already have a rabbit. Search for rabbit advice groups on social media like Facebook or Google search for more info on proper conditions for rabbits.
---
By Maggi on Jun 23, 2022
It's Not Amazing
It was really hard to click the gray frame of it and then the water bottle is flimsy plastic and isn't great. I thought that since it had so many great reviews it would be great. It's okay. I wouldn't recommend unless you have a water bottle. And the platform to get to the top is very steep.
---
By Quincy on Apr 29, 2022
HARD TO ASSEMBLE
This is a great size for a guinea pig or two it is very large so keep that in mind. I previously ordered this and thought the holes did not align as some of the reviews said, but after watching the YouTube video on how to put it together we discovered you really have to push HARD and make sure everything locks into place. You MUST hear a pop or clicking noise. Other than the assembly my piggy is very happy in his new large home.
---
By Treats on Jul 2, 2022
Big home,very nice
Was a lot bigger then expected which is awesome because I got it for ginueapigs. Definitely big enough for 1 rabbit or a few ginueapigs
---
By horselady on Jun 7, 2022
Biggest cage !
This cage is awesome in my opinion . Loads of room. Of course you always want to give the babes plenty of cage free time. A good safe cage.
---
By lmedina0705 on Feb 24, 2022
Perfect for my holland lop!
This cage is great for my bunny, who is only in his cage at night. I wanted a cage that would allow him to get up off of the bottom, to keep his food separate from bedding/waste and this one is great. For the price, I honestly expected the quality to not be the best, or the ledge to be small/flimsy, but I was very pleasantly surprised! I highly recommend this one (or the larger version if you have room). My bun is very happy with it as well. :D
---
By MrsHound16 on Feb 24, 2022
So easy to put together!
We are bunny freaks. My husband and I. We own two and foster two different buns almost every week from the bunny shelter we volunteer at. So we got this cage. It is great for a bunny to sleep in. You absolutely cannot keep a bunny in any cage 24/7. Would you do that to a dog? Cat? No you wouldn't. This cage was very easily, surprisingly, to put together. We love Chewy!
---
By Grigori on Mar 2, 2022
Perfect cage
This is the second cage I have purchased for my piggy. The first was a basic line cage with a canvas bottom ( Not from Chewy) , Terrible! I should of just got this one instead, The cost was more, but its so much more stable, easier to clean, and just generally a better product. .
---
By Jamie on Dec 24, 2021
Got a defective product. Can't complain about the size though.
Either the red base or side rails were not manufactured to line up properly for setup. I put one star for the fast shipping and decent price for the size. I put another star for the size of the cage itself. And I put the final star because I was sent a replacement thank God and in the meantime I jerry-rigged together the defective cage by drilling out properly aligned holes myself and screwing it together. So that is where I get the three stars. I will give you the benefit of the doubt that this might have been a single shipment of bad products if the replacement is not defective I will add a star. If you are looking to buy this product you should listen to all the other people who commented the same thing about the possibility of misalignment during assembly and be prepared for that.
---