PetSafe Easy Walk Dog Harness
---
About This Item
This no-pull harness was created by a veterinary behaviorist in 2004 and is paw-fect for dogs who pull during walks.
The patented martingale loop design safely stops pulling by placing gradual pressure on your furry friend's shoulders.
Unlike collars, this harness rests across your dog's chest, so you don't have to worry about him gagging or choking. The leash attachment on the front lets you direct your dog during walks.
Designed with quick-snap shoulder and belly straps for easy fitting. The different color belly strap makes the harness easy to put on.
With less coverage than many other harnesses, this breathable harness keeps your canine companion cool during your walks.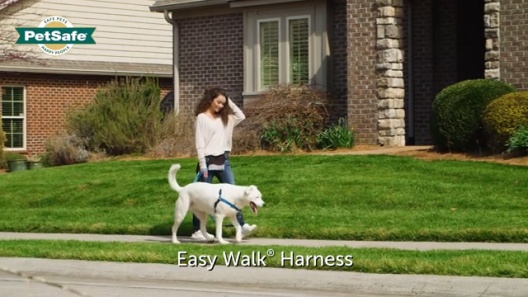 Learn More About PetSafe From Our Team of Experts
---
Compare Similar Items
| | | | | | |
| --- | --- | --- | --- | --- | --- |
| | | | | | |
| Customer Rating | | | | | |
| Price | | | | | |
| Material | Nylon, Synthetic Fabric | Nylon, Synthetic Fabric | Nylon, Synthetic Fabric | Nylon, Synthetic Fabric | Polyester, Synthetic Fabric |
| Harness Type | No Pull, Front Clip | No Pull, Front Clip | No Pull, Front Clip | No Pull, Back Clip, Car Safety, Front Clip | No Pull, Back Clip, Front Clip |
| Leash & Collar Feature | Waterproof | Waterproof | Reflective, Waterproof | Dual Clip, Reflective, Waterproof | Dual Clip, Reflective, Training, Waterproof, Padded |
| Breed Size | Medium Breeds | Medium Breeds | Medium Breeds | Large Breeds | Medium Breeds |
| Lifestage | Adult, Puppy | Adult | Adult, Senior, Puppy | Adult | Adult, Puppy |
| Pattern | Solid | Solid | Solid | Solid | Solid |
| Closure Type | Quick Release | Quick Release | Quick Release | Quick Release | Buckle |
---
Questions & Answers
39 Customer Questions
---
The process for the chest measurement isn't clear. Am I measuring the chest from the front of one foreleg to the other? Or from the back of one foreleg to the back of the other?
---
My baby is a chi jack with a 5.5 chest and 17 girth. What size is best?
---
Can you turn it so the leash clips on the back?
Answer by • Jul 02, 2018
It's not recommended to alter this harness in any way. The D-ring is meant to be in the front. The martingale loop at the chest prevents twisting and The chest strap rests across your dog's chest instead of putting pressure on the delicate throat, so there's no choking or gagging.
---
Are these Recommened for puppy's?
Answer by • Jul 13, 2018
A harness may be worn by a puppy, adult or senior dog.
---
---
---
By TJMoose on Aug 5, 2022
The only thing that's worked for far
We have a 50lb Goldendoodle and he lives up to his name, "Moose". He walked great on a leash after intensive training but inconsistency between our family members has broken his training. This pup loves to pull you across the lawn and tries to jump up to love on everyone. This harness is WELL WORTH the cost (which isn't that expensive.) I didn't have to spend any time training Moose to sit and allow me to put it on him. (The gentle lead and other harnesses we tried took some work and he kept jumping away when I tried to put them on.) He wags his tail in excitement when he sees me reaching for this harness! It's fast and easy to put on once you have it adjusted properly. I simply clip/unclip the belly clip on the gray strap and leave the upper strap clipped in all the time. I would spend the money on this harness again and again and would gladly recommend others to give it a try.
---
By Judy on Aug 5, 2022
Great harness!
I like this harness better than others I have tried. This is the first harness that really keeps my dog from pulling. Walks are much better now. I am going to get a second one for my other dog. I ordered a large, but I am going to get a medium/large for the second dog because it is just a little loose on its smallest setting (2 border collies). I was worried that if it was too small it would rub off their fur (which has happened with other harnesses in the past). This harness does not rub under their front legs.
---
By Nellyda on Jul 24, 2022
Truly a no-pull harness
I used to volunteer as a dog walker at the local shelter. This is the only harness they used. Why? Because it works! This is a humane and comfortable harness that works by clipping up front and gently altering your dog's balance if she pulls. In contrast to harnesses that clip on top or on a dog's back (which only encourages pulling), this harness discourages pulling due to simple ergonomics. I use this on all my dogs. I can't recommend it highly enough! It also gradually trains good leash behavior by making pulling a non-fruitful endeavor. Get this harness, use it correctly (attach leash up front at the chest), and enjoy your walks with a non pulling canine. I've used this on dogs from 25 lbs to 90 lbs. It works every time.
---
By IndieAnna on Jul 25, 2022
Super impressed with this solution!
Our 7 month-old Lab/Boxer mix does well not pulling on walks, until she sees a squirrel/bird/person/bicycle, and then it's chaos. She's not aggressive, just very, very enthusiastic. One day she lunged at a little boy and his grandmother out on a morning walk, and they RAN AWAY. I was so mortified, I decided right then and there that something needed to be done. After a neighbor told me about her harness she used for her dogs, I looked up this harness. I thought it was surely too good to be true...people reporting near instant results. But this thing seriously works. Indie wasn't a fan of it when we put it on...leaning against walls to itch herself, etc. But she's gotten used to it after a week. And the pulling has almost entirely stopped. She's a "teenager" so of course she still has her reactive moments, but she's so, so much better. I did see the reviews with the pets who had rashes/abrasions after one or a few uses of the harness, so I purposefully kept it a little loose across her chest and under her "armpits" so it's not rubbing her skin. Haven't noticed a detriment to the harness's performance and it hasn't harmed her in the least. Finally, even though I measured her girth, I still ended up with the wrong size. Chewy not only replaced it with the right size and took care of shipping, but left the wrong-sized harness with me to donate to my local shelter...who, of course, lists "Easy Walk" brand harness as a wishlist donation item. :)
---
By Zoey on Aug 17, 2022
Great customer service
My 8 Mon. Jack Russell has bitten through 2 Easy Walk Harnesses in a very short period of time so I called Petsafe. Michelle was very patient, listened to my story, wrote down my information & has requested another harness for my pet. There is definitely a difference when walking the dog - no pulling, walking beside me, etc. I highly recommend this harness. Thank you Petsafe.
---
By OldDogMom on Jul 27, 2022
Walking the Dog Is So Fun Now
We tried several different harnesses on our growing pup, and this is the best for her. It's easy to put on, so it's manageable to put on a wriggling, nipping, strong young dog. The no pull feature really works, our walks are calm and enjoyable. We use a fairly long leash because our control over pulling is so good and easy, and then our dog has a little more freedom. It's very well made, strong and secure. The dog has fun and so do we.
---
By Calming on Aug 16, 2022
Sturdy and well made
I think I got this a little early, but when our girl gets a little bigger it should work well. The straps are a little wider than I had thought, but as she grows that will be fine. It was a little awkward to get on at first because she's used to wearing a collar only but I'm sure she will get used to it.
---
By RhodieDaddy on Jul 31, 2022
Great Product
We got the slightly larger size as we have a growing puppy. At the moment the fit is not perfect (a little loose) so we are still using it in conjunction with her collar, however we can see it will fit and work well shortly. I would love to have the option to clip on the top though and not just the chest. That is the reason I gave it 4 stars and not 5.
---
By Steve on Jul 21, 2022
Won't stay secure
In theory this is a great design for a harness but it is severely lacking on the trail. While the warning is there from the manufacturer to tighten the belts because they can come loose over time, I find that the chest strap needs tightening every 100-200 yards when walking my 15 inch Beagle. Without pulling on the leash it has loosened multiple times to the point of working a leg out of it. Very unsatisfactory.
---
By Poppi on Jul 18, 2022
Not durable
This is the second Petsafe harness I have bought within a year. It is lightweight and allows our dog to move comfortably. Our Jack Russell chewed through the first one within a half hour. After 2 weeks of daily wear, only on our 2 mile walk, the second one started to fray around the metal leash connector to the point where I have had to wrap the harness with duck tape.
---