PetSafe Electronic SmartDoor
By PetSafe
---
About This Item
Easily program up to 5 SmartKeys with a touch of a button
Uses 4 D-cell batteries (not included)
Energy-efficient, insulated flap with UV sun protection
Fits door 1 1/2 - 2 inches thick
3-way lock: automatic, open, and locked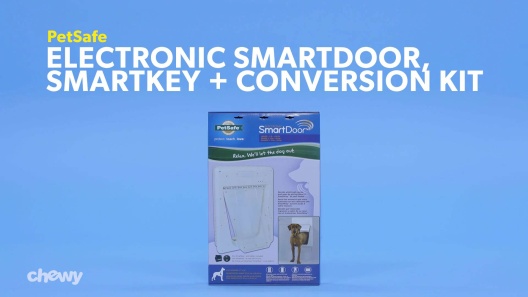 Learn More About PetSafe From Our Team of Experts
Click here for an extra SmartKey.
Shop Prescription Medications from Chewy Pharmacy
---
Compare Similar Items
| | | | | |
| --- | --- | --- | --- | --- |
| | | | | |
| Customer Rating | | | | |
| Price | | | | |
| Breed Size | Extra Small & Toy Breeds, Small Breeds | Extra Small & Toy Breeds, Small Breeds | Large Breeds, Giant Breeds | Medium Breeds, Large Breeds |
| Material | Plastic | Plastic | Plastic | Aluminum, Plastic |
| Features | Locking | Insulated, Locking | Locking | Locking |
| Door Type | Electronic | Standard | Standard | Standard |
| Assembly Required | Yes | Yes | Yes | Yes |
| Compatibility | Battery Powered | N/A | N/A | N/A |
| Technology Feature | Microchip / RFID, Programmable | N/A | N/A | N/A |
---
Questions & Answers
65 Customer Questions
---
How long does the battery last? Is there a low battery indicator? And can the dogs collar get wet?
Answer by • Sep 21, 2017
The batteries last approximately 3 months and there will be a flashing red light on the door to alert the customer to a low battery status. The collar is waterproof.
---
Can I install this door into a wall with an additional kit?
Answer by • Sep 25, 2018
The PetSafe Electronic SmartDoor Wall Conversion Kit allows you to install the petdoor into a wall.
---
Can this be used along with an inground fence?
Answer by • Mar 04, 2021
PetSafe does not offer any pet doors that are compatible with the in-ground containment system. However, your pet can wear the containment collar and wear the key needed to unlock the electronic pet door together without an issue.
---
Does this doggie door come with dog collars or the sensors to put on collars? And if so how many and if not how much is it per dog collar
Answer by • Oct 13, 2019
This SmartDoor does include a SmartKey and battery. The SmartKey is designed to slide onto a pet's collar (sold separately). Additional SmartKey's are sold separately and may be found by clicking the link under this item's description.
---
---
---
By WebGrrrl on Feb 11, 2022
Always wanted this!
I always had doggy doors but it had been years since I had cats. I wanted to have a cat again but wanted indoor-only, so I did my research on locking pet doors and bought this one. It's now been 8 months and still going great! I don't worry about the cat getting out, REALLY don't worry about critters sneaking in anymore, and my dog loves going in and out all day. I installed it myself and it went very smoothly. I watched my cat one day when the dog went out, the door swung once, not enough for her to get under it, then one more smaller swing outward, but she realized she couldn't make it through and it immediately locked. Now she just sits and waits for the dog to come back and play with her. This door is the best investment I ever made for my pets. Seriously.
---
By FoxyFly on May 12, 2022
Short life span on hinges
I've had 3 of these doors and every one breaks within 6-12 months at the hinges. But my hole is cut and I haven't found anything that fits. Frustrating
---
By morgan on Feb 3, 2022
Good for price
Bought this for my 12yo dog to help cut out potty accidents inside while I'm at work. Since I have indoor cats that I don't want to go out, an electric pet door seemed like a good option. It was easy to train my dog he got it in about 3 days. But because the door swings for about 30 seconds after the dog goes in or out the cats have learned they can sneak out while it swings closed before the magnet catches. So if you need it to keep other animals inside, not a great buy. But if you want it to make sure other critters outside don't get in, probably a pretty good buy.
---
By Beth on Mar 24, 2022
Broke in 30 minutes
I installed this door for our two Doberman. Within 30 minutes, they had broken the flap hinge which is made of plastic. Now I'm stuck with an oversized hole in my door that doesn't fit any other pet doors.
---
By OutInTheSticks on Jan 31, 2022
Don't Buy and Always An Excuse
Have gone through two in a year like a lot of folks. Called for another replacement today with cold front coming in. Even paying extra for faster delivery they stated couldn't guarantee a two or three day delivery. As others are stating, door hinges break easily after 6 or less months of use. The only plus is the door is a little heavier and can block strong winds. Can lock when needed. There doesn't seem to be much of a choice for this issue.
---
By ARosenbrock on Dec 27, 2021
Cheap Plastic Hinge will break with minimal use
We got this dog door in July. We have two medium sized German Shorthair Pointers who love to come in and out. After a couple of months the door got jammed and my husband had to take the door apart and was able to get it working again. Now in December the plastic around the hinge as broken and it is no longer functional. I will be calling customer service to see about a replacement or refund however, with all the reviews I have been reading it seems that the hinge breaking is a very common issue that will likely happen again and again.
---
By KellyB on Dec 3, 2021
Been through 2 in 12 months
The door flap has plastic hinges that eventually break off the frame and is not replaceable without replacing the entire door. This is the second one that has broken in a year. We made sure to install at the right height to the tallest dog's shoulders but the plastic hinge doesn't appear capable of holding up to 3 dogs going in and out several times a day. Not sure we want to try this one again and are going to need to now find an alternate solution for the hole cut in our door.
---
By Dogmom on Dec 14, 2021
Don't buy it
I had high hopes for this but it was a big disappointment. The very hard door slammed onto dogs going through it and hurt them. Also couldn't get the collar fob to operate the door. So, if you want a door that you can use, this is not the one.
---
By Hazel on Sep 26, 2021
I purchased this in February of 2021 August It's a broken
Don't waste your money. I bought this in February and by August it stopped working completely. Had my husband look at it and the board is toast not to mention that I had to buy multiple new color tags used to open the door because they were always going out.
---
By MDJD on Aug 1, 2021
Works to keep unwanted animals out
Overall, does the job. Pluses and minuses: (+) Lets the dogs in but keeps our goats out. (-)Not for sensitive animals. Loud click may scare sensitive pets away. My dogs don't love it as much as a regular doggie door and goats that would come through our regular doggie door don't like this one at all (+) thankfully because it takes about 10 seconds for it to close through a motorized action (-) not adjustable. The goats could follow the dogs through this door but the hard flap is much sturdier (+) and louder (-) than our old style soft flap door. (-)If dogs lay too close to the door, it will keep cycling through open/close. Seems to be more sensitive on the inside vs outside (-). Hard to get sensitivity set right (-). Batteries fall out of tags too easily with active dogs (-). Even with the disadvantages, it works for our needs in keeping unwanted animals out.
---