PetSafe Healthy Pet Simply Feed Adapter Cord
Frequently Bought Together
---
About This Item
Indicator lets you know when adapter is being used as the primary power source
Allows you to verify that the unit isn't running down the batteries so you can save batteries for backup power
Provides steady power source for your feeder
Replace batteries less frequently
Compatible with the PetSafe Healthy Pet Simply Feed Automatic Pet Feeder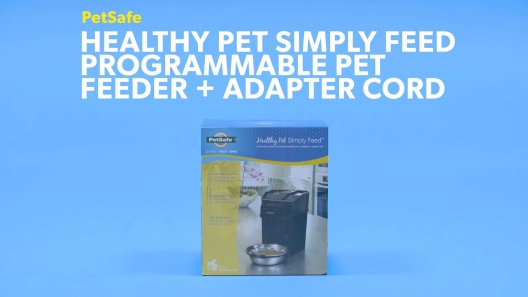 Learn More About PetSafe From Our Team of Experts
---
---
Questions & Answers
5 Customer Questions
---
What are the complete specifications? Is it 10 volts DC? I have so many leftover adaptors that I would like to reuse one if I can, for ecological reasons.
Answer by • Dec 17, 2020
This adapter has an input of 100V-240V 50/60Hz and the output is 10V DC 0.75A.
---
will it work without batteries?
Answer by • Apr 07, 2018
The Healthy Pet Simply Feed unit can run on batteries but features a power adapter connection located at the back of the feeder. The adapter can be used on an everyday basis, allowing the batteries to function as a backup power source in case of power outages. A power adapter icon will appear at the top of the LCD screen when the adapter is being used as the primary power source. This indicator helps you to verify that the unit isn't running down the batteries.
---
How long is the cord on the power adapter?
Answer by • Feb 20, 2018
The cord is about 6 feet long.
---
will this cord also work on the litter bix
Answer by • Oct 23, 2020
PetSafe Healthy Pet Simply Feed Adapter Cord provides a reliable source of power for the PetSafe Healthy Pet Simply Feed Automatic Pet Feeder.
---
---
---
By Thankful on Apr 29, 2022
Thankful I found this
Everywhere is out of the small dog pills. I found this and bought it. My vet says it's the same medication in the same strength as the pills. My dog won't eat this chewable so I crush it and mix it with a small amount of canned food. He never even knows he's been medicated.
---
By Keurig on Jul 6, 2021
personally didn't like it
The conveyor didn't want to work. I didn't like how the food dispenser stuck out like a Keurig. My cat looked afraid to put her head under it. The bowl is too big and ceramic would be better than stainless steel. It does hold a lot of food, but I didn't need that much for my cat. I did like that there were a lot of feeding schedules (12) to add for the day. Maybe this product is better suited for a dog or multiple cats that feed from the same bowl.
---
By GirlGamerGeek on Jun 9, 2021
Does not fit
This is the exact same one that I had ordered in the past in fact that one still works I just bought an additional Mac but needed one however this is after will no longer fit so be careful what you bought
---
By anonymous on May 30, 2021
mandatory, not optional
The $100 auto feeder runs on multiple D cell batteries or a/c power. It makes no sense why something so expensive would market this as something optional. Just make it a $115 feeder and include this.
---
By Aubrey on May 30, 2021
Don't bother
The manufacturer themselves will tell you when you call them that this adapter can often cause an error code and render the unit useless and it's better to just use batteries. It's a waste of money.
---
By Roxie on May 21, 2021
Because You Have To
So as it turns out, the $100 Autofeeder didn't come with a cord OR batteries. So basically you're forced to buy yet another part before one can use the feeder. Very disappointing
---
By Shannon on Jan 7, 2021
Inconvenient
The adapter works exactly as you'd expect it to, and I recommend getting it if you have/are getting the PetSafe feeder. But it not being included with the device itself is ridiculous.
---
By Kris on Oct 22, 2020
It is an excellent accessory to the feeder
There isn't really a whole lot you can say about a power cord. I decided to get it along with the feeder so that I could use electric but also have a battery back up (especially since my cat chews cords, but I have covered it with some flex hose). I much prefer this to using just the batteries or even just the wall outlet. I tested it to see if the feeder would switch to the batteries if it lost wall power and yes, it does. So I do recommend getting the cord as well. I saw some review the feeder complaining that the cord did not come with it, but at least at the time I ordered, it was made very clear in the description that the cord and batteries were not included with the feeder.
---
By Jenn on Jan 10, 2021
Pretty necessary with automatic feeder
Batteries are in the feeder to provide backup power, but this plug allows us not to have to go through tons of batteries for the feeder. Quite necessary.
---
By Oranges on May 18, 2020
it is a power cord.
It is a power cord. it connects to the wall and it connects to the feeder. I wish that the feeder would have come with us by default rather than having to purchase it separately. It does not seem to positively affect the clock losing time unfortunately. It's nice to know that if I have this and the batteries that the batteries will serve as a backup in case of power outage. Overall this gives me better peace of mind when I'm out of town and using the feeder.
---