PetSafe Nylon Martingale Dog Collar
---
About This Item
Prevents dog from slipping out of the collar, doesn't cause matting & bald spots like some standard collars.
Tightens when dog pulls and loosens when dog stops, perfect for "escape artists" and breeds with necks larger than their heads.
Durable nylon collar's custom fit is perfect for growing puppies.
Safer & more comfortable than a choke chain that's always tight.
Not recommended for tie-out use or during group play sessions.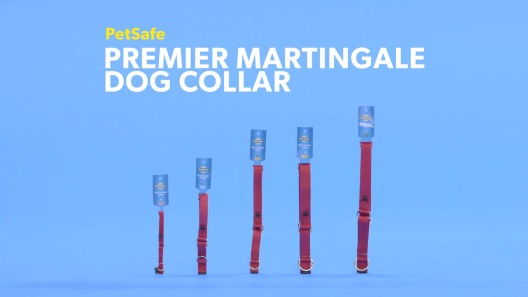 Learn More About PetSafe From Our Team of Experts
---
---
Questions & Answers
19 Customer Questions
---
What kond of collar to use with tieout
Answer by • Jun 01, 2021
The PetSafe Nylon Martingale Dog Collar is not recommended for tie-out use or during group play sessions.
---
How do I loosen the collar and how do I take it off.
Answer by • Jan 03, 2019
This collar is designed to tighten with the pulling strength of your pet and once there is no more pull it will automatically loosen. To remove the collar simply slip it over you pets head and ears.
---
Are these collars effective (for escape artists) with a 2-dog leash?
Answer by • Apr 03, 2018
The collar does help with escape artists. If the pet tries to back out of the collar or pull it will slightly tighten so they know its not coming off.
---
Can this collar be worn all the time or only during training?
Answer by • Oct 25, 2017
Keep in mind this collar should not be worn all day. Since it can potentially choke your dog if he gets stuck somewhere, you should always be around when your dog is wearing it.
---
---
---
By Janette on Aug 6, 2022
Misleading sizing
Love these collars but stated sizes are WAY off. "Large" is described as "14-20" neck. Adjusted down to it's smallest size it's about 19 inches. And up to about 26"--would fit my son's Rhodesian Ridgebacks. The correct size for my 50-55 lb collies is Medium, with 3/4" width. It's described as fitting 10-16" necks but fits my 18-20" collies necks just fine.
---
By Cantelope on Jul 25, 2022
Not adjustable
I've purchased a collar similar to this one. My error I guess, looked same but wasn't at all. This color is not adjustable at all. I hit order too quickly. Can't return because I opened them both.
---
By Heath on May 10, 2022
Horrible fit
This collar's sizing is so strange. Ordered my bulldog a medium according to the sizing instructions. His little round head is about the same size as his neck, but the collar would not slip over his head, it would barely go halfway. After a frustrating amount of effort working with customer service, they sent us a replacement collar the next size up. HUGE difference. The sizes go from a medium which can't even fit over a small French bulldog's head, to a large that could fit a Great Dane. The quality and usability of this collar is not great but decent, but that's only if you have a dog that fits one of these strange and extremely varying sizes.
---
By Kimberly on Jun 22, 2022
Great collar
Not only was this a nice Martingale collar , I loved the color. It is a gentle reminder for an energetic dog to not pull and walk better. In fact, I ordered the small for a neighbor dog that I walk daily - that I then got a medium size for my dog.
---
By Dogowner on Jul 11, 2022
Very good collar.
Works just as it should . He can't slip it off and it doesn't choke him. It's a nice looking collar too. I had a hard time finding a martingale collar for a small dog. Glad I checked with Chewy.
---
By Diane on Apr 17, 2022
Website instructions for measuring are WRONG!!!!
I chatted with a representative for help picking out a new collar for my 9 lb terrier/chihuahua mix. The other collars I've tried had big buckles that rubbed her neck raw in the front and she'd developed a bald spot, so I was looking for a collar that would suit her size and body shape better and eliminate that rub point. This Martingale collar works perfectly to resolve that issue. But! The instructions for choosing the right size as listed here are missing an important detail found only on the products tag (see photo) and the third example photo. The smallest size it's adjustable to is the size the collar is WITH NO SLACK. Meaning that when the collar is slack, it's actually several inches larger. This information is not clearly displayed on the product information page! My dog's neck is pretty much exactly eight inches. I bought the 8-12 inch collar and even adjusted as tight as it will go, the collar is barely tight enough not to just fall over her head. The "8 inch" measurement is with all slack removed. But (assuming the smaller collar is designed with the same principle) if I go down a size, it won't adjust large enough to slide on over her head. If your dog's measurements are somewhere in the middle of the size range for this collar, then I highly recommend it. It's a fantastic design. But if you are at the top or bottom of any size range, then skip it; you will absolutely be disappointed.
---
By RedDogBlueDog on May 19, 2022
Collar isn't what's pictured
I reordered "this" collar in red. The first one (blue) is a true martingale. The revised design is not. It has 2 separate loops and doesn't tighten the same. I got the same size and it won't fit over my dog's head. I had read reviews that it was changed but the picture matched so I went ahead and purchased. We will keep using the blue collar.
---
By ChrisA on May 2, 2022
DO NOT WASTE YOUR MONEY
This collar clearly was not assembled correctly when compared to a true Martingale. The loops are all wrong and it is a complete waste of money. In the picture, the one I purchased is the blue one, the red one is a friends which is really a Martingale. Very disappointing for a PetSafe product!!!! I only gave it one star because I had to, it should have no stars.
---
By Sandy on Jul 10, 2022
Wrong kind
Not all what I thought it was ,was gonna send it back but it's too late now. I need a color for a dog that stays outside. This one will not work.
---
By Debbie on May 2, 2022
Collar is awful
This is not a true Martingale collar and does not clasp on the dog. The "martingale" loop hangs in the front when not in use - catches on the dog door and gets in the way eating/drinking. Returning them.
---