PetSafe Pawz Away Outdoor Pet Barrier
---
About This Item
System includes: Waterproof Barrier Transmitter (4 Alkaline D batteries required, not included), Waterproof Receiver Collar with two 3-volt lithium batteries, Operating and Training Guide Test Light Tool. Transmitter uses 4 D batteries (not included); receiver collar uses two 3-Volt lithium batteries (included).
For outdoor use only with dogs and cats 5 pounds and up, collar fits neck sizes 6-28".
Protect an area up to 16 feet in diameter with no wire or create a custom area up to 150 feet using boundary wire (not included). Add Extra Outdoor Pet Barriers and Extra Indoor/Outdoor Collars for any number of pets and protected areas.
Progressive Static Correction- begins at the lowest level and increases to maximum in 3 seconds. Collar stops delivering correction after 15 seconds.
Lightweight, waterproof receiver and transmitter disguised as a rock to blend seamlessly into your landscaping.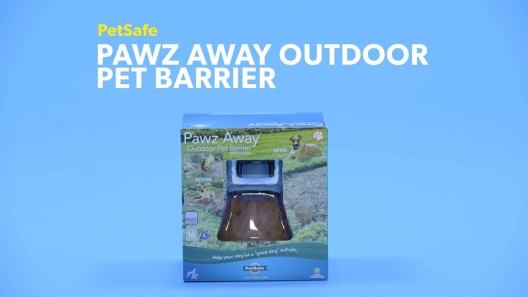 Learn More About PetSafe From Our Team of Experts
Click here for 3-Volt Lithium batteries.
Click here for an extra receiver collar.
Click here for an extra barrier.
Shop Prescription Medications from Chewy Pharmacy
---
Compare Similar Items
| | | | | | |
| --- | --- | --- | --- | --- | --- |
| | | | | | |
| Customer Rating | | | | | |
| Price | | | | | |
| Features | Adjustable Correction, Waterproof, Wireless | Adjustable Correction, Indoor, Waterproof, Wireless | Adjustable Correction, Indoor, Waterproof, Wireless | N/A | Adjustable Correction, Indoor, Waterproof, Wireless |
| Collar Type | Fence System - Noise, Fence System - Static | Fence System - Noise, Fence System - Static | Fence System - Noise, Fence System - Static | Fence System - Static | Fence System - Noise, Fence System - Static |
| Compatibility | Battery Powered | Battery Powered | Battery Powered | N/A | Battery Powered |
| Breed Size | N/A | N/A | Small Breeds, Medium Breeds, Large Breeds | Small Breeds, Medium Breeds, Large Breeds | Small Breeds, Medium Breeds, Large Breeds |
| Lifestage | Adult | Adult | Adult | Adult | Adult |
---
Questions & Answers
20 Customer Questions
---
How do I purchase extra barrier wire as stated above description? Thank you!
Answer by • Dec 20, 2017
Please view the product "PetSafe Extra Boundary Wire for Containment System" on our Chewy site.
---
Will need additional free so How does the extra wire/cable connect? Do you have to bury this wire? How do you buy the correct wire? Thank you!
Answer by • Dec 20, 2017
The compatible wire is the PetSafe Extra Boundary Wire for Containment. It is recommended to bury the wire so that it is not exposed to environmental hazards which may damage the wire if left out in the open.
---
Can you turn off the transmitter and/or the collar? Trying to keep cat in my backyard when goes out, how wide is the barrier? Does the battery say Pet Safe because it's the brand or has some sort of preventative covering for accidental ingestion?
Answer by • Feb 12, 2018
The Barrier Transmitter, disguised as a rock in your landscape, sends a spherical radio signal up to 16 feet in diameter or an 8 foot radius. It can be turned off, and reads "PetSafe" because that's the brand.
---
I would like to use this system to keep my dog from going into the front yard chasing the neighbors our back yard has a fence
Answer by • Jul 17, 2019
This pet barrier can be placed near the area where the dog is getting through and it will work as an invisible barrier to deter the pet from getting through.
---
---
---
By Larry on May 11, 2022
Works well..
As many have said in the reviews, the range seems to be smaller than advertise probably about 6 feet diameter at most though orientation of the rock seems to alter the range in some directions. Dog has responded well and is avoiding area. I only have to periodically make her wear collar to reinforce. Also of interest, you can use collar without probes and just tones will be delivered which is enough to warn and reinforce. Would love to know from manufacturer how long batteries in rocks and collars will last.
---
By JoyJ on Jan 27, 2022
Not necessarily the best option
I had high hopes for this but was disappointed with the range. I read a lot about this product and one thing that impressed me was the ability for it reach 8 ft and by placing two together you could have coverage for 16 feet. The problem is it doesn't trigger anywhere near 8 feet. It is more like 2-3 feet. If you have a very small spot you want to keep a pet away from it may be good but then again it's a lot of money to spend for coverage that is so small. It is weather proof which is good.
---
By Pheobe on Apr 22, 2022
Awsome great
This rock has stop our Doberman from running thur flower bed and tearing it up. She stays clear of rock now even with collar off. Love it.
---
By Libby on Jun 18, 2021
Keeps dogs from fence fighting
Purchased a couple of these to keep my dogs from fence fighting with the neighbors dogs. It works great! I purchased the wire to make an ever bigger area off limits and so far my dogs are staying away from the fence line. Took a few tries of my dogs getting shocked but they learned quick! My yard is now a peaceful place and I can let my dogs out without worry.
---
By Greg on Oct 4, 2020
My cat loved it!
We tried this on our cat to prevent him from entering our neighbors house. He heard the beep, then felt the shock, and entered as usual. So I put it to my fingers and felt the shock. I placed it directly on his neck but to my dismay he began to purr. He was not phased by the noise or shock. Total fail.
---
By Youngertwin on May 10, 2020
Needed this product to work really badly
I bought this product to keep my dog out of my pond and away from my aquatic turtle. I've tried installing it. I brought a family member over to start over and try installing it. The neck unit won't test as working even with new batteries. I was shipped a faulty unit. To return it I must contact Australia and ship it there back to pet safe. Not a good buying experience with this brand.
---
By zogoflex on Mar 30, 2020
Works as intended
After the first two encounters, I don't even need to turn the collars on. The dogs will go no where near the rock. Works like a charm.
---
By Summer on Dec 8, 2019
Keeps our pit bull from ruining our patio furniture
This product is amazing!! We have tried everything to keep our dogs off of our furniture to prevent them from chewing them up and nothing ever worked. 3 patio sets later I found this product. It keeps her a few feet away from the furniture but still allows her to roam the rest of our yard freely
---
By GSD1 on Nov 3, 2019
Mischievous GSD
I have a 115lb GSD that loves to be where he is not supposed to when we are not home this product has been a life saver he has a very large fenced yard but loved to dig and jump on me when I got home by placing a "rock" beside my car I no longer have that problem
---
By Melissa on Jun 8, 2019
Small barrier control
This works great for the area we needed our herding dog to stay away from. He would sneak through a gate when we weren't paying attention. The rock has to be near the middle of the sixteen foot wide gate, but we can move it when we need to take a truck through. Our dog keeps his distance after just one shock.
---