PetSafe Wireless Fence Receiver Collar
Frequently Bought Together
---
About This Item
This waterproof collar comfortably fits small, medium and large furry friends who weigh 8 pounds or more. It adjusts to fit neck sizes 6-28 inches and is compatible with all PetSafe Wireless Fence Transmitters.
The battery in the collar lasts up to 2 months and a low-battery indicator will alert you when it's time to replace the battery. This collar uses the PetSafe RFA-67D-11 battery.
Works with all PetSafe Wireless Fence transmitters to keep all your furry sidekick safe in your yard. Not compatible with PetSafe In-Ground Fences or Remote Trainers.
You can add unlimited pets to your system. Simply add as many collars as you need!
You can personalize the collar settings based on your pet. Use the tone-only training mode or choose from 5 levels of static.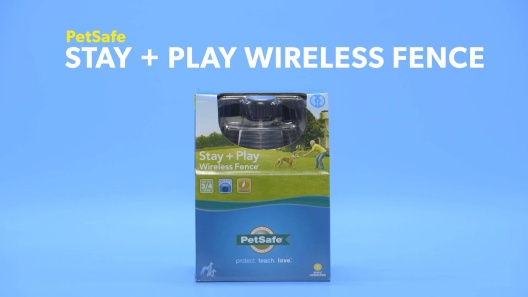 Learn More About PetSafe From Our Team of Experts
---
Compare Similar Items
| | | | | | |
| --- | --- | --- | --- | --- | --- |
| | | | | | |
| Customer Rating | | | | | |
| Price | | | | | |
| Features | Adjustable Correction, Low Battery Indicator, Waterproof, Wireless | Adjustable Correction, Low Battery Indicator, Rechargeable Battery... | Adjustable Correction, Low Battery Indicator, Rechargeable Battery... | Adjustable Correction, Low Battery Indicator, Waterproof, Wireless | Adjustable Correction, Low Battery Indicator, Waterproof |
| Collar Type | Fence System - Noise, Fence System - Static | Fence System - Noise, Fence System - Static | Fence System - Noise, Fence System - Static | Fence System - Noise, Fence System - Static | Fence System - Noise, Fence System - Static, Fence System - Vibration |
| Compatibility | Battery Powered | Rechargeable, Plug-In Power | Rechargeable | Battery Powered | Battery Powered |
| Lifestage | Adult | Adult | Adult | Adult | Adult |
---
Questions & Answers
21 Customer Questions
---
How do I link this receiver collar to the petsafe IF-100?
Answer by • Apr 20, 2018
This collar is synced by setting the correction level: 1. Remove the clear plastic cover with the edge of the Test Light Tool to expose the Correction Level Button. 2. With the battery installed, press the Correction Level Button and release when the Receiver LED Indicator Light lights up. 3. The Receiver LED Indicator Light will emit a series of flashes representing the Static Correction Level. 4. Increase the Static Correction Level by pressing and releasing the Correction Level Button within 5 seconds of the previous series of flashes. 5. After setting the Static Correction Level, replace the cover to protect the Correction Level Button. The Static Correction levels increase in strength from 1 to 6. Pushing the Correction Level Button while the Receiver Collar is on level 6 will cause the Receiver Collar to revert to level 1.
---
The collar that came with my system had longer prongs you could swap in to use with a thicker coated dog. Does this collar also come with both shorter and longer prongs?
Answer by • Dec 04, 2019
This Receiver Collar comes with short contact point (prongs), however long contact points can be purchased separately for pets with long or thick coats.
---
I have an IF100. Which collars will work or do I need to upgrade?
Answer by • Oct 12, 2019
The receiver collar replacements can be found under the name "Country Brook Design Replacement Fence Receiver Dog Collar." You do not need to upgrade the receiver collar.
---
Can you replace just the fabric part of the collar?
Answer by • Dec 28, 2018
The collar strap may be replaced but using a fence receiver replacement collar strap.
---
---
---
By Petcollarcuddles on May 22, 2022
Old collar bit the dust
This same collar lasted 10 years so I hope to get equal time with this new one. Other than being over expensive, it works perfect for an adjustable circumference around my house and our dog automatically stops when it hears the warning beep. The distance and strength of minor shock is adjustable from collar . To save on cost of batteries, I put batteries in early morning and take out early evening.
---
By Kdurns on Nov 10, 2021
Great solution for big yards!
My household has 4 dogs and a long term guest 5th dog. Two are explorers, one can jump all fences, two of them can dig under fences. Our neighborhood is full of dogs and tempting creatures and all they need to hear is the warning beep and they turn around and come back. This gives them so much room to run! As long as you pay attention to the red blinking light that indicates the battery is dying there are no issues. We have had a collar break and one receiver stop working but all in all it's created the best outdoor environment my dog has ever had!
---
By tcole426 on Dec 16, 2021
Collar doesn't work!
I ordered this as a replacement for one of our Dobermans. This collar was faulty and he got through the fence and was almost hit by a car! His old collar always worked but was getting worn so we wanted a replacement. I'm so upset right now and will be returning this one!
---
By Klynn on Mar 6, 2022
Collars for dogs
It was easy to purchase an item and the delivery was great. Will use them again.
---
By Julie on Dec 2, 2021
No complaints!
Collar works great. It's given both my pup and me a lot of freedom and security. I can let her out without worry, and she can "roam" for a bit without getting too far! Definite game changer!
---
By Theman on Jan 23, 2022
Pet safe receiver collar
So far so good has kept our german shepherd in the boundary of our house sense she has had it on.
---
By Kari on Mar 12, 2022
Does not work
It beeps at the house but not by the fence like it should
---
By candimac on Aug 6, 2021
wireless fence
I have had this for about 4 years for my 5 year old Border Collie. I have a home in Illinois on a very busy road and a home in Wisconsin with a lot of neighbors with dogs and no fences. My dog will not cross the line unless I tell him it's okay even without the collar on. I have just adopted another 5 year old Border Collie so am ordering another collar for her. Hope she learns as fast as he did. (Only took him once or twice getting zapped) Love that I can take it back and forth and he knows boundries at both places. Just wish the neighbors would buy this to keep their dogs in their own yard at the lake!!
---
By Rachel on May 1, 2021
Works but has a glitch.
Bought this replacement collar for my 16 lb heinz 57 dog. His previous collar stopped working after a few years. This collar works fine, except it beeped and scared the bejeesus out of him while he was inside the house ( well within the collars range) it didn't shock him thank goodness, just scared him. I'm going to try it again. Hopefully it was a one time thing.
---
By Wifemomtherapist on Apr 6, 2021
Great System
Love this as an additional collar for my 2nd dog. He's a Jack Russel/Rat Terrier mix and loves to jump our actual fence so this wireless system ensures he doesn't leave our property.
---