Pure Water Pebbles Coated Aquarium Gravel, 5-lb bag
Frequently Bought Together
---
About This Item
Premium-quality, 100% natural substrate adds fun and beauty to your finned friends' environment.
Looks great in both indoor tanks and outdoor ponds; provides ample living space for beneficial microbes and anchoring for plants.
Aids the filtering process by increasing the surface area available for nitrifying bacteria to colonize.
Non-toxic, 100% acrylic colorfast coating won't foul your water or impact your water chemistry.
Granules measure 3.1-6.3 mm and are available in ten vibrant colors; can also be used to beautify potted plants, vases and more.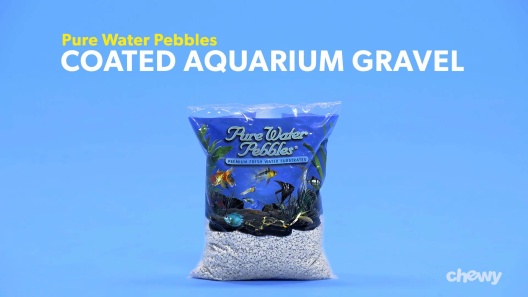 Learn More About Pure Water Pebbles From Our Team of Experts
---
Compare Similar Items
| | | | | | |
| --- | --- | --- | --- | --- | --- |
| | | | | | |
| Customer Rating | | | | | |
| Price | | | | | |
| Fish Type | Koi & Pond Fish, Goldfish | Goldfish, Koi & Pond Fish | Goldfish, Koi & Pond Fish | Goldfish, Koi & Pond Fish | Goldfish, Koi & Pond Fish |
| Aquarium Type | Pond | Pond | Pond | Pond | Pond |
| Material | Stone | Stone | Stone | Stone | Stone |
---
Questions & Answers
12 Customer Questions
---
How many shades of blue are in the marine blue bag?
Answer by • Feb 04, 2019
Every color the gravel is available in is intended to be a single shade. However, some pieces may appear lighter or darker due to the process of color coating the gravel.
---
How many bags do you need for a 20-gallon long tank?
Answer by • Jul 15, 2021
Determining how much substrate to buy for your aquarium depends on the size and shape of your tank, as well as the depth of the substrate bed you wish to achieve. In general, we suggest 1 pound of substrate per gallon, to achieve a 1 inch bed or 2 pounds per gallon, for a 2 inch deep bed.
---
can these pebbles be used for a beta fish tank?? and does it matter what color
Answer by • Jun 13, 2021
This gravel is suitable for fresh & saltwater aquariums, ponds and terrariums. It should work nicely for your various fish species.
---
Hi! I noticed this is a coated substrate. Does the coating come off? And if/when it does, is the coating and underlying rock safe for shrimp? Thank you.
Answer by • Apr 05, 2019
The 100% acrylic colorfast coating is non-toxic and won't foul your water or impact your water chemistry.
---
---
---
By Marie on Oct 19, 2022
Garbage, literally
Yep, I had to throw it away. I bought the marine blue color and I rinsed it 3 times and even let it soak for hours and the color still bled. My hands were blue! There was no way I was going to trust putting it in my tank. I wishI had read reviews before I ordered it.
---
By Ljarvis on Nov 19, 2022
Everything was ok except....
The 9 5lb bags of aquarium gravel was packed ON TOP of the filter!!! And one bag of gravel had a hole in it! Have they no common sense???!!!
---
By jillybee72 on Oct 5, 2022
Great gravel!
It looks great! Be sure to rinse thoroughly. There is lots of excess dye and small pieces that float and get into the filter or the fish confuse for food.
---
By honey on Apr 8, 2022
It's a bleeder!
This sand like gravel BLEEDS so much I had to wash for a good hour, stained my hands and the bucket. Always wash until water runs clear!! It does take a while but once the water is clear I've had no issues with the gravel bleeding inside the tank and I can grab it without it staining my fingers so if your up for a good long gravel soak and wash I say buy this one! Works well in both my tanks with no bleeding or staining issues. My only issue is when I clean the gravel it's so sand like a little bit tends to suck through the vacuum siphon.
---
By Jmart on Oct 1, 2022
Rolling pebbles
just what I needed for my Beta , the color was great
---
By OldDogMom on Feb 24, 2022
Love the Color, Not so much the tiny rocks
I bought the white rocks when I decided to redecorate my fish tank. First of all my fish tank looks so nice, the white really brings the whole thing together. Seem like decent quality rocks. I sanitized them with boiling water before putting them in the tank. No paint flaking. I did notice a lot of dust when I strained them after rinsing. (you should always rinse and strain new rocks bc the dust is very bad for your fish to breath in) That wouldn't have bothered me so much if it was only dust. However, a pretty big portion of the rocks are TINY. Like almost sand. I lost a good 1/4 of the rock when I strained them. (I used a cullender with very small holes). Waisted a good portion of my rocks. and almost destroyed my sink (I noticed it wasn't just dust coming out and managed to quickly block the drain. cant imagine what it would have done to my sink if I hadn't caught it so fast) and made a huge mess for me to clean up- scooping handfuls of basically course sand out of my sink. If I wanted sand for my tank I would have ordered it- I wanted rocks. Disappointing. But the quality of the remaining rocks and how nice my tank looks with them kept me from giving them 1 star.
---
By Diane on Sep 15, 2022
Red gravel
Yup! It sure was red gravel! Red I say! Red gravel!
---
By AquariumRater on Feb 10, 2022
Color BLEEDS
I rinsed it before putting into my tank and the water came out bright red. I thought maybe it was just the initial rinse so I washed it several more times with the same result. I put it in a bucket so I could move the gravel around to rinse it outside of the bag but the water was still coming out red. After letting it sit for a few minutes I thought the color would settle, instead it stained the bucket. I would not trust using this with fish unless you want everything stained the color of the gravel.
---
By Sopfeeeeyea on Feb 10, 2022
Turned a plastic bowl black
These were really strange aquatic rocks. I rinsed them before putting them in a tank and the water ran grey for a very long time. The bowl I used to rinse them was stained black (it was plastic) I didn't use them in my tank because I couldn't get the water to run clear
---
By Madison on Feb 9, 2022
DO NOT BUY
I had to call chewy because of how bad it was. I ordered the black rocks, it stained my hands, tub and turned the water black no matter how many times I rinsed it. It smelled very strong of spray paint. Thankfully I called and they gave me a refund.
---