Simparica Chewable Tablet for Dogs, 22.1-44 lbs, (Mint Box)
Autoship
(Save an extra 5%)
Choose Autoship at checkout for regular deliveries.
Why Autoship?
FREE access to chat with licensed vets 7 days a week.
Save 5% on all future Autoship orders.
No fees, no commitments - cancel Autoship anytime.
This item requires prescription approval.
---
Medications ship separately. Delivery times may vary.
---
---
---
We'll collect your pet's prescription information at Checkout.
---
---
About This Item
Say goodbye to pesky, persistent pests and hello to Simparica. This once-a-month tablet gives you an easy, reliable way to protect your dog from fleas and ticks. It's a tasty tablet that works to shield your pet for a full 35 days, killing fleas before they can lay eggs. It helps to prevent home infestations and tick-borne illnesses. Plus, unlike other medications, Simparica doesn't need to be given with food. Simply feed him one chewable tablet, just like a monthly treat, and give your companion the broad-spectrum protection he deserves.
Proudly sourced directly from the manufacturer or their approved distributor. Guaranteed genuine and backed by the manufacturer.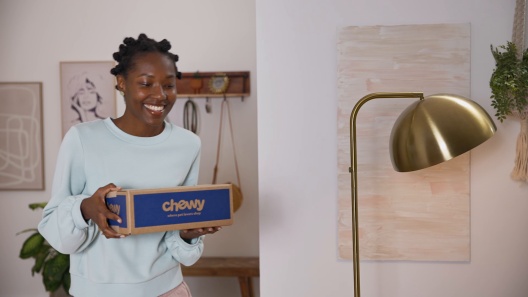 Learn More About Simparica From Our Team of Experts
Dosage Chart
| Color on Box | Weight Range | Strength | Dosage | Product Page |
| --- | --- | --- | --- | --- |
| Yellow | 2.8-5.5 lbs | 5 mg Sarolaner | Administer orally once a month | ✓-Click Here |
| Purple | 5.6-11.0 lbs | 10 mg Sarolaner | Administer orally once a month | ✓-Click Here |
| Orange | 11.1-22.0 lbs | 20 mg Sarolaner | Administer orally once a month | ✓-Click Here |
| Mint | 22.1-44.0 lbs | 40 mg Sarolaner | Administer orally once a month | ✓-Click Here |
| Green | 44.1-88.0 lbs | 80 mg Sarolaner | Administer orally once a month | ✓-Click Here |
| Brown | 88.1-132.0 lbs | 120 mg Sarolaner | Administer orally once a month | ✓-Click Here |
---
---
---
By DogMom on Jun 22, 2022
Works Great - No Ticks & Fleas
Simparica Chewable Tablets have worked great for my small dog. Effective - No ticks or fleas Easy to Chew - My dog thinks the tablet is a treat No noticeable side-effects for my dog and who has a sensitive tummy. Price is a bit higher than other brands but there is no mess of the greasy topical application that gets on everything. Chewy has fast and free shipping. Chewy took care of contacting my vet for the prescription - super awesome customer service!
---
By tickfighter on May 27, 2022
It works so far
This has been a bad year for ticks. I work in my garden daily and almost everyday I find a tick on me. Revolution wasn't working so I tried Simparica and my dog has had no ticks since starting it. It is supposed to be chewable, but my guy was wise to that so it required a pill pocket. Or possibly he has me trained to give him more treats.
---
By SwerdnaBrab on Jun 18, 2022
So easy and much cheaper
Since Chewy contacts my vet to obtain the prescription, it makes it so easy. And since it was my first RX, I saved even more than the normal Chewy discount!
---
By Ella on Mar 5, 2022
Product delivered on time and in perfect condition
I have known the product works as my dog has taken it for many years. My prior vet would not allow me to purchase from Chewy, claiming the quality is not good and/or cannot be verified. They charged me a TON more for the same product. My new vet directed me to order from Chewy. The expiration date is clearly on the label (and well far-enough away for this to be perfectly safe and effective!), and the price is lower.
---
By SimparicaCare on Feb 18, 2022
Mint flavor and price a winner
Marley who love's vegetables, took to this Mint flavored 'Simparica' chewable instantaneously. The price point was outstanding compared to others to accomplish heart care, and flea treatment easily, and no worry about tics. He is super sensitive to ay flea contact which makes this a good combo.
---
By SqueekerWithTug on Jan 26, 2022
Chewy Required Paper Rx
The medication is good and seems to do what it's supposed to. It's probably also important to note that we live in a huge city and fleas/ticks aren't a huge threat. There were some problems though. I ordered online and provided the veterinarian's contact information, but Chewy tried to modify the quantity and still required that I mail-in an Rx. If you're getting drugs this way, plan for delay.
---
By HUCK on Nov 29, 2021
Ticks Yuuuk
We found 2 engorged ticks in as many days on our dog. We live in the country where fleas and ticks are an inevinability. We have been lucky in the last 30 years and have only 'found' three or four' on our dogs. None on our livestock which doesn't mean they aren't there. Our neighbor has had many on their livestock, I am thinking we have been spared. The large herds of elk in the area may be the culprits, but we love them. Better safe than sorry so we are using the 'new' SIMPARICA and so far , no unwanted bugs. Besides, 'Swede" likes the taste.
---
By Chris on May 8, 2022
Great product
Great price for this flea and tick chewables!! I will buy it from now on.
---
By Kelly on Dec 7, 2021
Finally flea free!
After years of over the counter flea treatments, this past summer was absolutely awful for fleas and ticks in the south, and I finally decided a prescription was in order for my senior beagle. After a week on Simparica, I found no fleas and no evidence of fleas; I checked her frequently. The prescription is pricey, but it beats spending money on treatments that don't work. My beagle is happier and I'm not constantly searching her for fleas.
---
By Jenny on Jan 5, 2022
Works but makes my dog limp
No more fleas and mites but my dog started sagging in with her hind end. I stopped Simparica immediately and one week later she recovered and is now walking normal. She is a young healthy dog and I'm 100% sure Simparica caused this! It scared me!
---