Vet's Best Flea + Tick Spray for Dogs, 8-oz bottle
Autoship
(Save an extra 5%)
Choose Autoship at checkout for regular deliveries.
Why Autoship?
FREE access to chat with licensed vets 7 days a week.
Save 5% on all future Autoship orders.
No fees, no commitments - cancel Autoship anytime.
---
About This Item
Kills fleas, flea eggs and ticks by contact with certified natural ingredients, including peppermint oil and eugenol from clove plants.
This formula is independently tested to prove its effectiveness on fleas, ticks and mosquitoes.
The 8-ounce spray bottle is the paw-fect size for travel and walks. Simply apply it directly to your dog's coat!
Formulated for dogs and puppies 12 weeks or older when used as directed. You can apply this spray indoors or outdoors!
Manufactured in the USA with quality domestic and internatially sourced ingredients.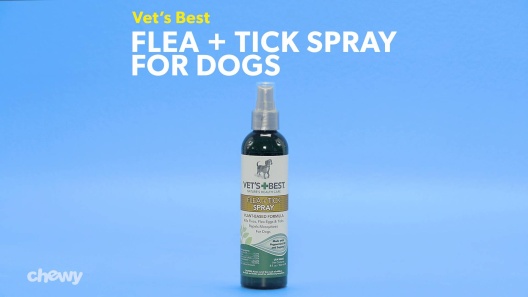 Learn More About Vet's Best From Our Team of Experts
Important Information
Fleas rise to the top of your pet's coat as they die, so consider it a triumph if you start seeing more fleas at first, after treating your pet. If you're still seeing fleas after application, it may be because your pet has picked up new fleas from the environment, which may include other pets, surfaces and outdoor areas. It may take up to 30 days to break the entire flea life cycle. Additionally, you should also treat sources of new fleas (i.e., carpet, yard, etc.) to ensure complete flea control.
---
---
About Vet's Best Flea and Tick Remedies
USA-Made, Plant-Based Protection
Vet's Best flea and tick remedies contain carefully selected, potent ingredients to kill adult fleas and flea eggs. Not only will these 100% made-in-the-USA flea and tick products effectively get rid of pests, but these plant-based formulas also provide long-lasting repellent to maintain and support external wellness.
Soothing Relief
Vet's Best flea and tick remedies offer safe solutions to common pet skin problems with key essential oils, including peppermint oil and clove extract. These solutions don't contain any harsh chemicals, as these can be drying to your pet's skin and potentially cause a multitude of other side effects. These potent solutions offer protection for your pet, your home and yard, without any worry.
Holistic Remedies for Dogs and Cats
Keep your pet, home and yard pest-protected with the help of a variety of flea and tick deterrents.
FLEA AND TICK PET SHAMPOOS:
Anti-Flea Easy Spray Shampoo is a spray-on shampoo made with plant-based oil, including peppermint oil and clove extract as key ingredients for effective pest relief. Just spray on, lather and rinse. It's formulated to kill fleas and flea eggs immediately on contact and leave your pup smelling wonderfully fresh and clean.
FLEA AND TICK PET WIPES:
These wipes will help your pet stay free from fleas for an extended period of time. They're perfectly formulated using certified natural essential oils like clove leaf oil, thyme white oil and cinnamon. Simply wipe down your pet to leave a light layer of the solution on his coat. These pet wipes can also be used on household surfaces, like flooring and countertops, too.
FLEA AND TICK SPRAYS:
Flea + Tick Home Spray is a non-staining formula that effectively kills fleas, flea eggs and ticks and also repels mosquitoes. This formula can be used on your pet and also around the house on surfaces like furniture, carpet, flooring, bedding and more. Vet's Best Flea + Tick Yard & Kennel Spray for Dogs & Cats is a plant-based spray that's perfect for use around the yard and in your home. The Flea + Tick Home and Go Spray is ideal for use while you're out and about—whether on vacation or just enjoying a morning walk.
MOSQUITO REPELLENT:
Vet's Best Mosquito Repellent Spray for Dogs and Cats contains a unique blend of plant-based ingredients like lemongrass and geraniol oils, which work to repel mosquitoes and keep your pup safe while spending time outdoors. This spray has been tested and proven effective at repelling mosquitoes without using harsh chemicals like DEET. It is even safe to use on dogs and cats that are 12 weeks or older.
About Vet's Best
Vet's Best is a part of The Bramton Company, LLC pet care products and solutions. These holistic products were developed by veterinarian Dr. Dawn Curie Thomas in the 1980s to help fill the market needs for more natural pet care solutions. Through dedicated research, Dr. Thomas created formulas that promote wellness without the use of harsh chemicals.
Shop Vet's Best
Compare Similar Items
| | | | | | |
| --- | --- | --- | --- | --- | --- |
| | | | | | |
| Customer Rating | | | | | |
| Price | | | | | |
| Autoship | | | | — | |
| Top Ingredients | Peppermint Oil 0.30%, Eugenol (from Clove plants) 0.70%, Sodium Lauryl Sulfate (plant-derived) 2.70%... | Pyrethrins, Permethrin, N-Octyl Bicycloheptene Dicarboximide... | Geraniol, Eugenol, Peppermint, Water, Isopropyl Alcohol, Glycerine. | Geraniol, Cinnamon Oil, Lemongrass Oil... | Active Ingredients: Cinnamon Oil, Rosemary Oil, Peppermint Oil... |
| Lifestage | Adult | Adult | Adult | Adult | Adult |
---
Questions & Answers
19 Customer Questions
---
I know it says it kills fleas and ticks, and repells mosquitos. Does it also repell/prevent fleas and ticks?
Answer by • Aug 11, 2018
This product uses peppermint oil and clove extract (eugenol) to help control and kill fleas, flea eggs, and ticks on contact, and also repels mosquitoes.
---
Can you use this product even if you use frontline flea and tick medicine once a month as well?
Answer by • Dec 05, 2017
Although the product consists of natural ingredients, we recommend consulting your veterinarian before administering.
---
How often do you use this vets best flea plus tick spray for dogs? The bottle label and the website tell me everything about the product, except for this.
Answer by • Jun 24, 2017
This product is to be used as needed. Just make sure that you're allowing 2-4 hours between applications. This product can be used indoors or outdoors.
---
Hi, I've read peppermint is toxic to dogs and would like to make sure this formula is at a low enough concentration to not cause harm to our puppy. I used it on her this morning and it seemed to calm her scratching right away!
Answer by • Mar 21, 2018
The amount of peppermint in this supplement is absolutely safe for dogs and as long as it's used as directed it should not be harmful.
---
---
---
By Lois on Aug 2, 2022
I use it for everything!
I use it for everything! I keep 2 bottles, one inside, and the other outside! Of course, I use it on my cat when needed, but also ants, aphids, spiders, and an occasional mosquito flying about!
---
By Rose on Jun 7, 2022
Smells good and protects
For the price this product is great. Smells good and easy to spray on my dog.
---
By sher on Mar 13, 2022
best smell ever
I really hate to buy sprays because they're always gross smelling. Not this one, the smell is wonderful. I'm very happy with this purchase. It also works to repel fleas.
---
By Dogowner on Feb 22, 2022
Leaked through box
There was no lid when delivered so it leaked all over the box and things in the box
---
By Doug on Nov 3, 2021
5 Stars Vet's Best
Vet's Best is an easy to apply product with more natural ingredients. Our Kennel recommended it as well.
---
By Holls on Aug 10, 2021
Highly recommend!
My dogs are on monthly flea & tick prevention. However, they are often irritated by "no-see-ums" and black flies. This spray is added protection. I lightly spray this over their backs from neck to rear and it helps.
---
By Supersmall on Aug 15, 2021
Kills fleas on straight contact Full Review
I bought this a week ago and use it every day on my small cavalier king charles spaniel female and once on my springer spaniel and medium size cavalier king charles spaniel boy. All dogs are with infected with fleas and we had a hard time keeping them off with regular store bought spot on treatments and baths so we bought this product hoping it will kill and repel the fleas off our dogs and home and this is what happened after we almost finish the spray bottle. I want to mention before I forget that I been using it everyday on my small female king charles spaniel and once on the other dogs and that I sprayed my bed bedroom every day too and sprayed the dog's bed and area with it a couple of times but now I am trying another product because this spray will actually kill the fleas but the fleas have to be visible like on top instead of under tick hair or out on top of the bed or floor for them to die. My cavalier boy infestection was the worst uyou could she them running and jumping and the millions of eggs and when I sprayed him all die and the eggs too. The eggs became blood and my dog had so many he looked like he was badly hurt off how much blood was on him after the spray. He had so many dead fleas I used the flea comb to get them off him and the comb was coming out completely full but he did have live fleas on him, the ones that were under the ticker hair or under the ton of dead fleas. The springer spaniel female did not had that many since she had a hair cut and bath with blue dawn the day before and her fleas were reached easy and died and for the small cavalier female most died except the ones under the tick long hairs which I got out with the flea comb. I had sprayed my bed, bedroom and the rest of the house with it also my small cavalier female pj's and as precautiong sprayed her body before putting on the pj's and she walk out the room and when I called her back as always I checked her and she had a flea on the pj where her right tight is. The flea was not jumping or moving when I pulled her out. We went to bed without my small cavalier waking up to scratch and sleep the whole night but the next day after we got up (me and the dog) it was a flea on the bottom corner of the outer side of the bed which I immediatly spray with this product and died. I also got jumped by a flea on my sock when I opened the kitchen door to let my small cavalier out so this product does not repel the fleas at all as you can see by my experience on the bed, dog pj and kitchen door but will kill the fleas when you see them so what I am doing until we can get them to the bed next week is combing them after we spray them to make sure we we get them and for my little cavalier that sleeps with me I spray her and rub it to her skin and spray her pj too then put her in the bed and be sleeping without problems or scratching all night and do not find those flea dirt (small black dots that are flea poop or/and eggs) on my bed but I did noticed one thing about this product it does bring out hair out on the bed and dog's plush toys.
---
By cap64 on Jul 15, 2021
Perfect for my dog!
I have a dog that loves to roll around in the grass so I needed something to make sure his coat had something to guard against fleas and ticks. I found it! My dog didn't pull a fuss when I massaged it into his fur because it doesn't stink. It didn't have that smelly, stingy stench like other flea and tick sprays. He was happy and I was happy!
---
By Lina on Jul 27, 2021
Do not waste your money!!
My dog ended up getting fleas and I sprayed this on her coat and it appeared to instantly kill they YET they fleas kept coming back and the only thing that would help was a flea bath. I ended up realizing the scary truth when I decided to spray her and collect all the dead fleas on a piece of tissue turned just to see that within a matter of 5 min the fleas jumped off the tissue and up my arm. It appears that the solution only impaired them for awhile but did not kill them!
---
By FreyasMom on Jun 9, 2021
Does Not Repel Or Kill Ticks
I bought this initially as a mosquito repellent and it works just fine at that. The vet's best shampoo kills fleas, yes. This tick season is HORRIBLE and my dog is hard to check (black, long double coat) I sprayed her down multiple times before going out. The first trip into the woods she picked up 6 ticks. This past trip she was only on a manicured lawn and got at least 6 more. They are all alive and do not die even when sprayed directly.
---