Vision II Model L01 Bird Cage, Large
Frequently Bought Together
---
About This Item
The perfect blend of design and practicality, this cage is perfect for budgies, canaries, lovebirds and finches.
Made from non-toxic, durable materials so you can feel confident about letting your feathery friend call this home.
Simplifies cleaning with a no-drawer design, simply detach the cage from the base for easy cleaning.
Knock-down style for easy assemblage and has been designed to keep 80% of waste and debris inside the cage.
Measures 29.5 x 15 x 21.5 inches.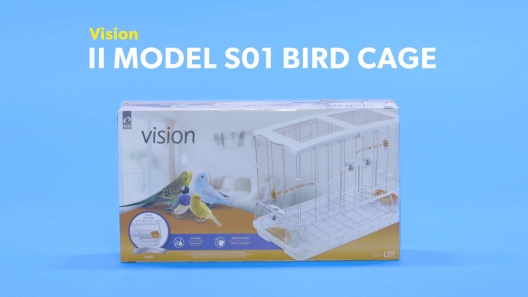 Learn More About Vision From Our Team of Experts
---
Compare Similar Items
| | | | | | |
| --- | --- | --- | --- | --- | --- |
| | | | | | |
| Customer Rating | | | | | |
| Price | | | | | |
| Bird Type | Canary, Parakeet, Lovebird, Finch, Budgie | Parakeet, Canary, Lovebird, Finch, Budgie | Parakeet, Canary, Lovebird, Finch, Budgie | Parakeet, Canary, Lovebird, Finch, Budgie | Cockatiel, Lovebird |
| Material | Coated Steel, Metal | Coated Steel, Metal | Coated Metal, Metal | Coated Metal, Metal | Coated Metal, Metal |
---
Questions & Answers
26 Customer Questions
---
Is the only way to clean bottom by lifting off the top?...How do you do that with the birds in the cage?? or do you need to take birds out, lift off the top and then clean the bottom?? < If so then I'm not sure if that's an "easy clean" for me if I have to take birds out of the cage everytime >
Answer by • Jul 11, 2018
It's recommended to take the birds out from the cage before cleaning it. The cage detaches from the base for fast, easy cleaning.
---
Would this be a good size for a cockatiel?
Answer by • Jan 08, 2018
This cage is too small for a Cockatiel and we encourage the Vision II Model L12 Bird Cage. It features double the height and is perfect for Cockatiels, Lovebirds and Parrotlets to suit their natural behaviors and activities.
---
Is this cage suitable for a lineolated parakeet
Answer by • Mar 04, 2021
The large cage is suitable for Budgies, Canaries, Lovebirds and Finches.
---
What is the space measurement Between the bars?
Answer by • Jul 02, 2018
The wire spacing is 12.3 millimeters (0.48 inch).
---
---
---
By BirdLover on Jul 13, 2022
Fabulous Cage
I just purchased this fabulous cage and set it up a couple of days ago! It was very easy to set-up and all the parts click together with no need for tools! The only thing I didn't like were the black pads on the bottom which made it almost impossible to slide on any surface. That was easily remedied by placing felt circles over the black pads! It's the kind of cage that's best left in one location. It's the first cage I've had that keeps seed and debris inside! It really works! The top lifts off to clean and I leave my birds in it while I clean. EASY! Delivered in two day!
---
By Ariana on Jan 14, 2022
Great Temporary Habitat
This cage serves perfectly for the two months my masked lovebirds are without their usual large cage, while we wait for it to arrive after a cross-country move. Be aware that assembly instructions are vague and definitely require use of pictures and some common sense! Perches are plastic. I love the design of the food cups and how easy they are to access. I chose to use a large dish for drinking/bathing on one side, instead of the provided cup, and both my birds and I are very happy with this arrangement. The size of the food/water cup door makes moving the dish without spilling water very easy! The biggest drawback for me is lack of a drawer for paper/waste. There is really no practical way to change paper daily without lifting off the entire top of the cage. My birds are skittish, so this would be extremely stressful for them. It also would add mess, as debris would fall from foraging toys, and nothing would be under the birds for that time. I've resorted to laying paper on top of the floor grate, which requires sandwiching it between the food/water cups and the grate - the only way to ensure full coverage. The paper has to be put into the cage through the smallish doors in the front. The solution doesn't work too badly, but even so, I'm not looking forward to having to lift off the entire top of the cage when it's deep-cleaning time. I wish the top of the cage opened, too - reaching the entire inside of the cage to place foraging items is difficult from the doors on the front. Those concerns stated - I LOVE the size of this cage (for a temporary habitat); finding a cage that's more wide than tall can be a challenge, but that's what allows birds to have some exercise! The horizontal bars are great for climbing, and the bar spacing is appropriate for small birds. I love that the cage materials are non-toxic, and the white and acrylic design makes the habitat super bright, which birds love! All in all, I'm happy with this purchase.
---
By Ajax on Nov 10, 2021
Vision ll L01 Excellent Choice
Two Budgies have moved in three weeks ago and we all like the space and design of this larger model cage. Daily cleanings are quick and easy with the lift off cage. The 4" clear plastic seed guard actually works at keeping debris in the cage. There is a drawback to the plastic shield if your Budgies have clipped wings as ours do compliments of the pet store. The birds can't reach the the cage walls to climb to the lowest perches. But this was easily fixed with a home made perch placed on the floor and boosting the birds to the lowest perch. We are not using the supplied food/water dishes, but like the access doors for them on each end of the cage. Also the two large doors centered in the long side allow easy access and can swing in or out from the side wall. Our birds simply move to an upper perch for cleaning. They are accustom to the brief ride from the cage bottom to an adjoining table and back again once the cage is clean. And as birds are more likely to go up rather than down if frightened, there is really little chance they will leave through the open bottom in the few seconds needed to move the cage off the bottom to table or floor. We recommend the Vision ll bird cages. There are several models to choose from.
---
By Cristina on Nov 27, 2021
Vision cage
This cage is huge for the tiny parrotlets I have in there.But I love the cage. Can't wait to buy more but maybe not so big.I think I will try the medium size.
---
By Kukla on Jun 23, 2021
I love my Vision
I have 2 Vision cages. I keep 1 Parrotlet in each one. It's VERY roomie. My birds have plenty of room for toys, ladders, their bowls and still room enough to jump around. I love the way it looks. The cage is so beautiful. I must say that cleaning it is fast but kind of a pain in the butt. I'll tell you why. Taking off that too part isn't as easy as you would think. If you have a lot of toys and items attached it makes it heavy. Also if you have the cage high up somewhere then you have to be careful taking that too part off or even having to take the entire cage down to take it off. You have to make sure your bird stays in the top part as your removing it (mine do) or transfer them into a travel cage while you clean it. Once you get the top off cleaning the bottom is. Very simple. To be honest I wish I would have just gotten two flight cages attached. The birds would have more room and it would take up less space. I say this because the Vision doesn't come with a stand so you have to put it on top of a dresser or build a sturdy shelf. Something. So for me two of them it takes a lot of room compared to if I would have two flight cages side by side WITH a stand. Anyway, if it's your only bird and you want a beautiful cage, go for it! If you have multiple or plan on getting multiple go for flight cages. They are just better for many reasons. I would go with A&E flight cage. They are great!!
---
By Alycen on May 18, 2021
Great Customer Service from Chewy
The Vision cage is REALLY small. I would only house one budgie in here or only 2 finches. It says it's 16 inches wide but that includes the base. The cage itself is actually 13 inches wide. The food on the floor doesn't make sense, even if you have the waste shield, because debris and loose feathers get in there anyways. Then you have to add your own food bowls and put it at the top, which defeats the purpose of the clear base. I also had basically the same amount of mess even with the clear guard. There are only two doors, so placing toys and switching them out is a handful. I have to reach my arm far in there every time. The whole cage is plastic, so I really don't understand why it's $150. I returned this cage and bought two Prevue Pet Flight Cages ($50 each). It has multiple doors, enough space for 3 parakeets, and it took me like 7 minutes to set it up. And that's for 1/3 of the price of this Vision cage. Return process was free and easy. Chewy's customer service is amazing and fast. I got my refund within 3 days.
---
By Poppy on Sep 30, 2021
Great cage
Keeps food and water clean. Plenty of room for our parrotlet to play. Big step up from prior cage.
---
By Kellbell22 on Apr 3, 2021
Bright and Airy cage!
Personally I found this cage a little tricky to put together. That being said, once assembled, we think this is a great cage and our canary seems to agree! Our canary was not used to going down to the bottom of the cage to eat, and we ended up taking the food dishes at the bottom of the cage out, and putting in other food and water dishes just above the clear plastic panels with half perches. The water dish is in the mid section with a half perch and we made sure to have it be big enough for him to bathe in. Then a little higher up, we put a perch on either side of the cage so that he can fly back and forth between the two perches. We also have clips for fresh vegetables. Finally, we put a little artificial greenery on the outside of the cage to give a little color. Our canary has adjusted quite well. We use newspaper at the bottom of his cage that we change out through the clear food doors. If he were to go on the bottom, we would have to use a paper without ink, but he doesn't go down to the floor. Once a week I lift off the top of the cage to change the paper out that is under the grate. The wide cage we had before this one was brown, so this cage seems much lighter and brighter by comparison, and it gave an extra inch or so for the width. I should mentioned here that we got the large sized cage so that there would be a little flight room for him. Very pleased!
---
By Wandy on Mar 27, 2021
Vision Bird Cage L01
Very upset and disappointed Chewy send me a used and broken cage. I spend $139.99 plus tax. I been a customer from years can't believe this. Even the box is broken in the corners.
---
By Koalajoey on Feb 26, 2021
Lovin' it !!!
One of the best purchases ever. Product is excellent and Chewy sent it so fast I was not yet prepared for it.
---