Zilla Mini Day White Halogen Bulb for Reptile Terrariums
---
About This Item
Lamp provides daytime white light that pin-points light and heat using less power
Up to 250% more efficient than incandescent bulbs
Provides healthy light and essential warmth for your reptile
25 Watt Mini Halogen Bulb is equivalent to 50 to 75 watt incandescent bulbs, 50 Watt Mini Halogen Bulb is equivalent to 100 to 150 watt incandescent bulbs
Thicker glass and stronger filament bulbs yield over 1,000 hours on average, double versus incandescent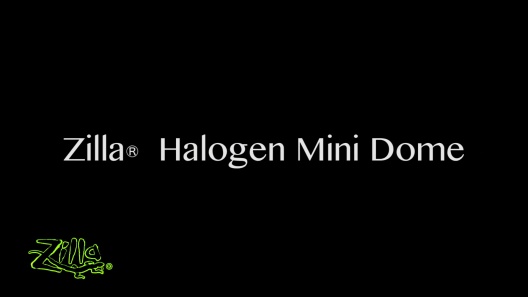 Learn More About Zilla From Our Team of Experts
Halogen bulbs should not be touched with bare hands as the oils of the skin will significantly shorten the life of the bulb or cause it to shatter.
---
---
Questions & Answers
10 Customer Questions
---
Does this light emit uvb/uva rays
Answer by • Mar 29, 2020
This bulb does not give off any UVA/UVB rays as they are used for heat only.
---
Can this bulb be used for water turtles?
Answer by • Sep 02, 2020
Zilla Mini Day White Halogen Bulb for Reptile Terrariums are suitable for turtles.
---
would this bulb work with this item? Zilla Fixture Low Profile Single G9 Reptile Terrarium Lamp Fixture By Zilla
Answer by • Feb 10, 2021
This bulb is compatible with the Zilla Fixture Low Profile Single G9 Reptile Terrarium Lamp Fixture.
---
Is this designed for a e26 or e27 lamp fixture?
Answer by • Apr 23, 2020
This bulb can be used with the Zilla Halogen Mini Dome, Heat & UVB Basking Fixture and Mini Heat & UVB Fixture.
---
---
---
By Becky on Feb 6, 2022
Amazing how much heat this little bulb creates.
This has proven to be perfect for my 29 gallon anole terrarium (anoles coming soon.) It uses less energy than other heat bulbs. Keeps the temperature just where I want it, with a hot spot of about 90 F in the basking area (about 4-5 in. below lamp, on branches), and an ambient of about 72 F on the cool side. The lid is mostly glass, so does trap heat, and the lamp is in the enclosure. It is caged to prevent direct contact, as contact with the mini dome in which it resides would likely cause a burn to the reptile.
---
By Monica on Nov 19, 2021
Convenient and space-saving
Got these because they pair with the low-profile overhead lighting/heating for reptile tanks. They're super easy to install and do a great job heating the tank while not taking up a ton of space! Much less clunky than the traditional overhead lamps.
---
By SnakeLady on Jun 14, 2021
Best price
I love the mini halogen lamps compared to standard bulbs. Chewy has the best price around for these.
---
By hpst on May 8, 2021
Not very hot
The light didn't affect the tank temperature in any meaningful way.
---
By Jessica on Aug 28, 2020
Hot! Hot! Hot!
I bought this little bulb to replace the 100watt basking bulb for my bearded dragon. The 100watt ZooMed bulb kept his platform at a toasty 100°F. I plugged this little guy in and the platform quickly raised in excess of 150°f! So effective at half the power! Since I am not in the mindset of cooking my dragon, I'm switching it out for the 25watt version. Even better! Can I get a ceramic version for my nocturnal babies now? ❤️
---
By Storm on Feb 12, 2021
Ehhhhhhhhh
two days later the lightbulb blew. Hdhdkdvdusnsbhsidnx
---
By Rhii on Jun 18, 2020
Doesn't get hot enough
Bought for my beardie, only gets up to around 95 when he needs 110. So I had to grt a second light. May be decent for other reptiles
---
By Draco on Feb 25, 2020
Works great with the Pro Sol fixtures
These bulbs work great and were much strong than I was expecting. I actually had to order more of the lower wattage for one of my enclosures. Worked out well though since I have multiple enclosures. Also nicer on the power bill than the higher wattage big heat bulbs.
---
By Matt on May 20, 2019
It worked!!
I put it in the correct fixture, turned it on and it worked as advertised.
---
By ReptileLady on Nov 9, 2018
So far so good!
These fit and function perfectly in the zilla mini dome they were designed for. It's the perfect low profile solution to my stacked cage situation. Kinda a pain to have to buy a new fixture, but at around $15 depending on your source, it was the safest and cheapest option I've found that fits my needs. Can't speak for longevity though... I'm only a couple weeks into using this product
---