Zoo Med Aspen Snake Bedding
Frequently Bought Together
---
About This Item
This Aspen bedding provides a safe, naturalistic substrate that allows pets to burrow and a 191% absorbency rating.
Green product made from a renewable resource.
Easy to clean, 99.9% dust free, odorless, and there's no toxic oils like cedar and other similar wood shaving.
Made in the USA!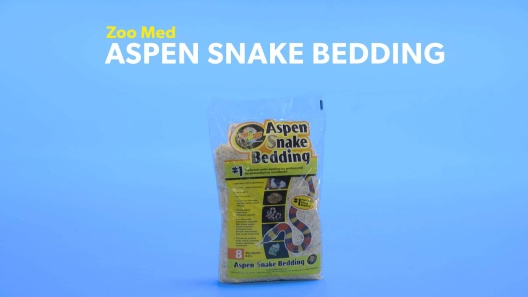 Learn More About Zoo Med From Our Team of Experts
---
---
A Walk on the Wild Side
Zoo Med makes it their mission to provide reptiles and other exotic pets with the very best food, supplements and habitats. This company of passionate hobbyists knows that not all pets are furry with four paws and offers a true understanding of reptiles, amphibians, fish and invertebrates. Whether you're new to reptile care and fishkeeping or are an experienced breeder, Zoo Med covers it all.
An Exotic Diet for an Exotic Pet
When it comes to your pet's dinner, the menu consists of worms, crickets and snails galore. Zoo Med offers a wide range of nutritious and tasty food to feed every exotic pet a special diet that's made just for them.
TURTLES AND TORTOISES: From treats to whole diets, Zoo Med provides a nutritional boost to fit any turtle or tortoise want or need.
LIZARDS: For pets like bearded dragons, there's a selection of tasty options, including cans of mealies, grasshoppers and caterpillars and complete pellet diets.
FISH: Your tropical fish enjoys a treat every now and then, and Zoo Med offers a tasty variety to choose from.
FROGS: Including high-protein, sinking pellets that mimic what frogs would eat in the wild, this frog food is just what you need to keep your amphibian jumping.
Give Him an Extra Boost
Because any pet could benefit from a little extra care, Zoo Med makes supplements that will help fortify your exotic pet's health and environment. Feeding him a supplement, in addition to his healthful meal, can be the extra step that it takes to keep your frog, lizard, turtle or fish happy and healthy.
Rest, Relax and Thrive
Every exotic pet needs a place to call their own, and Zoo Med makes it easy to keep them comfortable and thriving.
LIGHTING
Mimic the true feel of a tropical or desert climate with lighting that gives reptiles the warmth of a natural habitat. The selection includes long-lasting bulbs that require minimal maintenance and infrared lights that won't disturb sleep patterns.
BEDDING
With bedding made from renewable sources like coconut husks that allow animals to burrow and nest as they would in the wild, consider Zoo Med your source to create a home within your home.
About Zoo Med
Since 1977, Zoo Med has been manufacturing products for reptiles, amphibians, birds and aquatic pets. Led by experience and dedication, they provide truly innovative products, with an emphasis on efficiency and minimizing environmental impact. At Zoo Med, they are never satisfied with the status quo, which is why they constantly strive to bring the latest and greatest options right into the homes of the pet lovers that need them.
Shop Zoo Med
Compare Similar Items
| | | | | | |
| --- | --- | --- | --- | --- | --- |
| | | | | | |
| Customer Rating | | | | | |
| Price | | | | | |
| Autoship | — | | | — | |
| Litter & Bedding Type | Aspen | Aspen | Cypress | Douglas Fir | Coconut Fiber |
---
Questions & Answers
21 Customer Questions
---
Is 24qt bag enough for a 40 gallon tank?
Answer by • Dec 25, 2017
The 24-quart bag will definitely be enough for a 40-gallon tank.
---
Hey is this good for skinks?
Answer by • Oct 31, 2017
This bedding is intended for smaller animals such as: lizards, tortoises, turtles, tarantulas, and insects.
---
How much bedding do I have to use for my 10 gallon terrarium??
Answer by • Jul 24, 2019
To determine how much bedding is needed would depend on the thickness that is being set up for the terrarium. This bedding is recommended to have a minimum 2-inch depth. With very large, heavy snakes, you may need up to 4-inch depth. For a 2-inch thick bedding, it's recommended to have 2 pounds of substrate per gallon of tank.
---
Is this substrate good for ball pythons.
Answer by • Dec 24, 2019
This aspen bedding is suitable for use with ball pythons.
---
---
---
By Sierra on Feb 21, 2022
Great for Chinchilla bedding
Not a reptile at all, I know! I use this on the bottom floor of my chinchilla's cage to sop up his urine. It's perfect because it's very light and small shavings, not big chunks like I would probably use for an adult snake. It keeps the cage from needing to be cleaned every single day- instead, around 2 weeks is a good time to change it all out, and you can spot clean by grabbing up the wet spots and then replacing with more aspen shavings. I also dump all the used bedding into my compost pile! Which is perfect since both urine and herbivore droppings are great for compost hahaha.
---
By Katherine on Feb 1, 2022
INFESTED with mites
Had my snake on this bedding and after a couple weeks he was eaten up with mites. I didn't realize where they came from and thought he may have come to me with them. Deep cleaned everything, kept him on paper towels in a different enclosure for a month, and a vet gave him a clean bill of health. I put him back in his tank on this substrate and he had mites again within two weeks. This is literally the only place they could have come from, and the vet agreed.
---
By Harrysfavorite on May 11, 2022
Best snake bedding!
This a by far the best snake bedding, and at a great value.
---
By Slithers on May 11, 2022
snake bedding Aspen
much nicer. smells clean when opening bag. no mildew smell
---
By Jeni on Nov 18, 2021
Lydia the sandboa loves it
What a great price on the smaller bag! I purchased three so I was stocked up on changed for my saharan sand boa. Product is clean, light weight, and the price is unbeatable on chewy.
---
By OldSchool on Sep 9, 2021
This Stuff Is Great!
We have three color morphed corn snakes that are 16-years-old. For years Aspen Snake Bedding is the only bedding we have ever used. We attribute their longevity in part to regular, thorough cage cleanings and the use of Zoo Med Aspen Bedding to keep them healthy. This stuff is great!
---
By 1234 on Sep 30, 2021
BAD BATCH !!!!
Just purchased this and now my 2 snakes have mites. They didn't have any before. But now they do it hasn't been a week since I used this…..got a bad batch apparently and I won't be buying bedding from Chewy ever again. My babies have to now be quarantined. The infestation is insane. All baby mites
---
By Britt on Aug 5, 2021
Perfect for my Corn Snake(:
I've been using this since I got my corn snake a few months ago! She's still just a baby and loves to burrow- it holds its shape really well for her. It hasn't been messy at all as I use a piece of carpet bedding underneath to wrap it all up in each month when I change everything out. I also love that it's easy to spread out so a bag of this goes a long way!
---
By TerryGrayson on Jul 31, 2021
Great Substrate!!!
Both of my corn snakes love this substrate. They have no problem burrowing in it and it does not get impacted when they eat. And I too feel safe using this substrate, it is very clean and very dust free. I wouldn't use anything else and the price is great!!!
---
By Tony on Jun 20, 2021
Aspen bedding
I use this bedding not for a snake, but for my chinchilla. It is better than any of the "chip" types of bedding and being shredded is softer and more absorbent. Aspen bedding is the way to go and the Zoo Med bedding is the best with very little dust.
---