2 Hounds Design Freedom No Pull Nylon Dog Harness & Leash
---
About This Item
Included double connection training leash provides two points of contact with your dog, allowing you to steer your dog from the front connection.
Patented design reduces twisting, straining, and pulling, providing a more enjoyable experience for you and your dog.
Improves communication and training while out for a walk, and helps to redirect your dog's attention.
Stainless steel hardware and heavy-duty nylon with Swiss velvet lining behind front legs to prevent rubbing and chafing. Good for dogs of all weights.
Made in the USA with four points of adjustability to fit any dog body shape or type.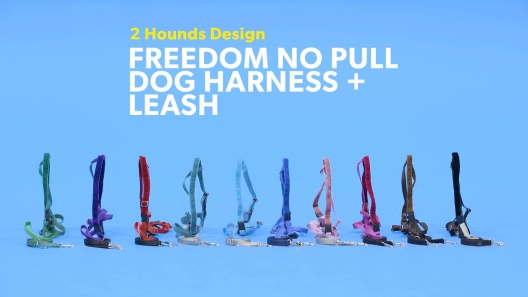 Learn More About 2 Hounds Design From Our Team of Experts
---
Compare Similar Items
| | | | | | |
| --- | --- | --- | --- | --- | --- |
| | | | | | |
| Customer Rating | | | | | |
| Price | | | | | |
| Material | Nylon, Synthetic Fabric | Polypropylene, Rope, Plastic | Polypropylene, Rope, Plastic | Nylon, Synthetic Fabric | Nylon, Synthetic Fabric |
| Breed Size | Large Breeds | Large Breeds, Giant Breeds | Large Breeds, Giant Breeds | Medium Breeds, Large Breeds | All Breeds |
| Leash & Collar Feature | Dual Clip, Training, Leash / Harness | Training, Waterproof | Training, Waterproof | Reflective, Traffic Handle | Bungee, Reflective, Padded, Traffic Handle, Adjustable, Waterproof |
| Pattern | Solid | Geometric | Stripes | Solid | Solid |
| Closure Type | Bolt Snap, Quick Release | Slip On | Slip On | Bolt Snap | Bolt Snap |
| Leash Length | 4 feet | 6 feet | 6 feet | 5 feet | 4 feet |
| Lifestage | Adult | Adult | Adult | Adult | Adult |
---
Questions & Answers
30 Customer Questions
---
What makes this harness "no pull." Does it put pressure on the dog so he doesn't pull?
Answer by • Jun 10, 2018
The patented design works by discouraging what's known as the "opposition reflex," which is the reflex that encourages dogs to pull against pressure caused by traditional harnesses.
---
What type of dog seat belt could be used with this harness?
Answer by • Jul 15, 2018
This harness has two metal rings that connect to the clasps on the leash. Any dog seat belt that can be secured or clasped onto the metal ring at the back of your dog's harness will work.
---
Are they any instance of chafing with this harness? Our dog has sensitive skin and her current harness leaves her red after every walk.
Answer by • Apr 30, 2020
This harness features Swiss velvet lining behind the front legs to prevent rubbing and chafing.
---
Can I run with my dog using this harness?
Answer by • Apr 22, 2018
This harness can be used for daily walks, running and during biking.
---
---
---
By Karen on Dec 2, 2022
A miracle!
I have two rescued 60 lb German Shephard mix dogs. They pull like freight trains, and react to everything. I'm fit, but 70, and I don't want to be pulled around especially as the New England winter is fast approaching. This harness/leash is the miracle I have been seeking. I've tried multiple "no pull" harnesses, leashes, halter leaders - you name it. This is the first system that worked! I just came in from the best walk I have ever had with these two overgrown toddlers. I couldn't be happier!
---
By Joey on Nov 21, 2022
Good for dogs who pull
I really like this harness since it's made to tighten around his chest to signal to stop pulling. Also, I like that I can just use it as a single hook harness if I want to. We still have some training to do. He doesn't do well with the double hook leash and tends to get tangled in it while he crosses from one of my sides to the other. Once he has more training, this shouldn't be an issue.
---
By Fritter on Dec 6, 2022
Reduces some pulling, but not all
This leash/harness combo does reduce pulling, but not entirely. Our dog is an energetic 8 month old puppy, medium bordering on large. This allows for re-direction but sometimes our pup just doesn't care about the pressure on his chest from pulling because he's stubborn and will do it anyway.
---
By BriB on Nov 4, 2022
Fantastic! Will buy again!
I used to be an Easy-walk Harness user. Which they are okay, but the Freedom Harness is so much better than easy walk. I originally didn't know these existed, but I adopted a husky about a year ago and she slips out of everything. She slips out of martingale collars, other harnesses, even if i double hook collar and harness it typically doesn't take her long to wiggle on out. This made it difficult for training even though I started really slow with her. We jumped trainer to trainer because some were unwilling to work with us because "she's just a husky" and "thats just how huskies are, you cant train it out of them" "she is never going to walk nice on a leash". Until our current trainer suggested the freedom harness because of the martingale feature at the back shoulders. Now I have to admit, she has been able to slip a leg out of the front part, but it hasn't ever fully come off because of that martingale feature. Which is great! It has allowed us to take her out for socialization without risk of her getting loose! Of course I can't say that the harness did all of this, it definitely took a lot of work with our trainer to have her be able to walk nice on a leash outside and around cars. But I don't think we would've been able to get this far without it. After we got the Freedom harness for her, we also got it for our other dog. Our other dog is a mixed breed rescue but we have had him for a while and he has gone through training already so he walks really nicely on leash already. But we love the feature of the training leashes and euro leashes so we got a set for him too. We are also adding a new rescue dog soon and will definitely be picking up a set for her too! m One thing I would mention is sizing. I think it's possible we got a size too big. We got a medium for our 40lb girl. I even measured to make sure it would fit. But with her fluffy husky hair it seems looser than it should be even though it's on the smallest setting. It's possible this is why she was able to slip her leg at the front. We also got a medium for our mixed dog (50lbs) and his fits perfectly, but he has a deeper chest.
---
By Nuttcheek52 on Nov 30, 2022
Life changing
I have a 1 yr old boxer who is all muscle in is chest and shoulders therefore he would literally drag me down the street until I bought this harness. It has been a life changer, our walks are so much more relaxing and pleasant not only for me but for my boxer as well.
---
By Kaitlyn on Oct 26, 2022
Happy Owner
My dog pulls so hard sometimes and it's been a constant struggle. Training walks helped, but he just gets so excited. Enter the 2 Hounds Design Freedom Harness.... absolute game changer! First walk with the harness I almost cried because he was walking like such a good boy. I've been using the harness for 2 weeks now and still just as great--we're able to go on much longer walks now and both mom and pup are much happier for that! My shoulders thank 2 Hounds Design!
---
By Trout on Oct 17, 2022
Pulls right out.
My pup is at that awkward size - right where small meets medium. I've adjusted a medium as tight as the harness will allow and it feels almost snug, but he stops, turns and pulls right out of the whole thing. He's not even trying to pull free, just slips free with almost no effort. The leash is worthless, and I don't dare take him out of the yard with this harness. Waste of money and time, but I'll burn it before I lose my pup to a poorly designed harness.
---
By Reggie on Nov 27, 2022
Best harness
I first bought one of these harnesses when my pup was a year old. It finally needed replacement, and my "pup" is almost 10! It is easy to put on and adjust, easy to take off. A good buy for sure.
---
By Jamie on Sep 14, 2022
Harness Fail
I really wanted to like these. My 65lbs mix (Hound, Sheppard, Husky) that loves to pull like he's a sled dog pulled more with these so I stopped using it on him right away and had to go to a pinch collar which works far better and he rarely if ever pulls. My 55lbs Catahoula hound mix pup is a nervous nelly and did well at first with this because she was scared of everything. Now that walking is exciting and she's more confident she pulls and this is not working. I have to figure out what to use on her because she is very sensitive to things pulling on her neck. But seems like harness has lost it's ability with her as well. I had high hopes for this harness and they weren't cheap! but unfortunately they don't work for my pups.
---
By Grit on Nov 21, 2022
Not Recommended
I have an 18 month old Rhodesian Ridgeback who lunges at other dogs when walked. It did not restrain my dog as advertised and additionally the leash handle is not padded making it extremely hard on my hands.
---