Aqueon LED MiniBow SmartClean Fish Aquarium Kit
Frequently Bought Together
---
About This Item
Designed with SmartClean Technology that performs water changes in under 2 minutes!
Helps improve water quality for your underwater buddies.
Comes with one acrylic aquarium with an LED hood and elevated base, a power filter, fish food, water conditioner and a setup guide.
The perfect home for small finned friends.
Great for first-time fish keepers and experienced fish keepers of all ages.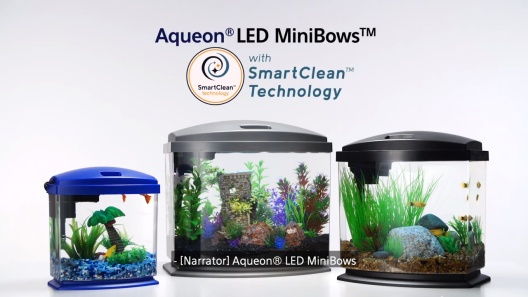 Learn More About Aqueon From Our Team of Experts
---
Compare Similar Items
| | | | | | |
| --- | --- | --- | --- | --- | --- |
| | | | | | |
| Customer Rating | | | | | |
| Price | | | | | |
| Fish Type | Tropical Freshwater, Betta, Goldfish | Marine Fish, Tropical Freshwater | Tropical Freshwater, Betta | Tropical Freshwater, Betta, Goldfish | Tropical Freshwater |
| Capacity (Max) | 5-gal | 10-gal | 5 gallon | 7.5-gallon | 5-gallon |
| Material | Acrylic, Plastic | Glass | Plastic | Glass | Glass |
| Aquarium Type | Freshwater | Freshwater, Saltwater | Freshwater | Freshwater | Freshwater |
---
Questions & Answers
12 Customer Questions
---
Does the hood have a light and if yes, what size?
Answer by • Mar 08, 2021
This Aquarium Kit uses an LED hood. It uses the Incandescent Tubular Bulb and measures 2.76 x 0.87 x 4.53 inches.
---
I'm looking for the replaceable filters for this tank
Answer by • Jan 09, 2022
We carry the "Aqueon Small Replacement Filter Cartridge" that is compatible with this aquarium.
---
Do I have to use the elevated base? I notice the tank has feet and it seems to sit fine and level. My elevated base is a bit warped so I don't want to use if I don't have to.
Answer by • Sep 08, 2021
This Aquarium is not intended to be used without the base.
---
What are the dimensions of the Aqueon LED Minibow Smart Clean Fish kit?
Answer by • Dec 29, 2021
The 2.5 gallon model measures 11.5 x 7.63 x 12.5 inches and the 5 gallon model measures 14.5 x 10 x 13.5 inches (length x width x height).
---
---
---
By SoCalGamerGirl on Jun 24, 2022
Cute Aquarium
I bought the 2.5 gallon tank, to make sure it fits on my counter. Fit in the space perfectly. I set it up and cycled it first of course. I like this tank. Easy set-up, and will be easy to clean. I wish I had a space to buy a bigger one of these.
---
By Michelle on May 30, 2022
Would Recommend
I have had the 1 gallon MiniBow before and I decided I'd like a bigger tank so I purchased the 5 gallon and I love it! It isn't too big and isn't too small! It isn't really suitable for a desktop if you wanted to use it in an office unless you have a big desk (for that I would recommend the MiniBow 1 gallon), but it's great for the house, and the filter/water changing feature is amazingly easy!
---
By Lola on May 15, 2022
Love it - not disappointed
Was given a Betta as a gift. Started reading and learning more about their likes and needs. This tank seems to be perfect, looks good, easy to clean and my fish appears to be very happy (active too) in his new home!
---
By Wendy on Feb 24, 2022
Check Elsewhere Before Buying
This is probably a fine little aquarium. However, after I got it, I saw it advertised from a competitor at $10 less. I guess I foolishly believed Chewy was the place to get deals. The second issue was shipping. I'm amazed this small plastic tank survived shipping, since it was packed with heavy canned pet food. The gravel I ordered was torn open during shipping. I really feel Chewy can do better.
---
By householdr2 on Jan 22, 2022
Excellent value! Really nice tank and easy setup.
This is a really nice tank and it was easy to set up. Comes with the filter and this particular bundle includes beautiful sage green Seaglass. The lid has a light. The tank itself has a profile that sits with a slight overlapping of the black base, so it has some interesting architectural feature to it too! lol The lid also has a hole for feeding and my automatic feeder I bought for the weekends when I'm not at work fits right on and over the hole. I love it. Excellent value! Oh my goodness, I almost forgot the most excellent part!!!– the filter has an arm that pulls up and turns off the flow then swivels to extend out over the back of a tank, then you push it down and the water starts to flow again so you can easily change out the water! So convenient!!! Again—I love it!!
---
By lchal on Mar 13, 2022
Great little tank!
I've had little Jack, my Betta, I'm this tank for almost two years & it's been great! The original filter did quit after a year & had to replace it... but for a relatively inexpensive, manageable tank... it works great & my little Jacky is happy!
---
By Betta34523 on Feb 9, 2022
I love this tank!
Sleek, modern, and easy to assemble. The Quickclean feature is nice as well. I like the bow front, it gives a little magnification, but the rectangular shape means more room for swimming! I definitely would buy again.
---
By Ash74 on Feb 25, 2022
Filter Broke
Had this setup for a few days and the filter quit working so now it's trash!! Not happy!
---
By Darilea on Dec 16, 2021
Litter Blue is enjoying his fish tank.
This 5 gallon tank is easy to clean and has plenty of room for our betta fish . I definitely recommend it .
---
By Inhaildiz on Aug 19, 2021
Great product
I was unsure if I should buy this for my betta fish but I'm glad I did! Betta fish made himself at home and is swimming more than ever now since I put him from a temporary tank (no filtration) to this 2.5 gallon tank. I would also like to say that I think 2.5 gal tank is a great size for a single betta fish.
---