Aqueon Preset Aquarium Heater
---
About This Item
Perfect for easily maintaining the ideal water temperature for both healthy salt and freshwater community fish tanks.
Heater is preset to 78 °F and is accurate within 1 degree, can be completely submerged, and requires no adjustments.
Available in a wide range of the most common wattage sizes to provide a custom heating experience for any aquarium.
Durable shatter-resistant heater construction allows for completely submersible and safe aquarium temperature control.
Convenient and secure design will automatically shut off if heater is no longer properly submerged, preventing damage.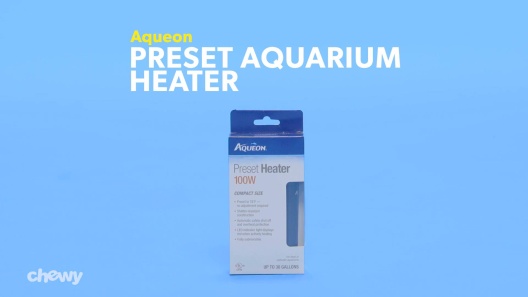 Learn More About Aqueon From Our Team of Experts
---
Compare Similar Items
| | | | | | |
| --- | --- | --- | --- | --- | --- |
| | | | | | |
| Customer Rating | | | | — | |
| Price | | | | | |
| Fish Type | Tropical Freshwater, Betta, Cichlid, Goldfish, Marine Fish | Tropical Freshwater | Marine Fish, Tropical Freshwater | N/A, Marine Invertebrate, Tropical Freshwater... | Marine Invertebrate, Marine Fish |
| Aquarium Type | Freshwater, Saltwater | Saltwater | Saltwater, Freshwater | Freshwater | Freshwater |
| Material | Plastic | Plastic | Plastic | N/A | N/A |
| Capacity (Max) | N/A | N/A | 2-gal | N/A | N/A |
---
Questions & Answers
35 Customer Questions
---
Is this heater safe for a turtle? Or will it burn the turtle if it touches it?
Answer by • Jan 22, 2018
Although this heater is specifically designed for fresh and saltwater fish, pet parents have reported it being safe for their turtle's tank.
---
I realize how stupid this question is, as I'm sure it probably does. But, I like to be thorough. So, does this unit come with suction cups to hold it in place? And if so, can I mount this horizontally near the bottom of a tank, but above the gravel, without damaging it?
Answer by • Jan 25, 2018
Suction cups are included with this heater. The 50-watt and 100-watt include one, while the 100-watt and 200-watt bring two suction cups.
---
The light turns off after 1 min does that mean it's defective or is it supposed to do that
Answer by • Dec 19, 2018
This heater features an automatic safety shut off and overheat protection. Once plugged in, the heater will automatically start working. Should your water need heating, the indicator lamp will illuminate showing that the heater is functioning and in heating mode.
---
Is it normal for the red light to kick off and on?
Answer by • Mar 21, 2020
Should your water need heating, the indicator lamp, will illuminate showing that the heater is functioning and in heating mode.
---
---
---
By clyderiver77 on Apr 8, 2022
50W review - great for 10 gallons and less
If adjustable I would have given higher marks, but in our 10 gallon and 5.5 gallon it works great! You need to consider ambient room temp when picking power for your heater, not only the watt size. This one was able to take 60 degree Fahrenheit room temp and convert to 74-78 easily. Have only had this heater for 6 weeks, so can't comment on longevity yet. For larger tanks, buying multiple heaters instead of one big one protects against one big catastrophic failure.
---
By KBell on Jan 19, 2022
Does not maintain temperature
I have had the heater for 3 months now and I noticed this morning that the water in my tank was in the 60s. I tried unplugging the heater and letting it sit for 10 minutes before plugging it back in. The heater would not turn on.
---
By turtle on Feb 7, 2022
very deceiving description -
I have TWO of these heaters in my tank and they don't heat the water at all. My turtle clings to the heaters to try to obtain some heat. I would never buy them again.
---
By poor on Mar 29, 2022
do not buy this!
did not work after a few days. Temp in 60s still. Do not buy this product!
---
By EFabryk on Dec 30, 2021
Bad product
I got this for my 20 gallon tank with mollies and betta fish. Turns off constantly, and doesn't keep the water at the right temperature. would not recommend.
---
By Fishtankx6 on Feb 16, 2022
Stopped working quickly
Stopped working after a week. Should have listened to the other reviews.
---
By Heather on Sep 14, 2021
Doesn't hold correct temperature
This preset heater is supposed to keep the temperature at 78 degrees but despite being the correct size and in a room that is 74 degrees, it will not keep the water above 75-76. I've tried moving it as close as I can to the filter to evenly distribute the warmed water, but it's just not working.
---
By BadHeater on Nov 22, 2021
Bad Heater
This heater has only been in a 30 gallon tank 10 days and it broke. Lucky we didn't lose any fish.
---
By Cherp on Dec 15, 2021
My goldfish is warm now
Should Have bought this years ago. Simple set up and it's been working wonderful ever since
---
By Sensier on Nov 20, 2021
Temperature isn't correct
I know this heater is supposed to be preset but my tank averages 72 degrees, I put this in a 55 Gallon Long
---