---
About This Item
Litter that's designed to slide easily out of the litter box—reduces scraping and scrubbing.
Features famous Clump & Seal technology to seal and reduce odors quickly and easily.
Your kitty will love the fur-esh scent and clean feeling of her new litter.
Designed to keep your home odor-free for longer.
100% dust-free formula—for cleaner surfaces and clearer air!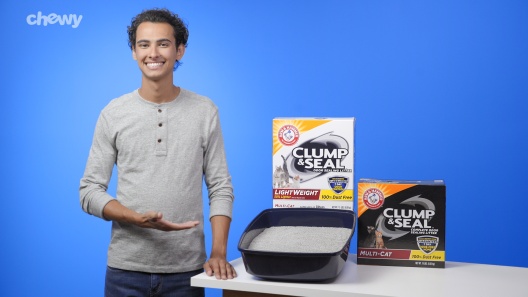 Learn More About Arm & Hammer Litter From Our Team of Experts
---
Compare Similar Items
| | | | | | |
| --- | --- | --- | --- | --- | --- |
| | | | | | |
| Customer Rating | | | | | |
| Price | | | | | |
| Autoship | — | | — | — | — |
| Top Ingredients | N/A | N/A | N/A | N/A | N/A |
| Litter Feature | Clumping, Multi-Cat, Odor Control, Scented, Dust Free | Clumping, Odor Control, Scented, Dust Free | Clumping, Odor Control, Scented, Multi-Cat, Dust Free | Odor Control, Clumping, Scented, Multi-Cat | Multi-Cat, Odor Control, Scented, Clumping, Low Tracking |
| Packaging Type | Box | Box | Box | Box | Box |
| Litter & Bedding Type | — | — | N/A | N/A | — |
| Potty Feature | — | — | N/A | N/A | — |
| Material | — | — | N/A | N/A | — |
---
Questions & Answers
27 Customer Questions
---
Is this litter really Dust Free ?
Answer by • Nov 08, 2017
This litter is 100% dust free which means cleaner surfaces, clearer air and less tracking.
---
I only have one Cat. Can I safely use multi Cat litter?
Answer by • Mar 15, 2018
This formula is specifically designed to accommodate multi-cat households, however, it is perfectly safe to use for only one cat.
---
Is the texture of this litter more like sand or small rocks?
Answer by • Aug 06, 2018
This litter will have a small rounded granule, similar to sand particles. Please refer to the attached picture.
---
Can slide kitty litter be used with a sifter litter box?
Answer by • Aug 22, 2018
This litter may be used with sifter litter boxes that are compatible with clay clumping cat litter.
---
---
---
By ChellyBean on May 18, 2022
Love the litter! Box is horrible.
I give 5 stars because the litter truly is amazing. After discovering it, this is the only kind we will buy. HOWEVER, the new "online only" version of the box is horrible. It says it's convenient, but it has caused me so much hassle. You know how most litter boxes have the spot on the side of the box where you can pour it out? Well, this "simpler" version requires half of the entire top of the box to be peeled back. It has caused 1) me to accidentally pour out nearly the entire box instead of just a little, 2) my cats to jump in it and roll in the litter, and 3) my cats to jump in and scoop as much litter as they can out of it and onto the floor. I have since learned to tape the box with packing tape after it's opened. This requires it to be re-taped each day - perhaps they should give a discount for needing to purchase heavy-duty packing tape? Anyway, I had to cancel my autoship with Chewy and instead have it shipped from another retailer. The other retailers use the original boxes. I've asked Chewy's customer service to please send a request to go back to offering the regular boxes. Until then, I truly am sad to say that I had to give my litter business to a competitor.
---
By 1234 on May 10, 2022
Best litter ever
This litter is the best litter I have ever tried. I care for ferals since 1984 and have tried numerous litters. The perfect litter for me is: no dust, scoops easily, controls odor, empties out easily and doesn't leave clumps stuck to the sides and bottom of the litter boxes, pleasant scent if scented, less cleaning time when litter needs to be replaced. This litter does all of that. Absolutely no dust, clumps perfectly, clumped litter lifts out easily, cleaning time is once a month as long as you keep the depth in the box, cleaning is a breeze, slides right out, I clean with disinfectant and fill it up until next month. It is the perfect litter for me. Trying a cheaper alternative that claimed to be 99% dust free, low tracking and a couple bucks less was not true except the couple bucks part. As they say, "If it ain't broke, don't fix it"
---
By Newt on May 11, 2022
Bad smell but functional
This litter works really well. It clumps well and not a lot of product is wasted in the process. The smell however is terrible. I've had visitors comment on the weird perfumey smell in my house when I have a totally clean litter box and all they are smelling is the litter! I can't imagine how strong it is for my kitties. I can also smell their chemically paws when cuddling them. I have started mixing a little of this in with an unscented litter because it improves the functionality of the other litter but dilutes the smell. I wish this brand would create a replica of this with no scent. I'd be so happy!
---
By chaughton92 on Apr 27, 2022
Preferred out of multiple brands
I've tried Tidy Cats, Fresh Step, World's Best, cheapo store brands, Yesterday's News, and other Arm & Hammer varieties for my foster kittens and personal cats and this is my favorite. I used to work for a pet supply store for 6 years and all of my coworkers and many of my customers preferred Clump & Seal for their cats. I have 3 male cats and this does great with clumping, odor control (assuming a cats burries his #2s-if not, no litter will cover THAT smell), no dust, and not sticking to the box. I have 5 very large boxes, so I go through a LOT of litter. Clump & Seal seems to go the distance. The only issue I have is how much it tracks-it gets EVERYWHERE. I've picked up extra large litter trapping mats to try to make up for that.
---
By Sparkles on May 8, 2022
Terrific kitty litter
We recently just started using this litter after reading reviews posted by other customers. We are a multi cat family, and have 3 LARGE litter boxes that are scooped every day. All of our cats are males, 3 adults and 3 youngsters. This litter is THE BEST litter we have ever used. Dust free!! Absolutely. Clumps? Yes. Scoops? Sure does. And it doesn't stick to the bottom and sides of the litter box! I know there are kitty litters that cost less, but this litter is worth every penny.
---
By Mandy on May 11, 2022
Not the Same as Box Stores
I don't know what is up lately with this. My last 2 orders I have gotten "fake" or poor quality litter. The usual litter is amazing and has no smell. These last orders have had boxes that have weird white clumps, smell after the cats go, and do not clump as well as they usually do. I will no longer be ordering litter from Chewy and will instead opt to pay more at the box stores where at least I know I get the real deal.
---
By Laura on May 5, 2022
Works wonderfully
Great odor control. Nice that the litter only has to be changed once a month with topping off of litter in between. What I also appreciate is how Chewy shipped the litter. I've pretty much stopped ordering this litter online from other places—they don't usually ship this heavy product well. Chewy had the litter shrink wrapped to keep any possible leakage from spilling in the box and also had packaging in the shipping box to keep the litter box from sliding all over.
---
By Kutchka on Apr 30, 2022
Good product...POOR SERVICE
Will never purchase this again. I requested the packages to have a 20 pound limit. I was told they would grant that request. The package came in at 60 some pounds. My husband and I are eldery and both have health issues and are unable to lift that amount. (thus the request made) When I called I was told that I should order one box at a time, which would incurr high shipping costs. Then I was told to find a neighbor or someone to bring the package inside. I found this to be very disrespectful!
---
By Buddy on Apr 21, 2022
Terrible Litter - DO NOT Recommend - Zero Star
I have been looking for a new litter and decided to pick this one on the based on the reviews. This is the worst litter that I have used in the last 17 years of having my Maine Coon cat. He is large with long hair This litter does not clump, does not absorb the pea so it ends up like a mud puddle. It sticks to his coat and between his toes like glue. He sleeps in my bed so there is used litter all over the bed. I also agree about the box being hard to open. I have more than half a box left that I will tossing out. It's possible that I am doing something wrong, but it just pouring litter into a box.
---
By Mom2 on May 12, 2022
Low tracking keeps litter clean
I've used everything from natural to non clumping litter. This clumping litter seems to track the least we have a long-haired cat so tracking is an issue this definitely solves most of our problems it's definitely an easy scoop and keeps the bottom of the litter box clean when we change the whole box out the only thing is you don't really know the fragrance until you try it .
---