Arm & Hammer Litter Slide Multi-Cat Scented Clumping Clay Cat Litter
---
About This Item
Made of odor-neutralizing, plant-based microgranules.
Features baking soda crystals for rapid odor reduction.
Easily clumps and does not stick for convenient cleanup.
99% dust free and low tracking.
Provides long-lasting odor control for multicat households.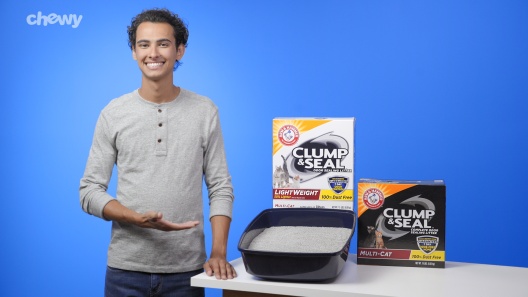 Learn More About Arm & Hammer Litter From Our Team of Experts
---
Compare Similar Items
| | | | | | |
| --- | --- | --- | --- | --- | --- |
| | | | | | |
| Customer Rating | | | | | |
| Price Per Unit | | | | | |
| Price | | | | | |
| Autoship | — | | — | — | — |
| Litter Feature | Clumping, Multi-Cat, Odor Control, Scented, Dust Free | Clumping, Odor Control, Scented, Dust Free | Clumping, Odor Control, Scented, Multi-Cat, Dust Free | Odor Control, Clumping, Scented, Multi-Cat | Multi-Cat, Odor Control, Scented, Clumping, Low Tracking |
| Packaging Type | Box | Box | Box | Box | Box |
| Lifestage | Adult | Adult | Adult | Adult | Adult |
---
Questions & Answers
24 Customer Questions
---
Is there an unscented version?
---
Is this litter really Dust Free ?
Answer by • Nov 08, 2017
This litter is 100% dust free which means cleaner surfaces, clearer air and less tracking.
---
I only have one Cat. Can I safely use multi Cat litter?
Answer by • Mar 15, 2018
This formula is specifically designed to accommodate multi-cat households, however, it is perfectly safe to use for only one cat.
---
Is the texture of this litter more like sand or small rocks?
Answer by • Aug 06, 2018
This litter will have a small rounded granule, similar to sand particles. Please refer to the attached picture.
---
---
---
By PiaB on Sep 21, 2022
Too heavy, not good for male kittens
I wanted to love this litter but I just don't. It claims to be low tracking, but I did not find this the case. For my 15 yo female it proved to be mostly true but not with my 4-month old male kitten who still likes to play in his litter box. He kicks it across the floor. Also, the fine granules are hard to clean off the floors especially carpets. The litter itself is just too heavy! I am a woman of a 'certain age' and find lugging the box from the door to the pantry to be difficult. The 28 Lb box lasts as long as the stuff I was using that is 10 pounds lighter. As far as odor control, it seems to work pretty well for my senior female, but a male's urine is much stronger and I still needed a lot of baking soda in the box to control the ammonia smell. It does not 'slide out' as easily as touted either. Again, my female leaves a single 'pod' of urine that's easy to scoop out. The male sprays across the box more leaving a lot of smaller clumps at the bottom of the box. These still have to be scraped out. All in all I just didn't like this litter and will go back to my previous brand.
---
By Mara on Sep 28, 2022
Best I've used so far
This is the best cat litter I've used so far, I use a sifter litter box and it doesn't stick (except on certain occasions when cat directly defecated on the inside wall of litter box then covered it in the litter ) while it's better than most litter, my cats (3) still tend to track it outside the box quite often. I have one of those kitty litter mats that helps prevent it from going to far from their box, but other than that, I think it works the best.
---
By TwoCatsandaLab on Sep 6, 2022
litter everywhere
First off, this is our favorite little. It doesn't slide off like they say, but it is easier to get the clumps off the bottom on the box (one of our cats like to make a litter hole and pee on the plastic). I normally by my litter from a box box realtor either through shipping or curbside, but when Chewy had the price for .50 cheaper and my cats favorite cat treats (the box box retailer doesn't have these treats) I was super happy. First off I ordered Saturday and I received everything this morning (Tuesday). It was a holiday weekend so I am thrilled it came fast. Now the bad part. The litter leaked. Now it looks like came and it leaked all of the box and made its way outside the box it was in so it looks like the litter you would see if a cat was having a party in the box. While I love Chewy and this cat litter, I think this is one item I will not be buying through them. Now, I need to go put the litter in my litter bins and clean up the floor. I just hope, the cats don't think the chewy box is a litter box, with all the litter in it.
---
By Meem on Sep 29, 2022
Using this for years, but ......
Arm and Hammer has to do better. While carrying this box down the stairs, the flimsy plastic handle broke off and the whole box fell and burst open. What a mess. The first time this happened I thought it was probably an isolated incident, and the box didn't break. But this time, I'm complaining. Arm and Hammer needs to put a stronger handle on the box. I'm not sure I will order this again.
---
By Janice on Sep 18, 2022
Pretty good!
Finally started using this after my last batch of litter. It is less dusty, has an odor but thankfully not too strong since I have fibromyalgia and strong scents make me sick. There is tracking but since the litter is finer in texture, not as bad on bare feet. Clumps so much better, so lasts longer. My 7 cats had no problem changing from the old litter to this one. Happy with this purchase and will continue using it.
---
By Beth on Sep 21, 2022
Best Litter Ever
This litter clumps solid. It does not leave a paste at the bottom of the litter box when it's time to clean it. It does what it says, it slides right out. There is another fancy "attractive" litter on the market that sprinkles crystals all over the place when the cats leave the litter box. There is very little litter tracked outside the box. This is like fine sand. It is worth the price.
---
By Kats on Sep 21, 2022
Improvement
Great improvement over Frisco Light Weight litter (that was literally like trying to breath in a dust storm from the Sahara-covering EVERYTHING in the room) ... No visible dust cloud while pouring THIS into the box- or while scooping ... Great light scent... and cats use the box with this A&H Clump & Seal more than the last brand (and don't come out gagging on dust).
---
By Pensim on Sep 20, 2022
Great Product
I particularly like this Slide litter because it's dust free. I wouldn't say it's 100%, but it is 99.9%. When you clean the box and move around the litter, there is a tiny bit of dust that escapes. The "leavings" clean up nicely. This is the only litter I have been buying since the Slide/Dust free came on the market.
---
By Dulce on Aug 24, 2022
Really wanted to like it
A friend of mine recommended this litter to me. I usually use fresh step and loved it but thought I would try this brand to see if it could top it however it did not! This litter has a very strange smell which I could not get used to. The clumping is ok- i noticed that if I scooped right after my cat went pee it would fall apart. When I waited until the end of the day the clumps did stay together however I scoop several times a day so this bothered me. In addition, by the end of the day this litter made my room smell like poo! It definitely doesn't do a great job at odor control- never have I smelled my cat's excretions with my fresh step! However I do like how soft the litter is, it's almost sand like which i imagine is nicer on my kitty's feet. I have two boxes, one with fresh step and one with this one to see if my cats have a preference. It doesn't seem they do so the smell of the litter must not bother them. I will not be buying this again.
---
By KittyMomma on Sep 13, 2022
I've tried a lot of litter.
I've tried A LOT of litter. This is the best. Helps with smell, not too back with tracking, doesn't stick to fur. That last one was the deal sealer for me. Our king hair cat (no matter how much I groom him) would always have littler stick to his fur. This litter doesn't do that. We won't use anything else.
---