Busy Buddy Tug-A-Jug Treat Dispenser Tough Dog Chew Toy
By Busy Buddy
---
About This Item
Allows pets to see, hear, and smell treats
Clear base that can be filled with kibble or treats
Interactive play builds bonds between people and pets
Durable non-toxic material withstands prolonged play
Textured rubber wrap cleans teeth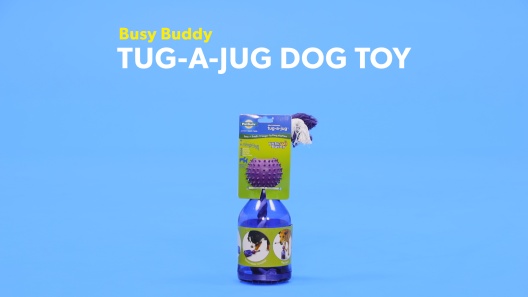 Learn More About Busy Buddy From Our Team of Experts
---
Compare Similar Items
| | | | | | |
| --- | --- | --- | --- | --- | --- |
| | | | | | |
| Customer Rating | | | | — | |
| Price | | | | | |
| Top Ingredients | N/A | N/A | N/A | N/A | N/A |
| Toy Feature | Tough Chewer, Training, Exercise | Tough Chewer, Outdoor, Teething, Dental, Training, Bouncy, Exercise | Tough Chewer | Exercise | Squeaky, Teething, Training, Water Toy, Exercise |
| Breed Size | Medium Breeds | Medium Breeds | Large Breeds | Medium Breeds | Large Breeds |
| Material | Plastic, Rope, Rubber | Rubber | Rubber | Rope | Polyester, Fleece |
| Toy Type | Treat Dispensers, Chew Toys | Chew Toys, Treat Dispensers, Ropes & Tug Toys | Chew Toys | Ropes & Tug Toys, Treat Dispensers | Chew Toys, Plush Toys |
| Chew Style | N/A | N/A | Tough | Moderate | N/A |
| Sport Team | N/A | N/A | N/A | N/A | N/A |
---
Questions & Answers
11 Customer Questions
---
How do I get a replacement rope???
Answer by • Apr 15, 2018
The manufacturer does not offer replacement ropes for this item.
---
How do I teach my dog to use this? She can't figure it out and gives up after a while. She looks sad.
Answer by • Feb 05, 2019
For interactive play with your dog, it's recommended to let them figure out how to get the treats/food out. If you would like you can show your dog that tipping it over will dispense treats.
---
I have had this toy for several weeks now. I use it to feed my dog her meals a few times per week. It has started smell terrible, I imagine because I can't really get the rope clean. Do you have any recommendations for cleaning?
Answer by • Jul 10, 2020
Use a natural laundry detergent or simply sprinkle the toy with baking soda and add a few capfuls of white vinegar. You can soak it in this mixture to help with the smell and then wash it off.
---
How much food can fit in the largest size?
Answer by • Feb 04, 2019
This will be entirely dependent upon the type and size of kibble you are putting in the unit at one time. If needed though, the rope can be removed to allow the kibble to fall out more freely.
---
---
---
By Leanne on Apr 25, 2022
Rope Molded??
I do like this toy in theory and perhaps I should have known to open it to air dry after use, but I didn't and the next time I went to use the toy the rope and the container had mold on it. So make sure you let it air dry and clean completely after use. I love Busy Buddy and this toy did keep my dog occupied for 45 minutes, it is a very tricky toy, but the rope element makes it less hygienic.
---
By Charlie on May 17, 2022
It's too hard
This toy looks neat, and it did keep my dog entertained for awhile. But she couldn't figure it out & now doesn't play with it at all. I tried to show her how to use it, but she couldn't get there. She's 3/4 poodle & seems intelligent overall, but this one was too much for her.
---
By michihj on Mar 24, 2022
Disappointed
I bought the x-small for my 16 lb maltese/shihtzu mix dog. He is a very smart boy but this toy didn't work for him. The opening of the bottle with the rope going through was too small for anything but crumbs to pass through. I tried making the rope thinner by untwisting and removing one of the strands, and playing a bit with my dog to help him understand how to get treats out, but he didn't get it. I ended up removing the rope and letting him play with the rope separately, and just putting a few treats in the bottle which is like other treat toys he already has. This concept doesn't work. Very disappointed.
---
By Texx on Apr 24, 2022
Frustrating toy!
Tex loves most of the toys he gets when we order from Chewy. This one was a poorly designed toy. Dog has to pull cord out to get treats and then push it back in again. Also treats don't come out easily and bottle really only works if you hold it upside down while he pulls the rope. Need to go back to the drawing board!
---
By MrsW on Apr 6, 2022
Playtime on Autopilot
I was skeptical about this because my pup didn't have a clue on how to play with this toy. Within 24 hours she figured it out and now she chases it constantly. Helps me out when I want to give her free time but can't necessarily engage her. It's like owning a dog on auto pilot!
---
By Eileen on Mar 14, 2022
Very nice to keep dog busy
This was a very fun idea, but my dog decided to try to get the treats from the hard plastic and instead of moving the rope. He did end up chewing the rope completely off and I was afraid he was going to hurt his teeth on the plastic because he had that pretty chewed up, so I took it away from him.
---
By katergil on Feb 1, 2022
Lab-Pit mix wasn't engaged at all.
My two year old Lab-Pit mix wasn't interested in this kibble dispensing toy at all. Not even curious, even when we used incredibly high value treats inside. My dog isn't really motivated by food, so we hoped the tugging element would make her happy, but nope. On a positive note, the construction of this toy is pretty legit, and I can see it standing up to even aggressive chewers/tuggers for a while. But I can also understand the possibility for error that some of the negative reviews mention, like it cracking when dogs throw it down the stairs or the rope getting slimy. A downside for us that might be a selling point for you is that the jug itself is almost bullet proof for a moderate chewer, feeling too heavy and smooth so it was hard for her to engage with the toy as a whole using her paws and nose like she does with her favorite toys and puzzles. She never quite figured out the way to get the food out because she just wasn't interested in the experience. I have heard people that rave about the Tug a Jug, and others like my dog who were just plain bored by it despite being a full on tug loving dog. It's probably worth a try if you think your dog might engage with it the way it's intended because the construction really is legit, but only if your dog is confidently motivated by food. Our daily use kibble dispenser is the Busy Buddy Twist n Treat that gives her a lot more immediate satisfaction but keeps her engaged for 20 minutes with rolling/shaking with her mouth/dropping/using paws/using nose/using mouth.
---
By ReggieRay on Feb 5, 2022
Too Frustrating
My dog loves interactive toys and is quite smart at figuring them out. This one, however, seems to be too frustrating for him. Not from lack of trying. Honestly, the whole concept of getting the treats and kibble out is probably too much for most. Think about it: The rope has to be pushed into the bottle by your dog, then the treats and kibble must be near the opening while your dog somehow braces the bottle and pulls the rope back out for a small reward. A little much for solo play, so I usually get involved and we have fun that way.
---
By BonbonCon on Mar 4, 2022
Keeps him busy
We put some of our Labrador's meal in this buddy to keep him occupied and engaged after each meal. He seems to love it, and brings it back to us empty after about 15min to let us know he needs a re-fill. Definitely for a larger dog as it is somewhat heavy and large.
---
By Boweeeee on Feb 10, 2022
Dog looks like she's run a mile!
We've tried a few treat dispensers and puzzle toys with our beagle mix and this is the first thing that she hasn't finished/figured out in less than 5 mins. She LOVES it and it has kept her interest. Just now she played with it for 10 solid minutes of pawing and throwing it around with panting excitement, then went to her bed, yawned and is falling asleep.
---