Exo Terra Daylight Basking Reptile Spot Lamp
Frequently Bought Together
---
About This Item
A broad-spectrum daylight spot lamp with a Neodymium sleeve which provides UVA and is also ideal for plant's photosynthesis
Reptiles need UVA light to stimulate activity, encourage natural foraging and aid in digestion
Creates a basking area for thermoregulation and increases ambient air temperature
Can be combined with Daytime Heat Lamp or Night Heat Lamp for a 24-hour cycle
Because it's a spot lamp, you can direct the heat and light in a certain direction to create basking sites in the terrarium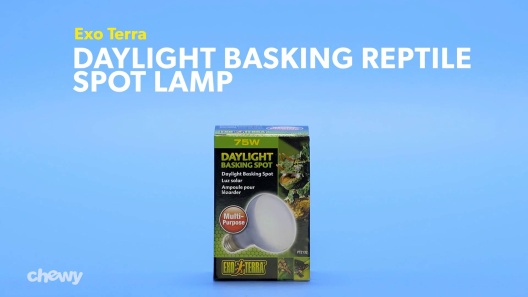 Learn More About Exo Terra From Our Team of Experts
---
---
Questions & Answers
24 Customer Questions
---
Would this lamp work for a turtle? If not is there a lamp here that would work?
Answer by • Mar 09, 2018
This lamp can be used for turtles.
---
Does this light bulb work with the zoo med mini deep dome lamp fixture?
Answer by • Feb 02, 2018
This bulb will work with that fixture.
---
Are these safe for a grey tree frog ??
Answer by • Oct 14, 2019
This lamp is not suitable for grey tree frog. Gray tree frogs require UVB in order to synthesise vitamin D3 inside their skin.
---
Is this light good for an adult bearded dragon?
Answer by • Nov 05, 2021
This lamp is suitable for use with a bearded dragon.
---
---
---
By ExoTerradaylight on Sep 6, 2022
Broke first day we used it
Unfortunately this lamp broke the first time we attempted to use it. Not sure where it went wrong - guessing just a defective one. Chewy was great about getting us a refund - we will try a different brand!
---
By Coley on Jun 26, 2022
It's not the bulbs
We were blowing through bulbs. I finally got suspicious of the fixture, got a new one and I had several "blown" bulbs that I hadn't disposed of and ALL of them still worked.
---
By cranberry on Apr 27, 2022
Works as Intended
Exo Terra Daylight Basking Reptile Spot LampExo Terra Daylight Basking Reptile Spot Lamp are decent bulbs. It works as intended!
---
By Rachel on May 3, 2022
Burned out already
I had it for less than a month, and it already burned out.
---
By Erika on Mar 19, 2022
lasts longer
I've found that this bulb lasts a lot longer than any other similar
---
By Minnow on Nov 1, 2021
Lasted a week
I'm not entirely sure how to judge a bulb's expiration date but this one lasted about a week and blew out. I used it in the double ceramic basking domes ( max 100 watt) and didn't touch with fingers. Now, I have to order another. Grrrr
---
By Tony on Sep 26, 2021
Absolute garbage
Waste of money. They burn out extremely fast. In fact, I just put the last one in, and it blew immediately. If you are considering purchasing these, just take whatever money you are planning to spend and throw it in the trash.
---
By BelleFury on Aug 12, 2021
150W Light Bulb
I'm VERY happy with this product! I bought two 150W bulbs for my bearded dragons 55gallon tank since Dec 2020, only 1 bulb went out on 7/2021 while the other is still going. I'll definitely be purchasing again.
---
By Activechewer on Jul 27, 2021
Burnt out quick
Bulb lasted for four weeks and burnt out. I have it on a timer so it's not on all day and have everything mounted as I should. The other one I had lasted for two years but also a different brand same watts.
---
By Curtis on Aug 24, 2021
Looks like a 50/50 split
The first bulb blew after only 3 days. The 2nd one however has been going since so I'm guessing it's a QC issue or a dud.
---