Fresh Step Fresh Scented Non-Clumping Crystal Cat Litter, 8-lb bag
Frequently Bought Together
---
About This Item
Long-lasting crystals lock in odor better than traditional clay litter.
Absorbs moisture on contact while leaving a fresh scent.
Unused crystals can last up to one month in the litter box.
Lightweight litter that is easier to carry, scoop and clean up.
Low dust makes for cleaner surfaces and air.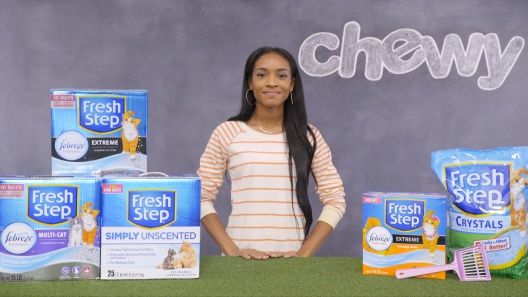 Learn More About Fresh Step From Our Team of Experts
---
---
About Fresh Step Cat Litter
A Cleaner Litter for a Better Smelling House
Fresh Step created a litter for every type of kitty imaginable, and they're all designed to handle the strongest litter box smells to keep your house odor-free. With tight-clumping scoopable options, low-maintenance crystals, great-smelling scented litter and even unscented for sensitive noses, your cat's litter box will stay fresh each time she steps in, and after she jumps out, too.
One Step Fresher
How do you get 10-day odor control that keeps fighting lingering litter box smells? Take the power of Fresh Step and add the pleasing scent of Febreeze, including the popular Aloha fragrance, for the next level of freshness. Both Fresh Step Multi-Cat and Extreme Scented Cat Litter are low-dust formulas that feature ClumpLock technology for tighter, easy-to-scoop clumps. Multi-Cat is perfect for more than one kitty, and Extreme uses antimicrobial agents to stop the growth of odor-causing bacteria.
Fragrance-Free Formula
Fresh Step Multiple Cat unscented cat litter works naturally to eliminate odors. It combines activated carbon and plant extracts for a scoopable clay litter that takes a more natural approach to litter box woes. Carbon works nonstop to trap the odors, while plant extracts quickly neutralize them—all without overpowering perfumes or dyes.
A Little Goes a Long Way
Fresh Step Clay Cat Litter requires less scooping time, and it's made to handle even the smelliest messes. Compared to other non-clumping clay litters, you'll need less to get the same odor-fighting benefits. Offensive odors are eliminated using CarbonPLUS technology to keep the litter fresher longer. Just 35 pounds equals 50 pounds of similar non-clumping clay litters, which means you get more use out of each bag.
Fresh Step Crystals Cat Litter
Crystals look nicer in the litter box, and they absorb moisture on contact—five times more efficiently than the leading clay litter. Fresh Step Crystals Cat Litter requires the least amount of daily upkeep, because you only need to scoop out solid waste, not huge clumps. It lasts up to a month and minimizes the amount of dust to almost nothing. The smooth crystals are soft on the paws and lightweight in the bag for easier carrying.
About Fresh Step
Since 1984, the makers of Fresh Step have been advancing the science of cat litter toward the ultimate goal—to keep your house free of the dreaded cat litter smell. They're committed to the happiness of pet parents and cats, which is why they created a range of products made to suit every household's needs. From odor-eliminating carbon to liquid-absorbing crystals and scoopable to non-clumping, Fresh Step has every litter box covered.
Shop Fresh Step
Compare Similar Items
| | | | | | |
| --- | --- | --- | --- | --- | --- |
| | | | | | |
| Customer Rating | | | | | |
| Price | | | | | |
| Autoship | — | | | | |
| Litter Feature | Odor Control, Non-Clumping, Scented | Non-Clumping, Multi-Cat, Odor Control... | Non-Clumping, Unscented, Lightweight | Non-Clumping, Odor Control, Unscented, Multi-Cat | Clumping, Unscented, Lightweight |
| Packaging Type | Bag | Bag | Bag | Bag | Bag |
| Lifestage | Adult | Adult | Adult | Senior | Adult |
| Top Ingredients | — | — | crystal | — | crystal |
---
Questions & Answers
31 Customer Questions
---
did I order this monthly or weekly
---
Is the crystals suppose to absorb the pee? Do I have to scoop out the pee also?
Answer by • Apr 22, 2018
The Fresh Step Crystals quickly absorb moisture including urine. It's a non-clumping litter so it's best to change the litter box in 20- 30 days.
---
the urine builds up at bottom of litter pan - is there something i can do to eliminate this as when changing it out the fumes are pretty intense.
Answer by • May 06, 2019
It is recommended to scoop the feces out at least daily and stir the litter to distribute the silica to absorb the urine. When you notice the crystals are unable to absorb any more, it is time to empty out the entire box, clean it, dry it, and add fresh litter.
---
Can I use this in my auto cleaning try
Answer by • Jul 14, 2017
While most self cleaning litter boxes can be used with crystal litter it is recommended to thoroughly read the manual for litter requirements.
---
---
---
By favorite on Aug 3, 2022
Favorite cat litter!!
I've had my cat for 4.5 years now. We have lived in SMALL apartments together (college life), this is the only litter I have found that checks all the boxes for us. - no smell, I scoop it out every 4-5 days & replace the litter inside the box entirely once a month. - very minimal tracking - low/no dust We've been using this brand for a little over a year now & you won't find me switching as long as the formula stays the same.
---
By kris on Jul 1, 2022
Never going back to normal litter!
I have 6 cats, 8 litter boxes. There were days I'd clean out the litterbox before going to work and I'd almost be knocked down by the smell when I got home. My vet had recommended crystal litter after one of my cats had a UTI. I finally made the switch and I can go almost a full month without even a hint of litterbox odor. Just be sure to remove the solid stuff and stir the remaining litter at least once a day. I've tried the finer crystals, but this seems to work best in terms of dust, tracking, and odor control. Plus, no more such to my long haired cat! If I'm on a budget, I'll mix this with a cheaper brand and it still does a good job.
---
By evacado on Jul 4, 2022
SCOOPFREE SUBSTITUTE
If you have a "scoopfree" automatic litter box, USE THIS PRODUCT. I had been using the Scoopfree brand crystals in my reusable tray and was going through them way to quick. It was getting too expensive. With these crystals, I'm not even half-way through the bag after almost a month. We have 5 cats and 4 litter boxes, the scoopfree being in my bedroom. 33 "scoops" after about 3 weeks and only pee. Literally does not even smell yet and the crystals still have probably a week left of life in them. So, if the other half of the bag lasts 4 weeks too, you're looking at 8 weeks per bag in my situation. Based on my totally correct math skills I would say one bag of these crystals will last 80 "pees" in an auto litterbox. I gave 4 stars because when I used the crystals in a regular litterbox, they didn't last as long as I would have hoped and got stuck to the bottom and were hard to clean off. It was hard to tell when the box needed to be dumped, and by the time I could tell, it was a horrible mess with the entire bottom still liquid pee and smelling so strong I cried. Having 5 cats is a lot of work, so having at least one auto litterbox in a popular cat spot if they need is a lifesaver. We also have 2 "pellet" boxes with pee pads, and a clay box (which is their favorite). I prefer to limit to 1 clay box because they are so demanding to maintain.
---
By Peng on Aug 8, 2022
Amazing... But does not keep smell in
I loved this at first, my cats did as well. However after a while theres an odd smell, I thought it was the cat poop mixing in with the crystals but after cleaning it was definitely the crystals themselves. the scooped up pee crystals also didnt smell so bad. Great product in every other way though
---
By Bubby on Jun 9, 2022
Fresh Step crystal cat litter
Had ordered another crystal nonclumping litter and it was so fine, like sugar. It tracked out of the litter box and was like walking on sand, only my bathroom floor not the beach! Was hoping that adding these crystals would add some "body" to the litter, as well as expand the volume of the litter in the box to keep more of it in the box. Which it did. It not only kept the finer litter from being tracked out as much, but also allows the litter to dry faster and not clump as much...added bonus is the smell. Using just maybe a ratio of 50-50 litters the litter adds just enough fragrance to not be overpowering. Am very pleased, and most importantly so are the cats.
---
By Everlyn on Jul 18, 2022
Excellent Product
I transitioned from regular cat litter to crystal litter about 2 years. It was the best thing to do. Less smell, last longer, and it's not as messy as the traditional clay cat litter. For any cat owners, it may be a little more pricey but worth the change.
---
By Sandi on Jun 2, 2022
Best litter ever! Feather light, absorbs quickly and stays dry.
Super light, amazing when you scoop it. The urine is completely absorbed and completely dry - no urine/moisture clumps at all, so only the super dry solids scoop (my trash can is super light now). I know eventually will have to dump and refresh the litter, but based on experience with the traditional clumping this type will last longer. Almost no odor. I did get the deodorizer crystals which I added, but almost doesn't need them. No moisture must equate to almost no smell. Love it. So light, you can't price compare based on weight. It is a completely different product.
---
By ABNS on May 31, 2022
we're both fans!
I used clay litter for years and it wasn't a problem, had to add a second box in my house due to my cat often having an inflamed bladder. At first, this was a problem because he would track it to the WORST possible places and I felt like it was never clean- the larger crystals cuts tracking back a TON. Not completely, but it's so much easier to deal with now! ALSO because of his health issues, it's really important I see what color his urine is and this is the first one that's worked! Pretty kitty litter was cool but he tracked it EVERYWHERE. We've tried it all, this is the best so far!
---
By Patty on Jul 10, 2022
Amazing cat litter!
Ok… so our cat litter box has always smelled like ammonia…bad… even with the febreeze scented or any other scented litter. This is the first litter that doesn't! Cats didn't have an issue transitioning and it doesn't smell. We are in love for the first time!
---
By KettleKat on May 10, 2022
Waaaay better than clay litter
Low dust, good urine odor control, and it dehydrates poop VERY quickly (if your cat doesn't bury the poop, just scoop some litter on top and the smell will be gone in a few minutes). I find it lasts about two weeks (I have one cat, a boy with an enormous bladder). If you start smelling pee before the two-week mark, check if your cat is peeing on the wall of the box and letting it dribble down - you may just need to wipe the wall of the box. It is very important to STIR THE LITTER EVERY DAY. Each individual crystal can only absorb a limited amount of urine, so you need to circulate clean/absorbent crystals down to the bottom of the box to prevent pee puddles. It also helps to make the litter at least two inches deep - urine will pass by more crystals and get absorbed before it reaches the bottom, and with a larger volume of crystals to spread the work individual crystals won't get "full" as quickly. Every now and then I am tempted to save money by switching back to clay litter, but I always end up going back to crystals - the odor control is just so much better. This has been my go-to crystal brand for a long time - the best balance of quality vs. price I have found.
---