Frisco Quilted Water Resistant Hammock Car Seat Cover
By Frisco
---
About This Item
Protects your car's back seats and floors with quilted, heavy-duty Oxford polyester that's resistant to water, spills, stains and color-bleeding.
Designed to fit most car models and is built with adjustable straps for a secure fit, extra stitching at attachment points for added durability, plus seat anchors to minimize shifting.
Installs in just three steps—loop straps around headrests, push anchors through seat gaps, and secure corner straps for added snugness (for some car models only).
Accommodates a human companion or the use of pet vehicle restraint systems with easy-access, closeable seat belt slits; features "seat belt keepers"—flaps with a snap to hold the seat belt in place when not in use.
Machine washable for easy cleanup so you can always be ready to hit the road with your pet. Plus, handy pockets make for easy stow and go.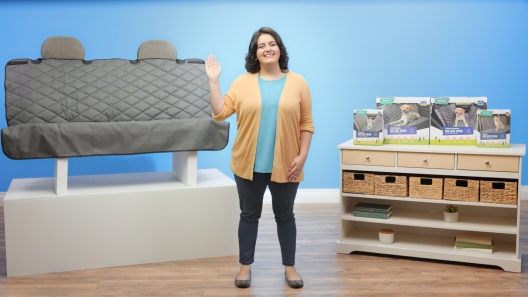 Learn More About Frisco From Our Team of Experts
---
---
About Frisco Car Seat Covers
Ready. Sit. Go!
Protect your ride with the Frisco Car Seat Covers. Made of heavy-duty Oxford polyester, they resist water, spills and color-bleeding to safeguard your car seats. That means more car rides with your pal, from errands to expeditions! Go forth with less fuss—it's also machine washable which means no hassles over stains or messes for miles ahead.
The Right Fit for Most Rides
The Frisco Car Seat Covers are designed to fit most car models. They come in two styles—a bench and hammock for customized protection for your vehicle. Both options can be secured on the back seats with adjustable straps that loop around the headrests, and built-in seat anchors to prevent shifting. Plus, the quilted style has a non-slip mesh backing to help keep the cover in place.
Comfort Meets Convenience
The Frisco Car Seat Covers are designed to protect your car seats and make the ride more comfortable too—from pit stops to road trips. That's why they're equipped with seat belt slits for easy access, and fabric strips to hold the seat belts in place when not in use. Plus, they're available in quilted versions for added comfort, and the hammock style features handy pockets for easy stow and go.
Easy, Three-Step Installation
Get ready to go places because installing these seat covers is quick and easy. Step 1: With the cover on your back seat, loop adjustable straps around the headrests and fasten snugly. Step 2: Push the built-in cover anchors through the seat gaps to make sure the cover stays in place, even during bumpy rides. Step 3: Adjust the seatbelts through the access slits as needed, and get going!
Dog-Approved Features for the Road
About Frisco
Frisco's quality products are made for and by a family of pet lovers. And they're more than just everyday pet supplies. Crates become comforting kingdoms, potty pads transform into a favorite patch of grass, and potty bags give the signal that it's time to take care of business. From comfy mats and cat trees to potty time essentials, Frisco provides practical solutions for today's devoted pet parents. The entire Frisco line is available exclusively at Chewy.com!
Shop Frisco
---
Questions & Answers
36 Customer Questions
---
does this alow you to acces the buckles to buckle your dogs seatbelt in?
Answer by • Jan 31, 2019
This car seat cover accommodates a human companion or the use of pet vehicle restraint systems with easy-access, closeable seat belt slits; features "seat belt keepers"—flaps with a snap to hold the seat belt in place when not in use.
---
Can you have a passenger sit in the back when the hammock is being used?
Answer by • Feb 28, 2020
This product is a single large piece that covers the entire back row of seats and would not allow for a human passenger to sit in the back seat.
---
Can a car seat be placed on top of this cover or does the cover have to be moved?
Answer by • Jun 30, 2019
The car seat cover would be able to used with a child car seat. The car seat cover features seat belt slits making the seat belts accessible.
---
Just bought a new car, but my head rests are attached to my seats, will it still work?
Answer by • Dec 07, 2018
This seat cover features adjustable straps that can be looped over any headrest.
---
---
---
By Nikki on May 22, 2022
THE best seat hammock
I have two big dogs and this hammock is SERIOUS. It's extremely heavy duty to the point that I have also used it as a load blanket for moving. I love that it holds its shape because it's stiff utility fabric. I can easily clean it, I can easily fold it, and it was reasonably priced. My only complaint is that there aren't buckles/clips for the straps to go around the headrests - I have a metal divider in addition to my hammock so it just makes installation 1 second more difficult for me personally. Anyway, this hammock is dope. Highly recommend.
---
By Cindy on May 8, 2022
seems solid. glad I bought it
I just put this on the back seat and I'm pretty happy with the fit. I have a 2019 f150 and my other seat covers don't fit the back of the seat because it's taller than my old truck. It fits kind of tight, meaning the straps that go over the head rests are a little too close but work. To hook them over the front seat head rests I have to move the seats back or take the head rest off to get the loop around it. The hard plastic pieces that go in between the top and bottom of the seat are secure and don't just slide out with pressure and the anti slip rubber on the bottom helps hold it in place really well. There's also straps that go diagonal under the seat I didn't know about, they stay in place well too. All in all I'm happy with my purchase.
---
By renasmom on Apr 12, 2022
better than more expensive options
I'm so glad I purchased this seat cover. I drive a classic 99 Jeep Cherokee and was looking for something to protect my seats from the mud loving magical fiber emitting pup that has to go riding with mom. While I had to get a little creative since my backseat doesn't have headrests (nothing a couple of bungee cords hooked to the cargo tie downs couldn't fix), installation went pretty quickly. I think the buckles that are used could be a bit better and there is some slipping so I have to tighten them up periodically. But it's more of a minor inconvenience than anything serious. I was a bit worried that this would slide over my normal neoprene seat covers, but the grippers on the underside of this cover keep that from happening. The fabric is durable and keeps mud, water, and even rotting bird guts from getting all over my interior. Being able to simply pull this out and wash it has been a lifesaver.
---
By Michelle on May 12, 2022
Works well for Honda Civic
We have a 2008 Honda civic and it fits well. It looks like it would fit a larger car too because it looked a little roomier on the edges. It truly is waterproof because my little puppy had an accident on it the 2nd time we used it and I was able to just wipe it up with some natures miracle and it did not get on the seat underneath
---
By JSJS on May 20, 2022
Nice car seat cover
The car seat cover is sturdy and overall nice quality. I previously used to buy the cover from Outward Hound, but that couldn't be put in the wash and often the backing would disentegrate. The Frisco cover looks good and a nice value for the price. Plus you can put it in the wash!
---
By Kenton on Apr 28, 2022
Fantastic Rear Seat Cover
This seat cover is awesome. It fit the back of my Ford Maverick and is super easy to install. It slides over all of the head rests with ease and the ability to slip it in between the seats for it to keep the seat shape is even better. It also folds up and fits behind my rear seat. I'd recommend this for anyone with an SUV or truck.
---
By Ruffian on May 5, 2022
Love this product!
Absolutely love this hammock car seat cover. I got it in black, and it fits my toyota corolla just fine. Very snug and secure, my dog loves it and it gives him a comfortable safe feel. I was really worried about durability , my boy is a 70 lb Amstaff and for us it stood up to the test!
---
By Hemi on Apr 21, 2022
Car seat cover
This hammock car seat back cover is so well made. Heavy duty! I will be washing this week. Wiped clean for a month and just want to see how it washes. Has anchors for seat and the bottom pad is thick the cover never moves. Only draw back is i wish the straps to go over head rests had clips. But plenty of room for adjustments so they work fine.
---
By ToriandWrigley on Apr 12, 2022
Awesome cover for the price
I have had this seat cover for well over a year now. I bought it for the price, and it has proved that cheaper can be better! It keeps my back seats clean from all the sand, mud, and most importantly, hair. Although it says washable, I have not tried washing it myself. I simply vacuum up the hair and sand, and I'll spot treat it if necessary. LOVE this thing, could not recommend it more!
---
By SLR3 on May 16, 2022
Definitely Recommend!
Fits perfectly for mid sized SUV! Kept my 14 yr old Cocker Spaniel comfortable in the back seat for a long car ride. The hammock was really easy to clean as well- just used a lint roller and folded it back up.
---