iFetch Too Automatic Ball Launcher Dog Toy
By iFetch
---
About This Item
Automatic ball launcher is designed specifically for medium to large sized dogs.
Comes with three standard-sized tennis balls, with a non-abrasive design that is gentler on teeth.
Launches the ball 10, 25 or 40 feet, which can easily be changed with the push of a button.
Operates almost silently with a streamlined plastic design with rubber feet keep it in place.
Excellent way to encourage both mental and physical exercise, and allows for independent play.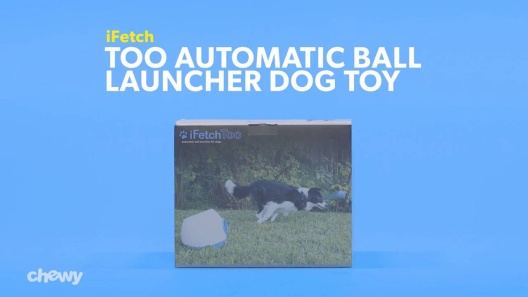 Learn More About iFetch From Our Team of Experts
Get an extra set of iFetch Tennis Balls [Here] (https://www.chewy.com/ifetch-tennis-balls-standard-3-pack/dp/142432)
Shop Prescription Medications from Chewy Pharmacy
---
Compare Similar Items
| | | | | | |
| --- | --- | --- | --- | --- | --- |
| | | | | | |
| Customer Rating | | | | | |
| Price | | | | | |
| Toy Feature | Training | Training | Outdoor, Training, Electronic, Exercise | Outdoor, Crinkle, Training, Electronic, Exercise | Outdoor, Exercise, Electronic |
| Breed Size | Large Breeds | Extra Small & Toy Breeds, Small Breeds | Large Breeds | Small Breeds | Small Breeds, Medium Breeds, Large Breeds |
| Material | Plastic, Rubber | Plastic, Rubber | Plastic, Rubber | Plastic | Plastic |
| Toy Type | Launchers | Launchers | Launchers | Launchers | Launchers, Motion Toys |
| Chew Style | N/A | N/A | N/A | N/A | Moderate |
| Sport Team | N/A | — | N/A | N/A | N/A |
| Compatibility | Plug-In Power, Battery Powered | Plug-In Power, Battery Powered | Plug-In Power, Battery Powered | N/A | N/A |
---
Questions & Answers
13 Customer Questions
---
Hey guys, is there a timer on this? My dog will go nonstop lol
Answer by • Sep 23, 2017
This Ball Launcher does not have a timer, but it does have an on/off switch so you can decide when play time is over.
---
Is it only battery operated or can it be plugged in to operate?
Answer by • Aug 28, 2019
This launcher includes a battery charger and will keep throwing balls for approximately 250 launches on a fully charged battery.
---
How long until automatic shuts off of machine. Minutes? I am reading shuts off too quickly.
Answer by • Jul 28, 2018
The iFetch Too takes 2-8 hours to fully charge. The charge status will be electronically indicated on the screen as well. Once fully charged, the iFetch Too should give up to 250 launches until it needs to be recharged.
---
Will the machine work with other balls beside tennis balls? My dogs destroy tennis balls
Answer by • Nov 15, 2017
As long as the ball has a diameter of 2.5 inches in diameter.
---
---
---
By courtmain on Mar 15, 2022
Doesn't live up to the hype
Not overly excited about this purchase. Doesn't live up to the hype. Was pretty disappointed that it does not launch 40 feet like they say. But still a fun toy to use
---
By Melon on Dec 4, 2021
Worked for a bit
Worked nicely for a little before it slowed. Gets gross quick with dirt. Within a month it didnt throw very far. Pup liked while it lasted though
---
By Leah on Aug 2, 2021
Quiet with good battery, but no sensor
I had a different launcher for a year that wore out and I figured I would try this one. My dog already knew how to use a launcher, so there was really no training period for him. Pros: -Really quiet -random setting to keep dog guessing -can leave on for long periods and dog can still play when he wants to. -mediocre distance -doesnt tip over as easily when dog paws at it. Cons: -No sensor or delay when dog puts ball in, so it shoots it out, even if dog is standing in front or toddler walks past... - if your dog likes to make the balls all squishy, the ball gets wedged in the shoot (also shoots less far, but that's expected). -the firm chuck-it balls get wedged as well (same size as tennis ball and fits in the chuck-it, but frequently gets stuck in the shoot).
---
By FrenchieMom on Jun 23, 2021
I loved I, but...
I absolutely loved the iFetch and so did Romeo my male french bulldog, but my other two female french bulldogs Cami and Kimber could handle it. I don't know if it was the noise that made them crazy or the exit of the tennis ball which then caused them to attack the iFetch and then fight each other over who was gonna get the iFetch. Romeo on the other hand loved it, he caught on very quickly and played easily with the iFetch. Sadly, I had to make the hard decision to return it because it caused my two females high anxiety and the frustration and it wasn't worth it for me to keep the iFetch for one dog's entertainment. Poor Romeo, I loved watching him run after the tennis balls and come back with his big smile and put the tennis ball back in the hole and go again! I highly recommend this item for anyone who has a dog that loves to play fetch! **** I gave four stars because of the noise I feel that was the only problem I had with it! I wasn't loud at all but disturbed the female dogs, didn't bother the male dog at all!
---
By Carolyn on Aug 5, 2021
Heck yeah!!
I have a medium sized, ball obsessed girl and this was the perfect gift. Just make sure you do charge the full day and then let it fly!!
---
By Brit on Mar 28, 2021
Has some pros and cons
Just got this and did the 24hr charge up and training with my pup. Positives: It is pretty quiet, the only noise is the launch lever. My dog has figured out how to use it pretty easily and wasn't afraid of it at all. Negatives: It doesn't launch very far (maybe like 15ft max even on the high setting, fully charged), it loses its charge pretty quickly and doesn't have any sensors so if your pup is super excited and wants to stand in front of it watch out.
---
By Missy on May 8, 2021
Not that impressed
The charge does not hold for very long. It does not throw the ball very far. I am not impressed at all with this product. Not worth the money.
---
By disappointed on Oct 3, 2020
should work better for price
the ifetch is awesome...when it works, which is about 20% of the time. It's almost like it gets tired...even when plugged in. It will launch the ball 40' 5 or 6 times and then the distance gets shorter and shorter until it's just launching 2-3' over and over. My dog is a dachshund, so there isn't a whole lot of slobber keeping the ball from launching. This happens even if I put a new ball in it after the first 5-6 launches. This toy keeps my dog really happy when it works but I can never leave it out for my dog to use without supervision because when the ball gets stuck inside/won't launch it makes her crazy. I might was well just be throwing the ball myself. For the price I would not recommend this to my friends.
---
By Delicious on Jan 22, 2021
Not worth the money
After six months this only holds a charge for about 20 minutes. Lasted less than 7 months.
---
By Dana on Nov 18, 2020
Does not work.
I opened it brand new and charged it. Would not turn on even when plugged in. Dealing with customer service is a nightmare. They take forever to get back with you. I do not recommend this product. My lab and corgi were very disappointed.
---