K&H Pet Products Kitty Sill Cat Window Perch, Tan
---
About This Item
Great for cats that love to perch on the window and keep eye on the neighborhood or bask in the sunlight.
Developed with strength and ease of assembly with an aesthetically pleasing design to coordinate in any home's décor.
Using the provided hook and loop, the perch can be installed with no tools, making it practical for rental living, or can be screwed in for a more permanent solution.
Orthopedic sleeping surface provides ultimate comfort, plus comes with removable cover for easy machine wash care.
Solid design includes adjustable brackets to fit any window and is sturdy enough to hold up to 40 pounds.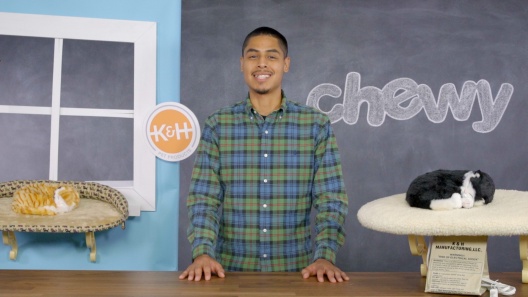 Learn More About K&H Pet Products From Our Team of Experts
---
---
About K&H Unheated General Cat Products
K&H Solutions for Your Cat
Take care of your cat with a wide assortment of premium K&H pet accessories. They offer a bed for every cat's unique needs, from windowsill beds, kitty sacks to loungers and more. Your feline will love having her very own cozy, personal space and you'll love the quality that K&H puts into their pet beds.
Green And Energy Efficient
Made from green, bio-based foam and polyfill from recycled bottles, many K&H products use less energy than the average nightlight.
Machine Washable
All K&H beds are either machine washable or made with a machine washable cover for cleanliness and convenience.
Vet Recommended
Veterinarians and pet experts recommend both traditional and heated K&H pet beds for their reliability and comfort.
Therapeutic Warmth
Every K&H bed and mat provides soothing warmth for muscles and joints—perfect for active or aging and arthritic pets.
Safety
K&H prioritizes safety and works closely with MET Laboratory to ensure all their products are safe for your pets and home.
About K&H Pet Products
K&H has over 20 years of experience making products for pets with the goal of making their lives—and yours—better and easier. They know how much you care about your pets and are dedicated to designing innovative, quality solutions that enhance their comfort and well-being.
Shop K&H
Compare Similar Items
| | | | | | |
| --- | --- | --- | --- | --- | --- |
| | | | | | |
| Customer Rating | | | | | |
| Price | | | | | |
| Furniture Features | Removable Bed | Removable Bed | Removable Bed | Removable Bed, Heated | N/A |
| Cover Material | Faux Fleece | Faux Fleece | Faux Fleece | Faux Fleece | N/A |
| Furniture Frame Material | Plastic | Plastic | Plastic | Plastic | Cardboard |
| Tools Included | No Tools Required | No Tools Required | No Tools Required | No Tools Required | No |
| Furniture Mount Type | Sill Mounted | Sill Mounted | Sill Mounted | Sill Mounted | Sill Mounted |
| Assembly Required | Yes | Yes | Yes | Yes | Yes |
| Lifestage | Adult | Adult | Adult | Adult | Adult |
---
Questions & Answers
33 Customer Questions
---
what is the difference between k&h pet products kitty sill and k&h pet products thermo kitty still? pics & dimentions are the same.
Answer by • Jan 11, 2018
The K&H Pet Products Thermo-Kitty Sill has a dual thermostat heating unit that is buried deep within super soft orthopedic foam and is removable for year round comfort while the regular kitty sill does not have this feature.
---
Does this item go in between the window and the sill
Answer by • Jun 29, 2018
Using the provided hook and loop, the perch can be installed with no tools, making it practical for rental living; or, for a more permanent solution, screws are included for attaching to your sill indefinitely. the adjustable brackets will fit any sill.
---
will this product support 40 pounds with just the velcro or does it have to be secured with the scews to hold that much weight? I have a 17 pound cat////
Answer by • Dec 10, 2017
The Velcro may only be used if desired but we'd recommend the screws for a more stable Kitty Sill.
---
Is this window perch heated
Answer by • Apr 18, 2018
This product is not heated. For the heated version, please see "K&H Pet Products Thermo-Kitty Sill."
---
---
---
By amelia on May 24, 2022
Disappointed
After our old K&H cat perch finally kicked the bucket after 2 years(the delux, leopard print), I purchased 2 of these. I installed the first one and I will not be installing the second. This one after only 2 months, the plastic that supports it had already started bending and cracking and my cats can no longer jump on this without fear of falling off.
---
By cenmad on Apr 22, 2022
Disappointing quality
This window perch works just fine, and is as easy to install as advertised. My two 12-pounds cats can share it for bird watching, although the size and lack of raised edges mean they're less likely to try sleeping together on it (they dislike falling off things). When one tries to turn around, the other has to get up and accommodate him, or get pushed off - so it's probably better sized for just one cat to lounge on. That said, I'm really disappointed in the quality. The whole thing is cheap plastic, and the leg supports (which look matte and reasonably not-ugly in the photos) are shiny and glaringly plastic. The foam is pretty thin, too, but the cover is just barely too small to allow anything thicker underneath. In fact, the cover is annoyingly troublesome to put on, since it has zero allowance. Not difficult, mind you, just fidgety in the same way a too-small fitted sheet will pop off a corner when you try to fit the opposite corner. I had much better quality window perches 10-15 years ago, and wish I'd kept them through my moves. If Chewy had a better quality window perch, I'd return this thing in an instant in exchange for something better. But this appears to be my best bet for a ledge-attached bed as of this writing, so I'll keep it and watch for something better to come. I'll also add a blanket for the cats' comfort, and so I don't have to remove the fidgety cover to wash as often.
---
By Allthecats on May 5, 2022
Absolutely Perfect!
Had it up for not even a minute and already had 2 of our cats fighting over it. They eventually settled their differences and snuggled up together on it. :) I recommend putting little felt feet on the legs if you install it up against a window (and if you have fat cats) to prevent possible window cracking. We don't have a sill, just old wood windows so screwing it in was a breeze. Overall, it's wonderful and our cats love it. I may have to order another one just to keep everyone happy!
---
By Debra on May 13, 2022
Even better than expected!
We took what I considered a risk and ordered two of these - and our cats LOVE them!! They are softer and cushier than I expected and it is very easy to take off the cover to wash it (if I ever get them OFF the shelf long enough!). Easy to install, secure enough even for our 18 pound kitty - although we used the screws instead of the velcro option.
---
By Kagen on May 12, 2022
No longer heated but still a hit
I bought this as a replacement for an older version of the same bed that was starting to look a little raggedy, my cat took to the new one immediately and uses it daily while I'm at work. I didn't realize at the time of purchase it's no longer a heated bed but K&H heating pads are available separately and I had a spare one around to slip in.
---
By Meghan on Mar 31, 2022
Great product!
After looking at several different options for a window perch we decided to go with this one since it doesn't use the suction cups that probably wouldn't last. Also I like that I can still open the window and close the curtains if needed. We screwed it into the sill and it's very sturdy. Our window sill is small (2inches) and it worked fine. Our eldest kitty claimed it immediately and loves watching the birds especially with the window open. Would definitely recommend!
---
By Michelle on May 9, 2022
Super product
Item looks great but I didn't realize (didn't read) that it needs to be secured on the window sill with either screws or adhesive strips (included) and we are in a rental so I can't use it,sadly . I will be trying to donate to a local cat shelter that might need it.
---
By Lilythecat on Apr 18, 2022
Window Sill Cat Perch
My cat loves her new perch. The sun shines every morning through the window that the perch is attached to. The cat can watch Sandhill Cranes, birds, and ducks. This has been a wonderful and useful purchase. The perch is very sturdy and is attached to the window sill with the provided adhesive strips. I would recommend this perch to anyone with a cat or small dog.
---
By Joyce on Mar 22, 2022
Window Sill Perch
The cats really enjoy the perch with the window open. First time we just used the delivered Velcro strips with the kit and when Huey jumped up on it, it fell. Tried the second time securing the sill with 2" Velcro strip, same thing. Third time we put the screws in and it is staying. Of course Huey was very reluctant to try it again but now he sees he can finally enjoy the view in front of the open window. I would definitely recommend it, just use the screws for the peace of mind and the cats will appreciate it too.
---
By VickiO on May 18, 2022
Window cat perch
It took our senior cat a while to use the cat perch, but once he figured it out, he loves it. He has a good view and can sleep in the sun. But it did take some time for him to try it out. Also it was easy to install.
---