K&H Pet Products Thermo-Kitty Cat Bed, Sage
Frequently Bought Together
---
About This Item
Thick, super soft, orthopedic foam base makes this bed extra comfy.
Includes a dual thermostat 4‐watt heating unit to make this the perfect warm and cozy hide away.
It warms the surface 10‐15 degrees above ambient air temperature to your cat's normal body temperature when in use.
Features a 5.5-foot cord that's MET listed for safety. Easy-to-clean, just remove the heater and wash the removable cover on gentle cycle with cold water and hang to dry or use the no-heat cycle on your dryer.
Available in 2 different sizes to accommodate cats of any size.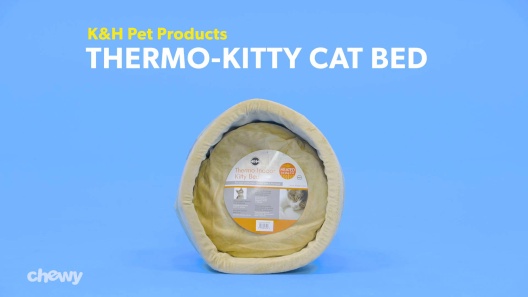 Learn More About K&H Pet Products From Our Team of Experts
---
---
About K&H Heated Cat Products
K&H Heated Solutions
K&H offers a variety of products designed to make your pet more comfortable. Their wide range heated products are all MET certified, making them a safe and comfortable solution for keeping your furry friend warm, indoors or out.
Safety
Safety for your pet is K&H's number one priority. They work closely with MET Laboratory to ensure their products are safe for your pet and home.
Soothing, Eco-Friendly Warmth
K&H products provide therapeutic warmth for your best friend, and they are energy-efficient and easy to care for, too. Your pet will love the muscle and joint relief they provide and you will love knowing they are green and easy to clean!
Green & Energy Efficient
Many K&H products cost less to run than a night light. They use foam from bio-based materials and poly fill made from recycled bottles.
Machine Washable
K&H beds are either machine washable or made with a machine washable cover, to make keeping your pet's bed fresh convenient and easy.
Vet Recommended
Veterinarians and pet experts use and recommend the traditional K&H bed line as well as their heated line of bed products.
Therapeutic Relief
K&H beds and mats provide warmth to relax the muscles of active pets, and to soothe the joints and muscles of aging and arthritic pets.
About K&H Pet Products
K&H has over 20 years of experience making products for pets with the goal of making their lives—and yours—better and easier. They know how much you care about your pets and are dedicated to designing innovative, quality solutions that enhance their comfort and well-being.
Shop K&H
Compare Similar Items
| | | | | | |
| --- | --- | --- | --- | --- | --- |
| | | | | | |
| Customer Rating | | | | | |
| Price | | | | | |
| Cover Material | Fleece, Suede, Synthetic Fabric, Natural Fabric | Fleece, Synthetic Fabric | Fleece, Synthetic Fabric | Faux Fur, Synthetic Fabric | Fleece, Synthetic Fabric |
| Bed Feature | Machine-washable, Heated, Orthopedic | Machine-washable, Heated, Orthopedic | Machine-washable, Heated | Machine-washable, Heated, Orthopedic | Machine-washable, Heated, Orthopedic |
| Fill And Frame Material | Memory Foam, Foam | Orthopedic Foam, Plush / Fiberfill | Plush / Fiberfill | Orthopedic Foam, Plush / Fiberfill | Memory Foam, Foam |
| Bed Type | Bolster | Bolster | Covered, Bolster | Bolster | Bolster |
| Pattern | Solid | Solid | Animal Print | Solid | Solid |
| Bed Shape | Round | Round | Round | Round | Round |
| Assembly Required | No | No | No | No | No |
---
Questions & Answers
12 Customer Questions
---
What size cats fit into the small, medium and large sizes?
Answer by • Nov 11, 2018
The Small sleep surface measures 15 inches diameter. The Large sleep surface measures 19 inches diameter.
---
What size is the heat pad inside the 16" bed?
Answer by • Dec 09, 2019
All sizes of this bed use the small 4-watt K&H Pet Products Pet Bed Warmer.
---
I've had mine plugged in a few hours, took the temp. On top of the bed pad, it's 80* directly on the heating pad it's 90.5* Is this normal? It doesn't seem to be warm enough at all...
Answer by • Dec 06, 2018
This bed is designed to warm the surface about 10‐15 degrees above ambient air temperature to your cat's normal body temperature when in use.
---
Is the bottom of this a slippery shiny fabric?
Answer by • Oct 18, 2017
The bottom of the bed is a removable nylon material that is smooth to the touch.
---
---
---
By Brittany on Sep 24, 2022
Great Bed!
Super fast shipping! The bed arrived the day after I ordered it. Quality Material, it definitely doesn't look/feel like it will come apart anytime soon. Heats as advertised and my cats love it. The small size was perfect for my 13 lb cat. Going to be ordering a second one for my other cat.
---
By CalamitySmuag on Aug 1, 2022
Perfect for hairless cats
I ordered this bed for my new sphynx kitten and she loves it. I was worried that it would stay on all the time but I tested it with pillows to trigger the weight mechanism and it only warms up when it detects something on the bed. It turns off and gets 'cold' when she isn't on it. She loves to nap in her heated bed before zooming off for more playtime, and refuses to share the bed with our other cat lol 10/10, I'll probably have to buy a second one so our other cat doesn't get *too* jealous
---
By Stinky on Sep 14, 2022
Uncomfortable and misleading
The cord can be felt in the bottom cushion (in a bad position). Bed needs 20 minutes to "warm up", but it doesn't heat up. A major disappointment!
---
By CatLady206 on May 31, 2022
So glad I purchased!
I had been debating on buying this for several weeks, due to the fact that my cat has never used any bed, mat, or pad that I have got her. With her being 20 years old now and a bit arthritic, I thought this would be nice to try for her. When it arrived, I placed her in it, and she actually stayed in it! With other beds she would immediately jump out or lay next to, like I was trying to punish her. She really likes this and lays in it all the time! Once she even left my lap to go lay in it. What?! Overall I am so glad I got this for her, and feel bad I didn't get one earlier, especially when it was colder weather. When she is happy and cozy, it melts my heart!
---
By Anna on Mar 10, 2022
Nearly Purr-fect in Every Way
This is a practically perfect heated cat bed. Both of my cats have loved it since day one, and it now has a cat in it almost constantly. It's one of their two favorite "non-human places to sit" in the entire house. They much prefer this Thermo-Kitty Cat Bed bed to the other K&H bed I purchased at the same time (Thermo-Kitty Cuddle Up), though they like that one, too. I ordered the larger size so the two cats could snuggle in it together (and they do). . . . Things I like about the bed: Good value for the price, and seems to be of a decent quality. Plush, soft texture. Nice, sage-green color that fits in with the natural colors of our decor. When plugged in but empty, the bed has a warm temperature that entices our cats to lay in it. The bed also heats noticeably when one (or two) cats is using it. The cushion and heat seem to help our arthritic cat, and it's been a good addition to daily treatment. . . . Our cats prefer beds with bolster-type walls, or enclosed pyramid-shaped huts. They like the bowl-shape of this bed and started using it before it was even turned on. I've joked that it looks like a ramen bowl when one of them is curled like a shrimp! . . . Things I don't like: The extra, inner cushion (the part the cats actually lay on) is sewn to the main bed, and can't be removed to be laundered separately. It does unzip, so the heating pad can be removed, but it'd be nice if this piece could be detached. . . . Love this bed, and I'll probably purchase another of the same type, or similar. In fact, the only improvement I can think of is for the bed to have a half-dome cover over it for more warmth and privacy. . . . Bed size purchased: Large, 20x20x6, 19" diameter . . . Size of our cats: Moderately-large American short-hairs. ~16 pounds, 12" tall, 15+ chest-to-tail.
---
By Mochi on Mar 28, 2022
If I sits I fits
I got this to put on my husbands desk and both cats LOVE IT. They are each 9 pounds, Tico is the tabby and Lulu is the torty. We unplug it at night so they sleep with us instead but otherwise one of them is almost always in it. I probably should have gotten two but seeing them both in it just cracks me up.
---
By Annie on Mar 26, 2022
best bed for elderly cats (or probably any cat)
My two older cats spend almost 24-7 in these beds (we now have 3 for two cats). It has been an amazing help with our older cat whose cold all the time. For the reviews who say that they don't heat they are wrong. It heats to 80 degrees. The cat when in the bed gets plenty cooked without being over cooked. But 80 degrees doesn't feel particularly warm on your hand. Trust me it is warm enough for the cat!!
---
By Schwegs on Apr 27, 2022
Just what I hoped
My cat loves it and it's held up great. It's been powered on continuously for the last 7 months and used almost daily by my 4yr old cat. It's probably a bit larger and taller than my cat would like, but she still likes it. Definitely recommended.
---
By CatLady1 on Apr 18, 2022
Cozy and warm
I got this for my old kitty but my little 7 year old kitty has claimed it as her own. She uses it all the time and the 2 other cats rarely get to use it. I've had it for a few years now with no issues.
---
By Vicki on Mar 27, 2022
My cats love this!
I bought the larger bed and my cats just love it. They take turns sleeping in it so I'm going to end up buying another one. Can't have a waiting line! Quality is nice and the temp is just warm enough you don't have to worry about them getting to hot.
---