K&H Pet Products Thermo-Mod Dream Pod
---
About This Item
Pet bed with a unique design that allows easy access for your furry friend.
Comes with a heated pad to keep your paw-tner warm on those cooler nights.
Faux fleece cover can be easily removed and is machine washable.
Pod zips together for simple assembly.
Features a rugged nylon exterior with a soft interior for your companion.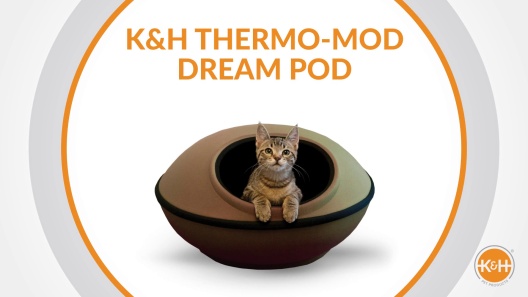 Learn More About K&H Pet Products From Our Team of Experts
---
---
About K&H Heated Dog Products
K&H Heated Solutions
K&H offers a variety of products designed to make your pet more comfortable. Their wide range heated products are all MET certified, making them a safe and comfortable solution for keeping your furry friend warm, indoors or out.
Safety
Safety for your pet is K&H's number one priority. They work closely with MET Laboratory to ensure their products are safe for your pet and home.
Soothing, Eco-Friendly Warmth
K&H products provide therapeutic warmth for your best friend, and they are energy-efficient and easy to care for, too. Your pet will love the muscle and joint relief they provide and you will love knowing they are green and easy to clean!
Green & Energy Efficient
Many K&H products cost less to run than a night light. They use foam from bio-based materials and poly fill made from recycled bottles.
Machine Washable
K&H beds are either machine washable or made with a machine washable cover, to make keeping your pet's bed fresh convenient and easy.
Vet Recommended
Veterinarians and pet experts use and recommend the traditional K&H bed line as well as their heated line of bed products.
Therapeutic Relief
K&H beds and mats provide warmth to relax the muscles of active pets, and to soothe the joints and muscles of aging and arthritic pets.
About K&H Pet Products
K&H has over 20 years of experience making products for pets with the goal of making their lives—and yours—better and easier. They know how much you care about your pets and are dedicated to designing innovative, quality solutions that enhance their comfort and well-being.
Shop K&H
Compare Similar Items
| | | | | | |
| --- | --- | --- | --- | --- | --- |
| | | | | | |
| Customer Rating | | | | | |
| Price | | | | | |
| Bed Feature | Machine-washable, Heated | Cooling, Machine-washable, Removable Cover, Orthopedic | Cooling, Machine-washable, Removable Cover, Orthopedic | Cooling, Machine-washable, Removable Cover, Orthopedic | Orthopedic, Removable Cover, Machine-washable |
| Lifestage | Adult | Adult, Senior | Adult, Senior | Adult, Senior | Adult |
| Breed Size | Small Breeds, Medium Breeds, Large Breeds | Medium Breeds | Giant Breeds | Medium Breeds, Large Breeds | Large Breeds |
| Cover Material | Polyester | Polyester | Polyester | Polyester | Polyester |
| Bed Type | Covered | Covered | Covered | Covered | Covered |
| Pattern | Solid | Solid | Solid | Solid | Solid |
| Bed Shape | Round | Round | Round | Round | Round |
---
Questions & Answers
17 Customer Questions
---
Does the Thermo-Mod dream pod have an auto shut off? (Most heated blankets have a 10hr auto shut off)
Answer by • Dec 12, 2019
The K&H Pet Bed Warmer is pre-set to heat to your pet's natural 102°F body temperature when he/she lies on the pad. When plugged in but not in use, the Pet Bed Warmer will maintain a temperature 10-15°F greater than the ambient room temperature. The K&H Lectro-Soft has been tested rigorously and certified by MET Labs. Their certification means this product adheres to strict electrical safety standards.
---
Can this be used outside?
Answer by • Nov 16, 2019
The K&H Thermo-Mod Pod is designed for indoor use only, meaning it should be used in temperatures of at least 60 degrees. The 4-watt warmer does not have enough power to keep up with the colder outdoor temperatures.
---
what is the size of this. can 2 cats fit?
Answer by • Nov 08, 2019
The mod-dream pod overall dimensions are 22 inches long x 22 inches wide x 11.5 inches high with a sleeping surface of 17 inches in diameter.
---
How many watts is this product?
Answer by • Nov 21, 2019
This pet bed uses 4 watts.
---
---
---
By ChippersMom on Feb 11, 2022
I should have believed the reviews.
I am a bit disappointed with this Dream pod. It has an unusual smell to it which I hope will go away with time. The other issue is there is almost no heat coming from the pad in the bottom. I followed the directions to leave a pillow inside for 20 minutes while it heated up but the pillow was barely warm. It is very cute but has some issues.
---
By TGordon on Jan 27, 2022
Warm Kitty... Happy Kitty... purr purr purr
We have a cat that loves being under covers and staying warm. She immediately took to this box. Key features we like is it is not a timer based heater so you can set it and forget it. Just slightly warm when the cat is not in it and happy kitty warm when they do crawl in. We have multiple cats so we got an additional because of the reactions to this bed.
---
By Radtechusa on Apr 11, 2022
Good for short time
This product is modern but, the pad does slide all over inside. It's nice cause it does not crush and they can stand on it but not washable on outside.
---
By Lily on Jan 25, 2022
123G45678M
Before I made my purchase, I read many reviews because I wasn't sure, if my lady cat will like it and use it. So, at first, we introduced it to her only a warm pillow that normally goes inside; however, it did not even take a day for her to jump right in it. I am very happy knowing that she got her warm house. She's getting older so fast, and definitely she needs her warm place called home!
---
By Nick on Feb 1, 2022
Make your own
The heating pad in this is pathetic. It barely puts out any heat at all. The cats are sleeping in the bed, so I'll keep it just because they seem to like the situation. I should have just gotten a laundry basket, some blankets, and a heating pad. Recommendation - make your own "Dream Pod." Save some cash.
---
By KittyLove on Nov 1, 2021
Really. Good but limited life
My three cats would fight over who got to sleep on these beds. I had two and the cats loved them, especially in the winter, when I like to keep the house cool. Two problems showed up during the 3rd year - I could never get the darn things free of cat hair. I washed the pillow fairly often but the upper and lower insides were just covered with cat hair. Finally got so disgusted I threw them out in the spring. I tried every kind of brush, lint roller sponge etc. Second - my 20 year old cat (I actually bought the first one for him) began to lose some hair on his tummy when he would be in it for long periods of time (he loved it). I thought maybe he was over heating and didn't realize it. The other two cats were fine. So if two were in it, I would pull the plug. After I took them up in the late spring, his hair grew back. I just have to watch him. So I plan to get 2 more for the winter. If I could just get the darn things clean on the inside!
---
By IrraStone on Nov 17, 2021
Instant Favorite
Thought this would be a good idea since my cat has always preferred covered beds, but is constantly looking to perch herself in a warm sunny area even if it means awkwardly climbing on my laptop bags. Additionally, there will be a lot less of these sunny spots for her once I finally get my blinds in for the windows. Once I set it up in the home office, it instantly became her favorite and she doesn't even touch her other two beds anymore. May end up buying another for the bedroom later.
---
By Jana on Feb 21, 2022
Headline...............Pet heating bed
Just received it two weeks ago. As lone as it will last for several years I will be happy.
---
By Jade on Dec 27, 2021
Barely Gets Warm
Was really excited to get this for my hairless cat, but it barely has any heat, even after leaving on for 1 hour+. Save your money and just get a heating pad.
---
By Lacie on Nov 8, 2021
LacieDavis
I do not recommend. The heating pad in the one I purchased seemed to be extremely weak. I apropriatly tested the product by placing a heavy object inside and waiting the directed time, only to come back thinking I didn't plug it in, or needed to turn it on further some how. I removed the heating pad source from the cushion, and it was just barley warm. I let it sit with the object on it for a little while longer and it was still barely warm. Unfortunately, the heating pad that came with mine isn't strong enough to even heat through the padded cover. I purchased this for my hairless sphynx, but will have to continue looking for a warmer option.
---