KONG Cat ZoomGroom Multi-Use Brush
By KONG
---
About This Item
Easy-grip brush is flexible and gentle for your pet.
Groom, bathe and massage your cat all at once.
Helps prevent hairball formation to keep your house cleaner and your cat happier.
Durable material for extended use.
Ergonomic grip makes it easier for you to use, too.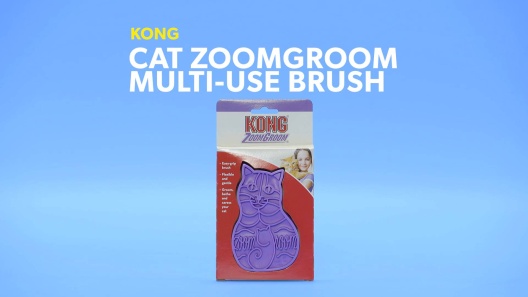 Learn More About KONG From Our Team of Experts
---
---
Questions & Answers
10 Customer Questions
---
Is this a good product for a short hair cat? I have two cats, one long hair and the other has short hair.
Answer by • Jun 25, 2017
This product is suitable for cats with short or long hair. Brush gently in a circular motion through your cat's fur. The ZoomGroom will remove loose hair and reduce shedding while stimulating capillaries for healthy skin and coat.
---
Where is it made?
Answer by • Jan 09, 2019
This brush is made in the USA.
---
I have a 10 year old medium hair tortie that has some small loose mats forming.. Will this work through those?
Answer by • Jan 04, 2018
While the ZoomGroom can help to prevent matting, the brush isn't effective for removing mats.
---
is there a difference between the Kong brush for cats and dogs? can I use the cat one on my puppy?
Answer by • Aug 20, 2018
While this brush was designed with cats in mind, we have received customer reports of using it on their dogs as well.
---
---
---
By TheFroots on Mar 24, 2022
Fig and Plum Approved
The material is a different texture than our kittens were used to, but they adjusted quickly once I offered it to them for the sniff test with the bristles pointed toward my palm (otherwise, they only wanted to chew on it which was extremely cute but counterproductive). It works best as part of a grooming process with more than one step and does a good job of loosening their fur so I can get it brushed away with a slicker brush afterward. Fig and Plum are short-haired and have very fine undercoats, so your mileage may vary! The shape is cute, but I fumbled it a few times and it may be awkward for others with smaller hands.
---
By AmyM on May 4, 2022
Multipurpose/makes a mess but worth it
I bought this brush, and a $14 wire bristle brush. This one is the best by far. However, it makes a mess with the hair, as it doesn't keep the hair in the teeth of the brush. Also, my cat enjoys to chew on it, so it's a win win!
---
By Julie on Apr 3, 2022
best brush for long and short hair kitties!
Groomer recommend! Bought this after watching our cat groomer use this brush on our short and long hair kitties. Even the cat who doesn't like being brushed LOVES this brush! Loose hair came out with ease. Best brush ever and it feels like we've bought every one on the market.
---
By Leaf on Feb 8, 2022
Removes Hair really well but it doesn't stick to the brush
I used this on my domestic short hair and it would accumulate a whole lot of hair off of her in a few brushes, but most of the hair would not stick to the brush. It just fluffs up near her butt to fall off later around the house. Or the hair.just falls off next to her as I brush. I recommend this if you want to quickly brush your cat with a few strokes for a cat that doesn't like brushing, but be ready for the furry mess! It's also hard to get the hair that is stuck to the brush off. I probably have to use water and that will suck for my drain. It's worth it for me because Kiki can't tolerate more than a few strokes from a brush before running away.
---
By Chrissy on Feb 26, 2022
This is great
The Kong cat brush is great. I had tried brushing my cat with a regular brush and she wouldn't sit still. With her Persian type fur, she groomed herself constantly and as a result she regurgiated hairballs more often than I would like to say. This Kong brush fits into the palm of the hand and is very comfortable to hold. My cat now jumps onto my lap when I show her the Kong brush and purrs all the time I use it. I wish I had seen this or thought of it long, long ago.
---
By MISH on May 8, 2022
Massage for cat
I have a short haired cat who still sheds a lot. This is the perfect brush to loosen shedding fur. She seems to enjoy it, although she keeps trying to chew on it, lol.
---
By Jane on Feb 7, 2022
Not what it used to be
Sorry to say that the brush I recently purchased is not of the same quality as the one I purchased 13 years ago for my two cats. The new brush looks nearly identical to the original one but only nearly. The new one is just enough shorter to make a difference in how it fits my hand. And, the rubber is difficult to clean because the surface is not as smooth, especially on the bottom. Also, the older brush was much easier to pull the fur away from the "teeth" and bottom to clean after daily use. The original would take less than a minute to clean after each brushing. The new one isn't as smooth textured as the original one and the fur is more difficult to separate from the rubber bristles and the bottom. My two cats still love being brushed and ask for it every day. It's our ritual. I don't know if they notice any difference between the old and new, but I certainly do. I'm the one who cleans it. The next time I'm in a pet shop, I'll look for the brush in the dog section —- that's the department where I found the original one. Sometimes cat items are made slightly different but appear identical to the dog version. That might explain a difference in size but I would expect identical materials in that it's purpose and use is the same.
---
By Naturalcat on Mar 2, 2022
Does the job
This has been a consistent favorite of mine for years. It seems a bit smaller than my last one which was tossed when decades of felines were all gone. When my covid foster became a permanent resident he needed a soft, safe functional brush and I forgot about the Zoom Groom till seeing it on Chewy's site. Wilson enjoys the massage and it removes his short loose tabby hair purrfectly.
---
By jjww on Apr 29, 2022
Best brush
This brush is great, and it is a very practical, safe, and soft brush. It does a good job like what it says, also easy to use and clean. My cats are happy to brush with it.
---
By Fifirae on May 7, 2022
Works for me
I like it. It can be used to clean fur off surfaces and for shampooing my dog. In fact dogs seem to like the rubber teeth as it stimulates their skin.
---