MidWest Quiet Time Crate Cover
Frequently Bought Together
---
About This Item
Provides the privacy, security and comfort your precious pup instinctively needs and desires.
Fuzzy fastener tabs hold the cover neatly in place and allow easy access to all crate doors; works with 1, 2 and 3-door Midwest crates.
Made from 100% polyester; machine washable and dryer safe for easy care and maintenance.
Lightweight, durable construction offers proper ventilation and air flow to ensure your pup's comfort and safety.
Available in six sizes and three color patterns to fit most Midwest crates while complementing a variety of home décors.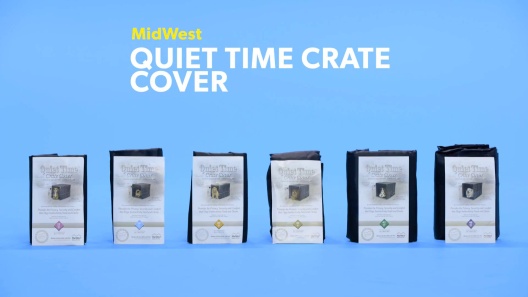 Learn More About MidWest From Our Team of Experts
---
---
About MidWest Homes for Pets®
MidWest Homes for Pets® is a fourth-generation family-owned company with a firm belief that pets are far more than animals you care for, they are a part of your family! Our belief that pets are a part of the family has allowed us to remain in business since 1921! We are dedicated to providing quality, trusted, and tested products supported by superior customer service. Our tagline–Because Life Goes Better with Pets®–states something we genuinely believe; we take pride in offering the best for your family.
About MidWest Homes for Pets®
---
Questions & Answers
36 Customer Questions
---
Will there be enough air flow to the pup if all 5 sides (including top) are covered or should you leave 1 or 2 sides (like front with the door) uncovered to ensure enough air flow to pup?
Answer by • Apr 24, 2018
The lightweight polyester construction allows for proper ventilation and will fit 1, 2 or 3 door crates, allowing easy access and entry from all available doors.
---
Does this sit flush to the crate? I have been using a blanket to cover my pups and she is able to pull it through the sides of the crate.
Answer by • Jun 12, 2019
This cover is designed to fit snugly onto the MidWest iCrate Fold & Carry Dog Crates or the MidWest Ovation Single Door Dog Crates. With it fitting snugly on the crate it would be difficult for a pet to pull the cover inside however, it may be possible if they are determined enough.
---
Is it water proof
Answer by • Jul 23, 2018
This cover features Teflon fabric protector to make it water resistant.
---
Is the cover machine washable?
Answer by • Oct 29, 2017
This product is machine washable and can be machine dried.
---
---
---
By DogMom on Nov 11, 2022
Nice cover.
I was pleasantly surprised with this cover. It's really nice quality, it fits over my soft-sided crate perfectly. I show my dog in obedience and she tends to get nervous with people walking around her crate. So I bought this and it's amazing how much more relaxed she is now. I highly recommend buying this product. As with anything if you have a destructive dog or a dog that's going to try to pull it into the crate I don't suggest it.
---
By Lana on Nov 11, 2022
Too small for the MidWest crate
We bought several Midwest crates for our homes and purchased Quiet Time covers for them. Unfortunately, this cover is too small and leaves open gaps at each corner of the crate. this defies the purpose of giving our puppy a dark space where she isn't distracted by seeing us walking around. We replaced these covers with the Frisco Faux linen Dog Crate Cover, which is a huge improvement (and more attractive IMO).
---
By JLBT on Oct 28, 2022
Great Crate Cover
We bought the Midwest Crate with the pad and loved it so much we bought a second one (one for upstairs and one for downstairs). We ended up buying the crate cover (in the gray geometric) for one of the crates to keep is dark and cozy at night for our Boston Terrier. The material is a little thin but the fit is great. I love that you can easily lift the flap up on the front to open the crate door. Our Boston feels very comfortable in the crate with cover. It was a great purchase!
---
By Sarah on Aug 30, 2022
Nice Cover and Fits Frisco Crate
This cover is nice and it easily fits the Frisco Heavy Duty Enhanced Lock Double Door Fold & Carry Wire Dog Crate & Mat Kit. They were sold out of the Frisco covers when I ordered the crate and I'm glad they were. This one has a nice pattern and overall looks better than the other cover. It fits easily, so it's not taut and it looks like it hangs a little lower than the Frisco one does. I like that you can roll up the sides so that it works for both front and side-entry crates. It's also supposed to be pet fluid resistant, which I'll have to wait and see on. Overall, I'd purchase this again.
---
By Joanna on Oct 31, 2022
Light but short
I love this cover, it looks great and gives my dog the privacy he needs in his crate. It was however a tad small. We have a 36" crate and the cover is a little snug where we can't Velcro shut all of the tabs.
---
By Donna on Sep 27, 2022
Crate cover
My dog Lily sleeps so much better after putting this cover on her crate. The sun was waking her up but not with the cover. It makes it like a little cave for her.
---
By Bobbie1856 on Nov 3, 2022
Perfect paring for crate
This crate cover is perfect for darkening the room for nap and sleep time. Nicely made and attractive.
---
By johnny on Aug 28, 2022
Tore it to pieces in 5 min. of being in the crate
We put our jack Russell mix in the crate with this on it. Before we even walked out of the house, she had it ripped to shreds. Really disappointed in the product.
---
By Momellen on Nov 22, 2022
Crate cover
Perfect fit!! Works exactly as advertisedwould recommend
---
By Hillary on Nov 8, 2022
Poor Quality
Very cheaply made for what it cost- very disappointing
---