---
About This Item
Activates your cat's hunting instinct to get him physically active and mentally engaged with colorful wigglers and removable bell.
Stands up to daily, heavy-duty playtime thanks to the carbon fiber and break-resistant fiberglass pole.
Pole features a super strong tip with reinforced eyelet, and the string is made of rope-like nylon that won't strain or fray.
Easy-to-use clasp so you can swap the wigglers as needed to help keep your pal excited, and is made with all pet safe materials.
Comes with five colored wigglers for the playtime variety cats find irresistible, each with a metal swivel for added wiggly action.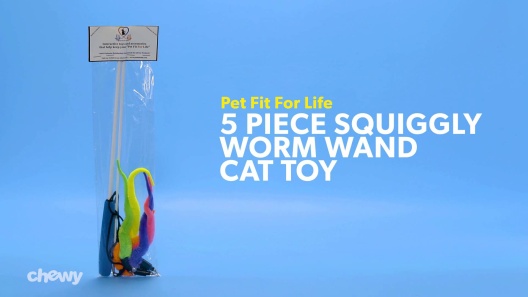 Learn More About Pet Fit For Life From Our Team of Experts
---
Compare Similar Items
| | | | | | |
| --- | --- | --- | --- | --- | --- |
| | | | | | |
| Customer Rating | | | | | |
| Price | | | | | |
| Toy Feature | Exercise, Feather | Exercise, Feather, Replacement | Exercise, Feather | Feather | Exercise, Feather |
| Toy Type | Teasers & Wands | Teasers & Wands | Teasers & Wands | Teasers & Wands | Teasers & Wands |
| Material | Plastic | Plastic | Plastic | Plastic | Plastic |
| Pattern | N/A | N/A | N/A | Solid | N/A |
| Breed Size | N/A | N/A | N/A | Small Breeds, Medium Breeds, Large Breeds | N/A |
---
Questions & Answers
9 Customer Questions
---
How long is the pole
Answer by • Sep 13, 2018
This wand measures 33 inches long. The toys measure approximately 8.5 inches in length.
---
Where are these made?
Answer by • Jul 11, 2018
This toy is manufactured in China from all pet safe materials.
---
Are those actual googly eyes? How are they attached? How is it not a choking/swallow hazard?
Answer by • Nov 25, 2020
These worms do not have googly eyes.
---
How long is the string?
Answer by • Aug 17, 2018
The string is 28 inches long.
---
---
---
By Trix on Apr 27, 2022
Well Loved But Not Sturdy
This is an absolute favorite toy for my cat, so I have to give it 4 stars for that. However, the durability is very questionable. As long as you go into the purchase knowing what to expect, you will be satisfied ... and so will your cat. The worms will last maybe a week before disintegrating to the point where you can't use them. And I hope the material they are made from is cat safe as I am sure pieces will end up in their tummy. The lobster claw clasp will last about a week and a half. Luckily, I have jewelry making supplies and was able to put on a new clasp, but I am fairly certain she didn't need to have an actual gold lobster claw clasp on her toy. It did keep her happy, though! The wand is sturdy and the string is great! The thinner lines get chewed through almost immediately, but this one has kept on going with very minimal signs of wear. Again, this is an amazing toy and incredibly popular (we have to play with it multiple times a day, and she will drag the entire thing upstairs to make sure I know it is time to entertain her), but do plan on replacing the lobster claw clasp and the wiggle worms.
---
By Butters on Apr 18, 2022
Great toy - but...
Very mixed feelings on this product. It functions extremely well, swivels and easily switches between worms attached. The problem is that the latch mechanism and swivel are metal. I have to be VERY vigilant to not let my cat bite at the metal or get hit in the face/eye with the metal parts. The latch has a lever on it that could do some damage. All of this negative aside, my cat LOVES this toy. Favorite toy out of the 1,000 toys i bought him. We have four teasers which he loved and he won't even play with the other ones now. Buyer be careful when playing though! Seriously.
---
By TheFroots on Mar 24, 2022
Supervise the worms!!
I wish I could give this five stars, because our kittens are absolutely obsessed with these! We can leave other toys out for Fig and Plum to carry or bat around, but the worms?? Oh boy, the worms get hidden away out of sight. I still have no idea how a bit of orange worm fluff got stuck to the wall behind the TV or how it ended up so close to the ceiling that I had to use the fly swatter to reach it, but I bet the kittens had a great time making it happen. I also caught them in the act of pulling bites of fluff off of the string. After that, once we found all the worms (I hope...) we either had to throw out the ones with half the fluff gone, or hide them. As for the wand itself, it's easy enough to separate the two halves to put it away and the handle is easy to grip, but unfortunately the clasp broke after a few months of use. I've made do with small clasps and jump rings I had left over from jewelry making projects since the Froots get almost as jazzed for this particular wand as they do for the worms. If your kitty has an ounce more chill, I would still recommend the worms. Just don't leave them alone!!
---
By Lynn on Apr 20, 2022
My cats LOVE this toy!!
My cats will lay on the wand trying to get me to pay attention to the fact they want to play. They leap and run and have the best time attacking this toy. The fuzzy tails drive them nuts in the best way. They will even drag it around the house to show they have dominated it. I am glad they have extra tails because my cats do chew on them. I like this so much, I am buying one for my friend because her cat will love it.
---
By Shlebby on Apr 1, 2022
She loves it!
I'm not sure who loves this toy more, me or Binx(I can't stop fiddling with the worms, they're so SQUIGGLY). She loves playing with the worms on the wand or ~a la carte~. One thing to be careful of is that the ends of the tails are really easy for your cat to pull off. Binx has definitely eaten a fair amount of worm tails. I try to prevent her from ingesting them, but you can't catch em all. Overall though I highly recommend this!
---
By Monique on Mar 12, 2022
My cats love it, I hate that they keep breaking
I have bought one of these because the wand seemed heavier than others I'd bought. We got it, it was sturdier and my cats were in love. After a few months the metal clip on the end where the toys attach broke. I don't mean it got worn out from play but the rounded part of the clip broke straight off. We started tying the toys on but the string just was too short at that point so I bought a second. Within a month the same spot on the metal clip broke off. I buy this particular type of clasp all the time for sewing and they aren't that expensive so the company should be able to source some that aren't cheap junk. I'm irritated that I'll need to either replace, AGAIN, or replace the broken parts with better quality parts myself.
---
By Alex on Mar 12, 2022
My cat is obsessed
This is a wonderful toy for the prey driven cat. I have a very high energy young cat that absolutely loves this toy and it is great that the tails can be exchanged (because they do get beat up, we have gone through 3 so far). She loves it and will drag it all around the house to get us to play with her, and even when we aren't playing with her she holds it and tries to make it move. One thing to note is that it comes in two parts and with heavy play/if they try to drag it away it can and will come apart which could startle some cats.
---
By MagentasCat on Apr 30, 2022
Durability problem -- third try
I am now buying my third of this toy. I am buying solely because it is my cat's favorite toy, but it is not durable AT ALL. Twice now I have had the little clasp break in two. Without that, you cannot use the toy. I wish there was a sturdier version of this.
---
By Ollie on Apr 13, 2022
Amazing toy, durability issues
My active cat is obsessed with this wand toy and sprints after it as soon as it comes out of the toy bin. But we've had to trash 2 of the worms because they started falling apart after several play sessions. The third worm seems to be holding up so far. I wish the design of this toy was changed so it doesn't unravel so easily.
---
By twirlsie on Mar 27, 2022
highly recommend this toy!
My cat loves this toy! My boyfriend and his sister both also have cats and they also love this toy. If any of us bump or touch the toy our cats come running. Only downsides is that the fuzzy stuff does come out and the little clasp and bell aren't the most sturdy. This toy is so cheap that I don't mind buying another though, this has lasted my cat 2 months so far and he loves it. He's just a little rough when playing with it.
---