PetSafe Come With Me Kitty Nylon Cat Harness & Bungee Leash
---
About This Item
Safe and simple way for your cat to explore the sights, sounds, and smells and have a safe outdoor experience
Bungee leash design provides "give" when your cat approaches the end of the leash, eliminating harsh tugging
Dual adjustment points give a snug, safe fit
Harness design applies gentle pressure to shoulders, not throat, to safely restrain your cat
Made of 3/8" wide nylon with comfy, secure straps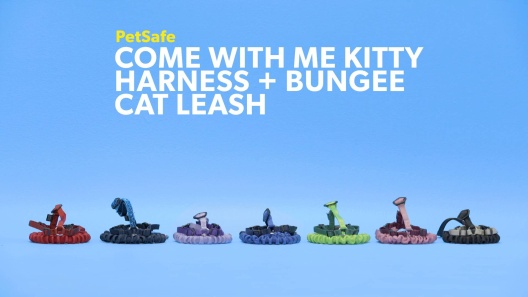 Learn More About PetSafe From Our Team of Experts
---
---
Keeping Pets Happy & Safe Since 1998
PetSafe has helped millions of pet parents care for their pets through every stage and season of life.
US-Based Customer Care
The PetSafe team of customer care experts is available 5 days a week via live chat, email or phone.
Healthy Pets, Happy People
PetSafe is dedicated to helping pet parents keep their furry family members healthy, safe and happy. From irresistible toys to life-protecting pet fences, their innovative products are designed to help bring pet families closer, for a lifetime of love.
Pick of the Litter
What sets PetSafe apart is a team of pet experts who come to work every day with one goal: making the world a happier place for pets and their people. They work with professional trainers, veterinarians and pet behaviorists to keep up on the latest research and insights and use that in developing their products. They rigorously test every product for safety, quality and efficacy, too – because your pet deserves the best!
About PetSafe
PetSafe has been a global leader in pet care since 1998. They pride themselves on empowering pet parents through innovation, education and experiences. Their goal is to strengthen the bond between people and their pets, providing them with thoughtful products, expert advice and compassionate support. PetSafe's US-based customer support team is always ready to help you get the most out of your life together with your pets!
Shop PetSafe
Compare Similar Items
| | | | | | |
| --- | --- | --- | --- | --- | --- |
| | | | | | |
| Customer Rating | | | | | |
| Price | | | | | |
| Material | Nylon, Synthetic Fabric | Nylon, Synthetic Fabric | Nylon, Synthetic Fabric | Nylon, Synthetic Fabric | Nylon, Synthetic Fabric |
| Leash & Collar Feature | Bungee, Leash / Harness, Waterproof | Bungee, Leash / Harness, Waterproof | Leash / Harness, Padded, Dual Clip | — | — |
| Closure Type | Quick Release | Quick Release | Buckle | Buckle | Buckle |
| Lifestage | Adult | Adult | Adult | Adult | Adult |
| Pattern | Solid | Solid | Solid | Solid | Solid |
| Harness Type | Back Clip | Back Clip | Front Clip, Back Clip | — | Back Clip |
| Leash Length | 5.6 feet | 5.6 feet | 4 feet | — | — |
---
Questions & Answers
18 Customer Questions
---
Can you use this as a regular cat harness and keep it on the cat all the time ?
Answer by • Oct 24, 2017
Due to the extra slack on the harness for the leash, this product is intended to be used before and during your walks.
---
Is this a "breakaway" harness?
Answer by • May 04, 2020
This is not designed as a breakaway harness. While a breakaway collar is recommended for cats, a breakaway harness would not be secure.
---
Is this harness adjustable? My cat is 11.1 pounds And I just want to make sure it would fit her comfortably
Answer by • Oct 21, 2019
This product features adjustable straps.
---
Is this open around the neck or closed more like a collar?
Answer by • Aug 14, 2019
This harness is designed to tighten around the shoulders, not throat, to safely restrain your cat.
---
---
---
By Evan on Nov 19, 2022
insecure harness
Harness works ok but you have to be extremely careful that it doesn't come loose. Unfortunately the design of the harness guarantees that it will come loose. The harness is tightened around the cats neck by a rubber stopper that just slides along the harness. Over time (read: a few minutes) this stopper will work its way backwards and if the cat just turns around and walks backward it will escape the harness immediately. Better than the one piece harnesses which are even easier to escape, but this harness still doesnt work well. If Pet safe would have made the rubber stopper a buckle type fastener, it might actually work well
---
By Fizz on Nov 29, 2022
Excellent cat harness!
We tried a jacket style first, she was a good sport, but looked frozen and not confident... Then we got this style and she loves it, super easy to put on, very safe, she moves very normally and yet stays safely in it. We are having so much fun bringing her outside to share time with us and she hangs out in her cat cave or other cozy spots and watches everything going on.
---
By Lucy on Nov 14, 2022
It is okay
I got the medium for my little one. She is about 10-11 lb but just smaller in general. Though she has never escaped, the sliding adjustments did not hold for very long. Otherwise, no issue. Just a bit concerning if you have a squirmy buddy. I do like that this is not near the neck and more on the chest, but because she is smaller and the adjustments do not hold, I found it kept creeping up toward her neck even though I kept fixing it. I would say keep looking around. Decent leash, though!
---
By TollerLuv on Nov 22, 2022
Very Adjustable
I really like all the adjustment points on the harness. It makes it easier to get a nice snug fix. If Calcifur really tries he can wiggle around and loosen the neck/shoulder one, it is only a rubber ring around the nylon. I got the small, perhaps it is more snug in the larger sizes. Overall though it is great and Calcifur has been enjoying walks in the park with us.
---
By shasta on Nov 26, 2022
complicated and not very adjustable
very complicated to figure out, and doesn't make intuitive sense even with instructions. also not very adjustable. by the time my kitten got used to it and i figured out how it goes on her, she's already out grown the harness. wish I could return it! I would recommend a simpler harness for leash-trained cats.
---
By Mailys on Nov 17, 2022
Semi-Indoor cat loves it!!
My longhair-domestic Melon gets so excited whenever I take out this harness!! It's super easy to put on too. My cat is only 6lbs but I got a medium size since she's very fluffy -- having the adjustable sizing was a big help with this as if it's too loose she can be sneaky and slip out of it.
---
By valm on Oct 18, 2022
Mixed experiences
I have one of these (L) that my large cat has been using for years and it has held up well. I got a second one (M, as the S is teeny tiny) for my smaller cat, and one strap is so much longer than the other that she gets her leg stuck in it. Looks like I'm outside the short return window.
---
By batts on Jul 10, 2022
Fine for kittens
Got 3 weeks ago for new kittens (4mo). Only used harnesses first, they adjusted quickly. Have only tried using the leashes twice so far but once they are used to them it's a decent length to let them explore without going too far. Green one has been for one kitty, purple for another. Green one has no signs of wear, purple one has started to fray on a shoulder spot, but that kitty also scratched at it frequently at first. Everything is still solid though, they are a decent thickness so the minor fuzziness isn't a bother for us. Easy to adjust if off the cat. Little piece for adjusting isn't too flimsy in my opinion, but my kitties haven't been excessively rough with them either. Seems to be good quality, and should hold up well.
---
By Zoey on Jul 1, 2022
very good but one tiny design flaw
I have two kittens so I just got one since they'll definitely grow out of this size and leash training them has gone well so far. The harness is easy to adjust and reasonably secure. My one (small issue) with it is that the buckles are so small its hard to quickly buckle if your cat is at all squirmy (like mine). When they outgrow this one, I'll probably just size up in the same harness.
---
By Addie on Jul 19, 2022
Disappointed
My cat begins to panic and flip around whenever I attempt to put this leash on her. I'm not sure if a vest would be a better option, or if I should just give up on trying to take her outside. I wish I could return this to get my money back, but it's probably too late at this point. Oh well.
---