PetSafe Extra Wire & Flag Kit
By PetSafe
---
About This Item
Kit will complement the wire and flags that come with your in-ground pet fencing system and increases your dog's play area
Comes with 50 boundary flags to train your pet, remove them after training or keep a flag or two in your yard to let neighbors and passerby know that your pet is safely contained
Also included are 2 gel capsules and connectors to splice and repair broken boundary wires
Includes 500 feet of 20-gauge burial grade boundary wire to increase area
Compatible with all PetSafe or Innotek In-Ground Fence Systems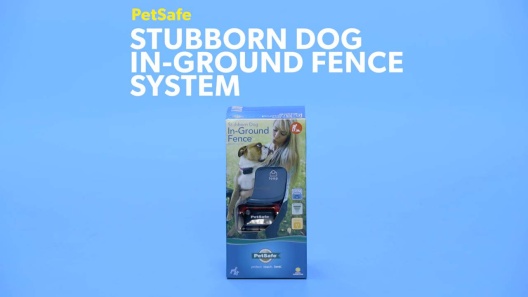 Learn More About PetSafe From Our Team of Experts
---
Compare Similar Items
| | | | | | |
| --- | --- | --- | --- | --- | --- |
| | | | | | |
| Customer Rating | | | | | — |
| Price | | | | | |
| Features | N/A | N/A | N/A | N/A | N/A |
| Collar Type | N/A | N/A | N/A | N/A | Fence System - Static |
| Compatibility | N/A | N/A | N/A | N/A | N/A |
| Breed Size | N/A | N/A | N/A | Small Breeds, Medium Breeds, Large Breeds | Small Breeds, Medium Breeds, Large Breeds |
---
Questions & Answers
7 Customer Questions
---
Can this be installed near the top of a wood fence (so the cat won't climb up)? Basically, must the wire be installed in ground?
Answer by • Jan 10, 2019
It is not recommended due to the potential for damage to the wire. It can be attached to any fence including a metal fence as long as it is galvanized. When attaching the boundary wire to the fence, be careful not to sever the wire. We do recommend that you bury the wire or place it in a protective casing like a water hose but the system will work with the exposed and wire above ground.
---
How close to the wire can the cat get before it feels the zap? Could the wire be installed under the railing of a deck to keep the cat from leaving the deck?
Answer by • Aug 11, 2018
This is adjustable, but PetSafe recommends setting a boundary width for the warning and static correction zones to approximately 12–20 ft. (6 to 10 ft. on each side of the wire). Detailed instructions for this can be found in the instruction manual for your particular containment system.
---
How many feet of wire do I need for 2.5 acres
Answer by • Apr 10, 2020
Each in-ground fence kit comes with 500 feet of 20-gauge boundary wire, which is enough to cover most layouts for a 1/3 acre yard. For 2.5 acres, you'd need approximately 1770 feet of wire, depending on the layout.
---
How deep do you bury the wire
Answer by • Mar 21, 2018
The wire should be buried 1 to 3 inches into the ground.
---
---
---
By Yartram on Oct 1, 2019
PetSafe Extra Kit
Very pleased with the PetSafe Inground Pet Fence. It was a little time consuming to install (a weekend project) but the wire affords me the ability to define specific boundaries vs the wireless option; not that wireless is bad but it just didn't meet my needs. I picked up this kit of extras because it was on sale and I couldn't beat the deal anywhere else. I think I'll be needing it at some point in the future to expand the area for our dogs.
---
By Taco on Jan 8, 2020
Electric fence
Exactly what we need to complete our fence. Works great.
---
By Debolea on Sep 17, 2019
Does the trick!
Petsafe works! Our 1 yr old rescue, a doxidor learned in one session. Love seeing him run free and having so much fun.
---
By RubyDoobie on Jul 27, 2018
30 ft from busy highway and still have 2 living cats
I moved from 10 acres in the county to a small unfenced yard next to a busy highway about 10 months ago (renting). My two cats (ages 4 and 2) were used to freely roaming the countryside. I bought the PetSafe electronic fence and it taught my cats their boundaries with only 2 ZAPs each. The zap does not kill them, but it sure as heck does startle them! The youngest cat did a back flip and a half the first time he got it. After that, the tone keeps them with in the boundary. They never wore a collar before, but got used to it real fast. I love my cats and was worried sick about them going onto the highway and being killed, but this product does what it says and my cats are still living today. I replaced batteries once in 10 months. Great Product, a real God send. Rent an "edger" from home improvement store for fast and easy digging, and read the directions well on how to install. It seemed complicated at the time, but looking back, it really was simple. As far as training the cats goes...I got a harness and leash, and they would just plop over and lie there when I put it on them. It was quite comical-they would just plop over and lie still. If I got the cats on their feet, they dug in and would not move...I had to pull and drag them. I felt it cruel to drag them across the yard to the flags while they were laying on their side only to quickly drag them back away from flags while they were laying on their side. I put up the flags and the cats quickly figured their boundaries out. I supervised them outside for a good week or so, to make sure they did not zip through the boundary during a zap. So don't be dismayed about training your cats, it can be done by letting them figure it out on their own. As I said, they each got 2 different zaps within the first couple days, and that was that. Cats are smart. But by all means, try the training out first. Your cats may be more amenable to the leash. From a happy customer and my 2, still living on the side of the busy highway, cats!
---
By GPTH on Jul 21, 2018
Needed for Pyrs
I have an acre wired, training time now. Chewy has great customer service and they respond.
---
By MICHELE on Aug 18, 2018
AWESOME PURCHASE
EASY TO PUT IN WORKS GREAT DOG TRAINED IN 2 DAYS NO MORE ROAD
---
By Rich on Jul 20, 2018
Great wire
Came with better flags then the actual fence kit did.
---
By elad on Mar 9, 2018
flag issue
It would have been nice if the flags had metal instead of plastic shafts since the ground is kinda frozen right now.,
---