PetSafe Gentle Leader Padded No Pull Dog Headcollar
---
About This Item
This effective no-pull headcollar is designed to help improve walks with your canine companion. It is vet recommended and designed by a dog trainer!
Your pup will still be able to have full-range of motion while wearing this headcollar. He will be able to drink, eat, pant and even catch his favorite toy!
Rests across your canine companion's nose, interrupting his natural instinct to pull against pressure.
Constructed from durable nylon with a padded neoprene nose loop for ultimate canine comfort. This headcollar won't fit furry friends with short snouts, like pugs or bulldogs.
Features a quick-snap neck strap and an adjustable nose loop for easy fitting in minutes. It is designed with minimal straps to keep your canine cool.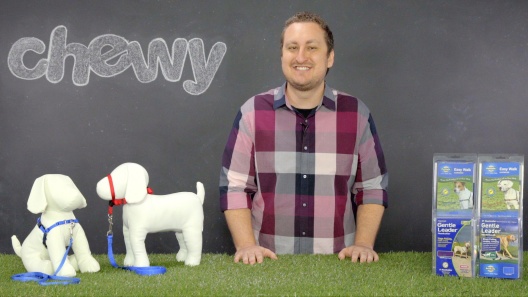 Learn More About PetSafe From Our Team of Experts
---
---
About PetSafe Gentle Leader
Enjoy an Easier Walk with Your Pup
If your dog tends to pull on the leash, daily walks can be stressful for both of you. PetSafe's Gentle Leader Headcollar and Easy Walk Harness make the task of walking your dog an enjoyable experience. They give you immediate control and they're comfortable for your pet, unlike standard collars that can cause choking.
Less Pulling, More Bonding
Pet parents agree that the Easy Walk Harness makes such a difference that it's like walking a new dog. Instead of pulling your pup's neck, the Easy Walk redirects the entire torso. The leash connects at the chest with a Martingale loop, so a gentle tug moves her whole body in the direction you want to go. Less time playing tug-of-war means more time for bonding with your pet on your walks.
Uniquely Designed for Gentle Control
The Gentle Leader Headcollar puts you, not your eager walking buddy, in control of the walk. The nose loop redirects your dog's head toward you when she pulls. She'll quickly learn that she's not getting anywhere by pulling forward, and you'll have her full attention. The Gentle Leader is ideal for training dogs to heel and teaching them to walk on a leash without pulling.
Get the Perfect Fit
Both the Gentle Leader and Easy Walk come in a variety of sizes to fit any dog comfortably.
The Easy Walk rests across the chest and wraps around the torso. If it looks like a sideways T, you'll know you have the proper fit. With four adjustment points and quick-snap buckles on the shoulder and belly straps, Easy Walk gives a reliable fit.
The Gentle Leader Headcollar slips securely over your dog's nose and sits high on her neck without putting pressure on her throat. It should form a V when fit properly, and your pup will still be able to eat and carry their favorite tennis ball along with them when wearing the Gentle Leader.
About PetSafe
Since 1991, PetSafe has been keeping pets safe and making pet owners happy with quality, reliable products. PetSafe is devoted to innovation with a range of products to help you and your pet share the best moments. They make it a point to consult with top trainers, veterinarians and behaviorists and listen to feedback from pet parents so they can continually improve their designs and processes.
Shop PetSafe
Compare Similar Items
| | | | | | |
| --- | --- | --- | --- | --- | --- |
| | | | | | |
| Customer Rating | | | | | |
| Price | | | | | |
| Material | Nylon, Synthetic Fabric | Mesh, Synthetic Fabric | Polyester, Synthetic Fabric | Nylon, Synthetic Fabric | Nylon, Synthetic Fabric |
| Breed Size | Small Breeds | Small Breeds | Large Breeds | Small Breeds | Extra Small & Toy Breeds |
| Collar Type | Headcollar | Standard | Headcollar | Headcollar | N/A |
| Pattern | Solid | Solid | Solid | Solid | Solid |
| Leash & Collar Feature | Waterproof | N/A | Training | N/A | N/A |
| Lifestage | Adult | Adult | Adult | Adult | Adult |
| Closure Type | Quick Release | Buckle | Buckle | Buckle | N/A |
---
Questions & Answers
36 Customer Questions
---
some collars come with a padding that goes around the nose area, does this gentle leader have padding on it?
Answer by • Sep 01, 2018
All PetSafe Premier Gentle Leaders now feature padding for the nose area. I've included an image for reference.
---
I have a Rottweiller German shepherd mix and she is a powerful puller! I got the head collar but she paws at it and lays down refusing to move. How long does it take for the dogs to accept wearing it? It is quite stressful for her and I right now.
Answer by • Nov 27, 2017
The adjustment process is different for all dogs, we recommend that during the first week of use you place the collar on during meal time immediately before and after feeding for them to get accustomed to the collar. Put the collar on your dog daily for about 3 minutes or less and while in the collar give the dog praise and treats to help them associate it with a positive action. From there, continue to repeat these steps and then try to take the dog on a 5 minute walk while giving praise and treats for a positive outcome.
---
how do you tighten the nose piece
Answer by • Feb 27, 2020
Please click video below for reference.
---
Making sure this comes with an instructional DVD ?
Answer by • Jul 19, 2018
This product includes a training DVD.
---
---
---
By Jill on Jun 12, 2022
A lifesaver!
After trying multiple things with my 9 lb ChiPin, including a Martingale collar (with training), harnesses, and a traditional collar, this is the only thing that has kept him from pulling and shown him that he is not in charge. He doesn't love it, but I constantly encourage him, praise him, and give him treats, so that definitely helps. In case it slips off, I also have a slip lead around his neck with the leash (also) attached to that. Haven't had him around other dogs with this new collar yet, but I hope it goes well. He's typically very aggressive on leash, but seems much more submissive with this collar. I feel like a load has been lifted off of my shoulders!
---
By Smokey on Jun 22, 2022
More Walks
Wr have tried so many "no pull" harnesses we have a coat rack full. We can now get rid of the others. This one works! I was skeptical at first but willing to try anything. We were literally at the end of our leash. Training had come to a halt, because we could not control the dog. Now we walk a d barely have to touch the leash. It did take some getting used to. So of course treats were ordered along with the new lead. Can not say how much this helped training is back on track.
---
By Jojo on Jun 8, 2022
Works great
I had to go away for 3 months and when I came home my dog was a smidge rusty on leash.. Keeps my 100lb GSD in check. She knows heel but likes to test. Before it would be a slip lead (no worries I know how to use it) but when she sees another dog she can get a little aggressive. The gentle leader controls the snout and head so no matter what I don't have to reprimand as much as the slip lead. Love it!
---
By Marty on May 16, 2022
Our preferred 'head collar..'
Simply, out of all of the items similar to this, the 'Gentle Leader' is our favorite. More importantly, our dog prefers this. It's not as bulky as the others on the market e.g. Halti, Dogs My Love, etc...this has a 'softer' appearance. Yes, most of them work...this one is less 'off putting' to others that see it and I never get asked if it's a muzzle. These nose straps are only 3/8" wide. Note: to be fair, if your dog is a large dog that pulls, you might want to consider the other brands mentioned...The 'straps' are much thicker...probably stronger too... As for my dog, an 85lb Golden Retriever who doesn't pull at all, this works well. Best wishes...
---
By Geog272 on May 9, 2022
Miracle for pullers!
I got one of these for both of my dogs who pull on the leash, even with a choke collar. They are amazing! No more pulling! The dogs don't particularly like it -- they sometimes try to rub it off with their paws and I would not use this leash for long distances or long periods of time. However, it's perfect for us, as we just need something for short leash walks that get us to the hike/destination where we can go off leash. Well worth the money. Very glad I tried these!
---
By Rascal on Apr 29, 2022
Hard to operate
This is one of the few gentle leaders small enough for our dog. The metal clip is difficult to close. I had to step on it with my foot, since pliers wouldn't even work. BUT once, it's adjusted, you don't need to do it again. The clip around the head, though, has to be opened and closed with each use. Since it's so small, it's really hard to open. Not what I would call a "quick release". I do like the padded area on the part that goes over his face. I also keeps it from slipping around since it has a suede-like texture.
---
By Shelby on Apr 26, 2022
Great for pulling
My border collie likes to "herd" cars, and the gentle leader is the only thing that has helped deter her from pouncing or trying to run into the street on walks. We've tried treats, harnesses, etc. but this works great! Very gentle on her and on us holding the leash. We have one for our reactive Australian shepherd puppy, and she does amazing on walks with this! Definitely helps her to have a slack leash, and she usually ends up walking next to us rather than in front.
---
By AAC1 on Jun 7, 2022
Great to stop pulling
This works great to stop pulling, better than halter, or pinch collar. This product was recommended by our dog trainer. Purchased the petite size. It takes some getting used to adjusting. Watching the video, and practice has helped.
---
By GSmom on Jun 3, 2022
Small dogs only
Wish I had thought this through or seen it in person rather than just buy it online and Not be able to use it on my dog this collar was very small did not fit my shepherds huge neck she literally just pulled it right off it is a very thin color
---
By SophiesMom on May 12, 2022
Save your shoulders and wrists!
I have used this product for years. I highly recommend it if you have a dog that tends to pull forward while on a leash. Dogs learn quickly that their head goes down when they get ahead of you and they stop the tugging immediately. You can almost hold the leash with one finger after a few times walking your dog using the Gentle Leader.
---