---
About This Item
Creates extra space for your bird to perch, play or sleep in his cage, can also be used to dangle fun toys for playtime
A handy shelf that will create new space that also attaches easily to most cage corners
Placing additional shelves around a multi-bird cage gives birds their own space
Attaches easily to most any cage corner with wing nuts; hardware included
Perfect for parakeets, cockatiels, lovebirds, conures and other similar-sized birds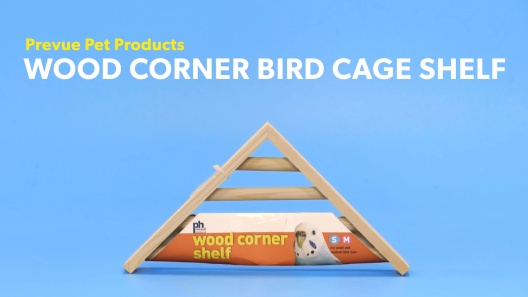 Learn More About Prevue Pet Products From Our Team of Experts
---
---
Questions & Answers
6 Customer Questions
---
what size bird is appropriate for the 7inch wood corner shelf?
Answer by • Jul 05, 2017
This shelf is perfect for all birds ranging from canary, cockatiel, conure, dove, pigeon, finch, hookbill, lovebird, parakeet, and wild bird.
---
How do I attach the bird corner cage shelf
Answer by • Jul 28, 2018
This corner shelf attaches easily to almost any cage corner with wing nuts; hardware included. I've attached pictures to show how this looks before set up and after installation. You'll be placing a pair of washers (the flat donut-shaped pieces) and one wing nut on each side of the shelf. Per side, one washer will be on the inside of the cage and the other washer on the outside secured together by the wing nut.
---
what kind of wood is this made of?
Answer by • Feb 02, 2022
This shelf is made of pine hardwood.
---
will this work for any cage?
Answer by • Jul 16, 2019
This shelf attaches easily to most any cage corner with wing nuts and hardware that is included.
---
---
---
By Pickle on Apr 30, 2022
Not recommended
It fell apart even after putting it as tight as possible. I should of read the reviews before ordering. I was afraid my Quaker would step on it and it would fall apart putting him in danger.
---
By SonnysMom on Feb 20, 2022
Fell apart after short time
My lovebird really loved this wood corner shelf - but it lasted a short time before the rungs because detached from the sides and completely fell apart. 2 stars because he loved it, but not quality made. :(
---
By Swthmgbrd on Mar 20, 2022
No Hardware
There was no hardware, which was supposed to be included.
---
By junko on Sep 1, 2021
It's fine once installed.
Kind of awkward to install- you have to play with it to get the screws in there as the holes are weirdly placed.
---
By UPUP on May 22, 2021
DIY Project :(
Completely fell apart after removing from packaging despite lots of glue around each stick. Had to remove the glue and sand the splinters. 4 tiny nails and some wood glue helped. Get ready for DIY project because it's a total disaster and sloppy work. Actually I'm glad that it fell apart while I was unpacking it and not at night when my birds were sleeping on it.
---
By Budgie on May 27, 2021
Hard to keep clean
My budgie really likes this corner shelf with dowels as perches. It's sturdy and well made. But I can't keep it clean easily and it's an ordeal to remove and reinstall multiple times a day when poop builds up. If you're trying to keep a clean cage environment this corner shelf perch may not work for you.
---
By Birdbed on Jun 26, 2021
Night time relief
After seeing my birds sleeping on a perch in a high corner, I decided to give them a night time relief from a perch. It was a hit!! They used it from the very first night.
---
By Maggie on Mar 20, 2021
My cockatiel loves this new perch/shelf
I had the hanging fabric "tent" style perch. It got to be so nasty with droppings since she chose to sit on top of it ALL DAY I finally had to throw it out. I saw this corner style shelf and for the price, decided there was nothing to lose in trying it out. She loves it and it has become her "night stand". Much easier to clean.
---
By SJay on Mar 23, 2021
Poorly Made
I purchased this for my rats. It is very poorly constructed and I'm pretty sure it's pine, not poplar (when I opened the package it had that distinctive piney aroma). The rungs are glued in and the glue completely dissolved when I tried to clean the shelf with hot water. The rungs are also splintery and needed sanding.
---
By Crystal on Mar 25, 2021
Cheaply Made, Horrible Investment
If you're looking to but this cause it's cheaper than most of the other corners, DONT. Bought this for my Sun Conure, came and all the installation equipment didn't fit together.
---