Primal Chicken Formula Nuggets Grain-Free Raw Freeze-Dried Dog Food
Autoship
(Save an extra 5%)
Choose Autoship at checkout for regular deliveries.
Why Autoship?
FREE access to chat with licensed vets 7 days a week.
Save 5% on all future Autoship orders.
No fees, no commitments - cancel Autoship anytime.
---
About This Item
Made with antibiotic, hormone and steroid-free chicken meat and organs, along with fresh ground bone for calcium supplementation.
Incorporates certified organic produce, certified organic minerals and unrefined vitamins to fortify the complete and balanced nutrition for all life stages.
All the benefits of a raw ancestral diet in a highly-palatable, freeze-dried form that's fast and easy to serve.
Optimum levels of amino acids (protein), essential fatty acids, natural-occurring enzymes and necessary vitamins and minerals supply the building blocks for healthy biological functions.
Crafted in the USA with sustainably-sourced ingredients and contains no grain, gluten, corn, wheat or soy.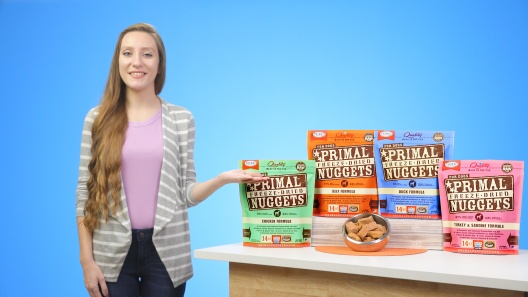 Learn More About Primal From Our Team of Experts
---
---
About Primal Freeze-Dried Dog Food
Freeze-Dried Raw Nutrition
Primal's freeze-dried formulas pack the nutrition of raw into dry bites that are irresistible to your pup, but easy on you. By removing moisture, Primal makes feeding raw versatile and uncomplicated—simply add water to rehydrate and serve, or feed the freeze-dried pieces dry. Use them as a topper, or serve as a balanced meal. Your canine's dinner is what you make it.
Lab-Tested, Canine-Approved
These complete and balanced recipes are formulated to meet and exceed your pet's nutritional needs with the added benefits of raw. Plus, they're laboratory tested to ensure they offer the best quality and nutrition possible. After all, Primal knows you only want the best for your best friend, and they do, too.
Whole Food Means Whole Nutrition
Using whole food ingredients, Primal creates a balanced, wholesome meal without the need for synthetic vitamins. They're the real deal—as in they only use real, unrefined, food-based ingredients. Plus, there's no denatured meat or poultry products, either. Just delicious, USDA inspected, antibiotic- and steroid-free meats and poultry your pal will beg for.
Clean, Wholesome Ingredients
Primal crafts these delicious bites without the use of steroids, antibiotics or added hormones. They're proud to source from trusted ranchers for the health of your dog, and won't include any ingredients from China. Plus, they're made with no grains, gluten, corn, wheat or soy. Even pups with discerning palates can enjoy!
ORGANIC SQUASH:
Acts as an anti-inflammatory, rich in vitamins A and C and high in carotenoid antioxidants.
CRANBERRIES & BLUEBERRIES:
Loaded with antioxidants for immune system support and urinary tract health.
ORGANIC PUMPKIN SEEDS:
Natural source of zinc and manganese and the full spectrum of vitamin E antioxidants.
ORGANIC SUNFLOWER SEEDS:
Whole food source of vitamin E and loaded with antioxidants to help defend against free radicals.
ORGANIC COCONUT OIL:
Excellent source of short- and medium-chain fatty acids for a healthy coat and skin.
Global Flavors Made at Home
Primal freeze-dried recipes are made in the USA and packed with ingredients from around the globe—including the USA, New Zealand, France and Spain. Best of all, each of those nutritious ingredients is responsibly sourced. You'll find certified organic fruits, vegetables and supplements, and protein sources that are ethically raised, too. Because every step counts when it leads to your pet's bowl.
About Primal Pet Foods
Primal Pet Foods was founded with the goal of improving the quality of life and overall health and happiness of pets through wholesome raw foods that mimic the diet of animals in the wild. Since 2001 Primal has been committed to elevating the health of your pets. From complete and balanced diets along with supplemental foods, to their full line of nutritious treats, they use only the best ingredients because that's what your pets deserve.
Shop Primal Pet Foods
---
Questions & Answers
37 Customer Questions
---
So one 14 oz bag for a large dog, 86 lbs., is one serving?!?
Answer by • Oct 09, 2018
For dogs weighing 80-99 pounds, it's recommended to give them 32 nuggets daily and dividing it into two meals. One nugget is approximately 4 ounces and a 14-ounce bag holds about 56 nuggets. The 14-ounce bag will last approximately 1.5 days.
---
Is this a good choice of food to pack in an emergency evacuation kit? I need to know how long is shelf life when it remains freeze dried. Thanks
Answer by • Oct 09, 2018
Most freeze dried foods that you buy are sealed under nitrogen in resilient packaging, allowing for anywhere from a two to twenty-five year shelf life. Freeze dried fruits are on the lower end of the shelf life spectrum, lasting a little over two years. However, when serving rehydrated freeze-dried food for your pet to eat, we recommend no more than a two-hour service window for the food to be out of refrigeration.
---
Where is the beef sourced from? Is it from the US?
Answer by • Jun 08, 2021
Primal sources their beef from the US and New Zealand.
---
can 1 of these be broken up and added to dry kibble to get them to eat their dry food?
Answer by • Oct 09, 2018
Crumbling some of the Freeze-dried formula nuggets as a topper is a really popular approach feeders take to boost palatability and improve nutritional efficacy of traditional processed feeding formats. Please keep in mind their recommended daily caloric intake when figuring out how much to feed. If you are uncertain, we recommend consulting with your veterinarian.
---
---
---
My babies love all things Primal.
This time of year( Hurricane season) I switch to freeze dried. I wish that these companies would listen to their customers and make larger bags for those of us with large dogs. 1 bag lasts me 2 days. My dogs deserve to eat healthy but I can't go broke either. If you have to evacuate, space is also an issue. Please make like a 5 lb bag or more. I am starting to look at other companies for this reason. No reflection on Chewy.
---
By Valerie on Jul 30, 2022
Great dog food!
This is one of the most nutritious and convenient dog foods I have ever fed my dogs. Started out my new chihuahua puppy on it and he loves it. Really convenient when traveling.
---
By ellllll on Apr 26, 2022
3 nuggets per meal for 13 lbs dog
I want to provide a data point, since people complains about differences in guidelines from the previous version and this new one. I have a 13 pounds shih tzu boy, 11 months old. Three nuggests per meal, and twice a day works the best for him. I also give him some fresh fruits / cooked shrimps / boiled broccoli on a daily basis. I tried 2 nuggests, 2.5 nuggests and 4 nuggests per meal as well, and none of them works as good as 3 (by observing his poop amount, smell, and touch feel).
---
By Sepia on Mar 24, 2022
Great for Hikes & Camping or replacing fresh chicken
This freeze dried chicken is amazing and my dog LOVES it. He is a malachowsky aka a malamute chow chow husky with some german and swiss shepherd. The primal nuggets are very light, so perfect for hikes or camping when you need to lighten the load. We generally feed him chicken for dinner, so this is a great back up. It's expensive, so I recommend getting it specifically for travel or to supplement everyday feeding.
---
By BigDawg on Mar 7, 2022
You can make freeze dried raw food at home, you know? Pricey
You can freeze dry meat by putting it in a cooler for a day with dry ice (sold at the supermarket.) (If you want to make jerky, just get yourself an instant pot duo, which has a dehydrator on it. Dogs love it. Or, you can feel free to buy these convenient freeze-dried nuggets. Though, our puppy finally had to make the switch to healthy kibble to have some fiber (barley, oats, etc.) We did get him Open Farm also (which seems to do well with his tummy also). Just letting you know your options because I'm personally tired of companies that act like they invented the wheel charging like it's a rocket to the moon. Just sayin'.
---
By MiaSophia on Jul 8, 2022
Yummy between meal treat!
Served with lots of water they are a treat. Mia prefers them dry to munch on individually.
---
By IdoNotKnow on Feb 20, 2022
Not good quality
We are loyal Primal and Chewy customers. The latest batch of the chicken nuggets smelled old. (Expires in 23)We had some of a previous batch, leftover (Expires in May 22) and it was very different! Our dog won't touch the new package and our cat, who eats everything, won't eat it either. They both eat the older bag and it smells much better, like what we're used to getting for the past 3 years. Need to return it.
---
By RegG on Jul 21, 2022
My dog loves the chicken flavor
My dog is a very picky eater but he loves the chicken flavor Primal.
---
By Topper on Jul 6, 2022
Give me more
Dogs love them. small but absolutely yummy and so good for them!
---
By Vall on Feb 5, 2022
Great food
Both my GSDs love this food! I use it as a supplement. The only flavor that isn't that great is turkey and sardine. My older dog likes it but the younger one doesn't. They love the chicken, salmon and lamb. It's easy to travel with compared to fresh food (which we use as well). Especially for camping. This makes it easier to feed them when traveling.
---