Suitical Recovery Sleeve for Dogs
---
About This Item
Comfortable, stress-reducing alternative to the traditional cone is recommended by vets.
Covered areas are kept clean and dry, which prevents bacteria and dirt from causing an infection.
Around-the-chest closure adds some pressure to the chest, which helps to reduce stress levels.
Made from a non-toxic, breathable, 4-way stretch fabric that is machine washable for reuse.
Suitable to cover salves, protect hot spots, wounds, bandages, skin conditions and more.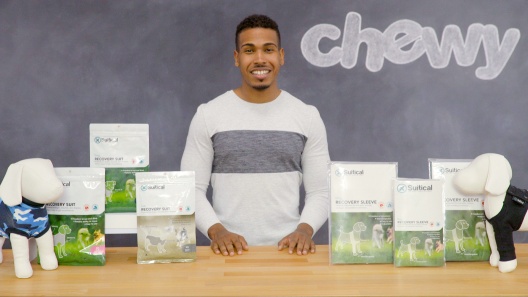 Learn More About Suitical From Our Team of Experts
---
Compare Similar Items
| | | | | | |
| --- | --- | --- | --- | --- | --- |
| | | | | | |
| Customer Rating | | | | | |
| Price | | | | | |
| Breed Size | Giant Breeds, Large Breeds | Extra Small Breeds | Extra Small Breeds, Small Breeds | Extra Small Breeds, Small Breeds | — |
| Health Feature | First Aid, Itch & Redness Remedy, Recovery | First Aid, Itch & Redness Remedy, Recovery | — | Recovery, Calming, Itch & Redness Remedy, First Aid | — |
| Material | Cotton, Natural Fabric | Cotton, Natural Fabric | — | — | Cotton, Natural Fabric |
| Lifestage | Adult | Adult | Adult | Adult | Adult |
---
Questions & Answers
28 Customer Questions
---
Will this work for a pressure sore on elbow, is it padded?
Answer by • Jul 19, 2017
This sleeve is not padded. It is made from a non-toxic, breathable, 4-way stretch fabric that is machine washable for reuse.
---
Should you or could you use ointment, gause and wrap bandage , over a sore, underneath the leg sleeve first? I'm desperate, I have tried everything out there, to prevent my dog's obsessive licking her sores on front lower leg.
Answer by • Apr 28, 2020
This is suitable to cover salves, protect hot spots, wounds, bandages, skin conditions and more.
---
Will this sleeve work for a rear leg as well?
Answer by • Mar 19, 2021
The recovery sleeve is designed for the front legs and not for the hind legs.
---
My dog's chest circumference is 29 - 31 inches which would indicate she would need the large size. however, the leg length for the large size is 13.8 inches and this is too long for my dog. her leg length seems to be closer to 10 inches. can the leg length be modified (cut)? Please advise.
Answer by • Feb 20, 2018
It is not recommended to cut the sleeve because it may fray. The sleeve may be folded or scrunched if needed.
---
---
---
By Onslow on Aug 15, 2022
Fabric not durable.
I used this for my cat who has a tumor just above his paw that has to be bandaged. I tried several different cones to keep him from tearing the bandage off but they were not useful. I finally ordered this sleeve and the cat was happier and not able to get it off, however after several days he managed to tear a hole in it and get to his bandage. So I guess I will be ordering more of these until I can find something else. I wish the fabric was more durable.
---
By Shassy on Jul 23, 2022
Sanity saver!
My dog had a wound on her leg and when the stitches were removed she licked it nonstop and it was getting inflamed. Vet sent her home with a huge cone collar and she was supposed to keep that on for as long as it took. That was not happening. I ordered the first one and it came in two days and really seemed comfortable on her. It kept her from licking the wound and enabled me to stop monitoring her constantly. The bad part is that it got stretched completely out of shape after about ten days. My dog goes outside a lot and used it fairly hard. I ordered a second one that came yesterday and it is doing a good job. I'm hoping the wound heals before I have to get a third. It is expensive to have to do that but wouldn't come close to the vet bill for a return visit for an infected wound.
---
By azroamer on Jul 21, 2022
Good option
My schnauzer had a nodule that had to be drained on his lower leg and he is a compulsive licker and the collar wouldn't stop him from reaching it. We ended up trying this to cover it but let the spot breathe. It worked on the higher spot but didn't come down low enough on top of paw to stop him, so had to put a baby sock over it too. Its excellent otherwise. I wish it had a sock like bottom that covered his paw that you could use or foldup. Anyway its still an excellent alternative and has lots of adjustments for his body. soft fabric, suitical has lots of products that work! whenever we can avoid the cone we are happy!
---
By Rich on Jul 12, 2022
Recovery Sleeve
I ordered one for my German Shepherd dog because he had a dewclaw removed that was damaged. The sleeve did not fit as pictured, it was awkward to say the least and slides to the back making it uncomfortable for my dog. The sleeve itself is a perfect fit but the harness design to keep it on properly was done very poorly. I gave it 3 stars because the concept is good, but the actual product is not.
---
By MomofBlazeandTimber on Jun 29, 2022
GreatInvention
Who would have thought an XXL would be too big? That size would fit a great dane, mastiff, St. Bernard ... but we only needed a large for our 110lb English Cream Golden. Great find for my Golden who had a lumpectomy on his right leg. Keeps it covered and clean. Keeps him from being able to scratch it open, but he gets it wet because he licks it. Good thing to have two, so we have one to switch out when we wash it.
---
By OCMD on Jun 4, 2022
Great product and service!
This order was made, processed and shipped all on the same day. I received it the very next day — free shipping! I have the canine Houdini of removing hotspot coverings — this is the first dog I've ever had who just won't leave her hotspot covered. She has managed to get out of every bit of pet wrap as well as every bandage, medi boot, sock and any other creation I've come up with. The hotspot has progressively gotten worse, and I felt that I would have no option but to make her wear a cone for what would now be an extended period of time. As a last ditch effort, I tried this. I should have just bought this from the beginning. It's well made and seems comfortable for her to wear. So far, she hasn't found a way out. I'm hoping this will finally be the answer!
---
By IGMom on Jun 23, 2022
Awesome delivery time!
Our Italian Greyhound was bitten by a rattlesnake and after all of the trauma, wearing the cone was about the final straw. When I found this, I couldn't believe it but wanted it yesterday! Chewy did almost that, having it to me in 1 day! It's been a Godsend to Tess as she is recovering from the necrosis the venom caused. Thanks Chewy for your awesome customer service! And the product is great too! Soft and comfy, yet protective!
---
By John on Jun 2, 2022
Nice....if it actually worked
I bought this because our Golden Retriever has a lick granuloma on his lower left leg that he just won't leave alone. The blow up donut pillows don't work for something that accessible, and we really hate have to use a large "Cone of Shame." This recovery sleeve seemed like a good option as it is billed as being extremely tough. Wrong. It took him less than 24 hours to tear big holes in the sleeve rendering it useless. Back to the Cone we have had to go but now we are out $40 on a device that is useless.
---
By Dogtreats on Jun 26, 2022
Great brace
My havanese missed jumping off my bed onto a settee below and pulled her right leg. She never did this b4 and is almost 15 yo. Vet liked the brace to wear doing the day but in her crate at night not on. She duid great after 2 weeks and is fine now.
---
By BorderMom on Jul 15, 2022
Great product!
I use this to prevent my dog from licking hot spots on his front leg. It is a great deterrent and he doesn't mind it at all. Doesn't seem to overheat him either.
---