Tetra Whisper Internal Aquarium Power Filter with BioScrubber
Frequently Bought Together
---
About This Item
Features a submersible filter with a quiet, convenient, 3-stage filtration system—chemical, biological and mechanical.
Dual-sided Bio-Bag mesh that catches debris and fish waste with an activated carbon that absorbs odors and discoloration.
The bio-scrubber's solid back allows the water to flow evenly over the bacteria-rich bristles for best performance.
Anti-clog design for convenient and easy maintenance also provided by the bio-scrubber.
5-10 gallon uses medium Whisper Bio-Bag Cartridges; 10-30 and 20-40 gallon uses large Whisper Bio-Bag Cartridges.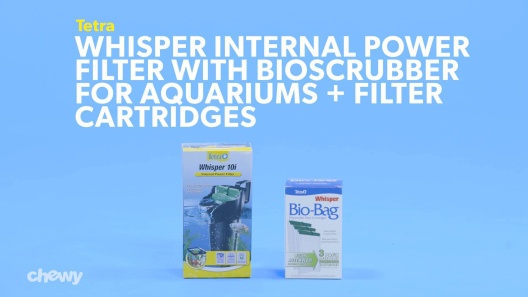 Learn More About Tetra From Our Team of Experts
---
Compare Similar Items
| | | | | | |
| --- | --- | --- | --- | --- | --- |
| | | | | | |
| Customer Rating | | | | | |
| Price | | | | | |
| Fish Type | Tropical Freshwater, Marine Fish | Tropical Freshwater, Marine Fish | Tropical Freshwater, Betta, Cichlid, Goldfish | Tropical Freshwater, Betta, Cichlid, Goldfish, Marine Fish | Tropical Freshwater |
| Aquarium Type | Freshwater, Saltwater | Freshwater, Saltwater | Freshwater, Saltwater | Freshwater, Saltwater | Freshwater, Saltwater |
| Material | Mesh, Synthetic Fabric | Plastic | Plastic | Plastic | Plastic |
---
Questions & Answers
61 Customer Questions
---
What is the minimum amount of water (20 Gallon long tank) in inches needed for this filter to work properly? it is for a turtle
Answer by • Jan 12, 2018
To use this product you will need approximately 6-7 inches of water.
---
Would you recommend a small 5-10 or a 10-20 for a 10 gallon tank?
Answer by • Aug 07, 2019
To determine which filter is best for a 10 gallon tank, it's best to consider what type of fish is in the aquarium. For example, if you may have a betta fish then the smaller filter may be more appropriate however, if you may have other species or multiple fish in the tank, then the larger 10-20 may be better.
---
Can i use 2 filters for a 55 gal tank?
Answer by • Jan 23, 2018
You can certainly use 2 filters. Just ensure it's paired close enough to 55 gallons.
---
stupid question. does it also put some oxygen in the water.
Answer by • Jul 21, 2019
Filters move water from the top to the bottom of the tank, thus distributing oxygen throughout the aquarium.
---
---
---
By Runelocks on Jun 29, 2022
Useful but suddenly stopped working
This is great for keeping my turtle tank clean unfortunately it just stopped working on me one day. I've never been able to figure out why or get it working again since so I just have to purchase another one before the tank starts to reek. : (
---
By Kaycee on Feb 27, 2022
I am about to order again for new tank!
This is a great filter. I use it in my turtle tank. However there is one thing I do not like about it. That is the hook (Idk what to call it) that goes down into the filter that you use to attach to the side of your tank is not the greatest. Only in regards to the turtles though. That's only because they were big enough and strong enough to knock it around and it came loose causing it to fall inside the tank. I would suggest using this for juveniles or hatchling turtles. In regards to fish I would suggest using it for bigger fish due to how powerful the filter can be.
---
By sage on Mar 21, 2022
I'm tired of buying new filters!
I have paid for 5 different brands of filters for ONE fish tank in the last 2 years, I seriously don't understand what's wrong with them! They just stop working and I can't figure out why!
---
By Cleaner on Feb 13, 2022
Powerful and efficient
After my smaller filter died this one was quickly removing the 3 day unfiltered buildup in my 10 gal tank as soon as I plugged it in. The water looked pristine in just a couple of hours. Great filter for a small tank--very powerful.
---
By DBig on Apr 14, 2022
Dead in less than 3 months
Was happy until this morning, it was dead. I clean it and change the filter weekly. Died before I had it 3 months.
---
By AmyC on Jan 21, 2022
I'm pleased
I'm pleased with this product, it works well my fishy buddies our happy with it too. Out of all filters I have bought this one is the only one that has not stopped working or fried out on me, it's got a good suction to it an sucks up all the filth. I recommend this product for anyone who has fishy buddies.
---
By Angel on Feb 19, 2022
Does what it says
It's a bit of a powerful stream but for bigger fish it's just fine they can handle it. It does a good job as well. It might push around fish with larger tails and fins that can't swim well.
---
By Beth on Apr 5, 2022
Don't recommend
I bought an aquarium kit that came with this pump. It worked for about 60 seconds then died.
---
By Oldfloster on Mar 13, 2022
WONDERFUL PRODUCT!
Wonderful product! This Tetra whisper internal aquarium power filter is very quiet and does it's job!
---
By Frankenfish on Jan 8, 2022
Best filer ever!
This filter has worked better than any I have EVER purchased. 2 giant goldfish in a 30 gallon tank. This filter is reliable and works well I have had fish for 30 years and this impressed me! Thank you
---