Tetra Whisper Internal Aquarium Power Filter with BioScrubber
Frequently Bought Together
---
About This Item
Features a submersible filter with a quiet, convenient, 3-stage filtration system—chemical, biological and mechanical.
Dual-sided Bio-Bag mesh that catches debris and fish waste with an activated carbon that absorbs odors and discoloration.
The bio-scrubber's solid back allows the water to flow evenly over the bacteria-rich bristles for best performance.
Anti-clog design for convenient and easy maintenance also provided by the bio-scrubber.
5-10 gallon uses medium Whisper Bio-Bag Cartridges; 10-30 and 20-40 gallon uses large Whisper Bio-Bag Cartridges.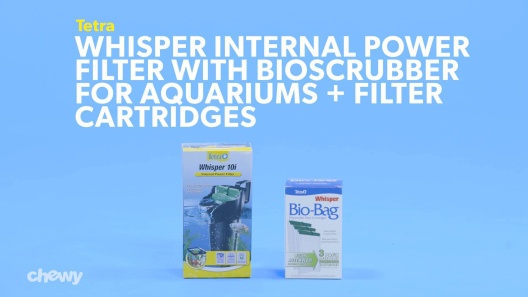 Learn More About Tetra From Our Team of Experts
---
Compare Similar Items
| | | | | | |
| --- | --- | --- | --- | --- | --- |
| | | | | | |
| Customer Rating | | | | | |
| Price | | | | | |
| Fish Type | Tropical Freshwater, Marine Fish | Tropical Freshwater, Betta, Cichlid, Goldfish, Marine Fish | Tropical Freshwater, Marine Fish | Tropical Freshwater, Marine Fish | Tropical Freshwater, Betta, Cichlid, Goldfish |
| Aquarium Type | Freshwater, Saltwater | Freshwater, Saltwater | Freshwater, Saltwater | Freshwater, Saltwater | Freshwater, Saltwater |
| Material | Mesh, Synthetic Fabric | Plastic | Plastic | Plastic | Plastic |
---
Questions & Answers
62 Customer Questions
---
What is the minimum amount of water (20 Gallon long tank) in inches needed for this filter to work properly? it is for a turtle
Answer by • Jan 12, 2018
To use this product you will need approximately 6-7 inches of water.
---
Would you recommend a small 5-10 or a 10-20 for a 10 gallon tank?
Answer by • Aug 07, 2019
To determine which filter is best for a 10 gallon tank, it's best to consider what type of fish is in the aquarium. For example, if you may have a betta fish then the smaller filter may be more appropriate however, if you may have other species or multiple fish in the tank, then the larger 10-20 may be better.
---
Can i use 2 filters for a 55 gal tank?
Answer by • Jan 23, 2018
You can certainly use 2 filters. Just ensure it's paired close enough to 55 gallons.
---
stupid question. does it also put some oxygen in the water.
Answer by • Jul 21, 2019
Filters move water from the top to the bottom of the tank, thus distributing oxygen throughout the aquarium.
---
---
---
By TimeBanditFan22 on Sep 28, 2022
Great Filter
I have three cats, and was looking for a filter. That could not be in the way. Of allowing for a tank cover. For the top. When I had goldfish as pets. At age 11. In a 20 gallon aquarium. I had one of those whisper-quiet filters that hung on the side of the tank. It was a great filter. This one is whisper quiet as well. It seems to be reliable in getting the tank clean. It sucks up whatever leftover flakes my two goldfish don't eat. My cats have said hello to the fish. Sitting by the tank. But, never have really bothered them. I'm glad to have a filter. That can allow for a tank cover. It also is cleaning up the beneficial bacteria. It's a slow process. But, I think it's getting the job done on that too. With how powerful it is. Getting the leftover flakes sucked up.
---
By Alden on Oct 4, 2022
Complete Trash
This thing broke within a month of using it. I would never recommend anyone to buy this trash. When I first received it, the box was broken meaning someone opened it before, then I noticed something is the back of the filter was broken but I ignored it since it wasn't important. Please do not waste your money on this garbage.
---
By Jessica on Sep 28, 2022
Stopped working
I had it in my freshly cleaned tank for less than a week and it stopped working. There is a 2 year warranty but you pay for shipping so it wouldn't be worth the money. :(
---
By Muffin on Jul 14, 2022
Works better than expected
I am using this in a tall 5G and must say that it works better than I expected it to (compared to the usual teeny filters I use for small tanks). That being said, it is quite large and clunky. It takes up a lot of space in the aquarium. Not great if you have an aesthetic you're going for. On the good side, it creates great water movement, has an adjustable height, and uses high quality filtration, which I feel is uncommon in filters for small tanks.
---
By addie on Sep 11, 2022
Came back to write review
I came back 2 years later to say this filter is still old reliable. Followed the care instructions and it's worked wonders for my 20 gallon tall. Would recommend!
---
By Juan on Nov 1, 2022
Aquarium filter
This filters works great in my turtle tank. I have two in a 120 gallon tank
---
By Boo89 on Oct 21, 2022
Too noisy
The item is too noisy. It makes a lot of noise in the middle of the night.
---
By Runelocks on Jun 29, 2022
Useful but suddenly stopped working
This is great for keeping my turtle tank clean unfortunately it just stopped working on me one day. I've never been able to figure out why or get it working again since so I just have to purchase another one before the tank starts to reek. : (
---
By NotHappypp on Sep 28, 2022
Filter is horrible
Sucks, that is all. Cannot think of one positive thing to say, just sucks.0
---
By javonni on Jul 26, 2022
Broke quick
I needed to clean my turtle tank and i cleaned the filter as well. I put it back in the water and it stopped working.
---