Thornell Cat Odor-Off Concentrate, 16-oz bottle
Temporarily Out of Stock
Get notified when this item is back in stock.
Compare Similar Items
| | | | | | |
| --- | --- | --- | --- | --- | --- |
| | | | | | |
| Customer Rating | | | | | |
| Price | | | | | |
| Autoship | — | — | — | — | — |
| Top Ingredients | N/A | N/A | N/A | N/A | Water, Proprietary Essential Oil Blend and Preservatives. |
| Cleaner Type | Deodorizer | Deodorizer | Deodorizer | Deodorizer | Deodorizer |
| Cleaner Usage | Fabric, Kennels, Hard Surface, Carpet | Furniture/Upholstery, Bedding, Carpet | Litter Box, Kennels, Fabric, Carpet, Hard Surface | Furniture/Upholstery, Bedding, Carpet | Furniture/Upholstery, Bedding, Carpet |
| Lifestage | Adult | Adult | Adult | Adult | Adult |
| Health Feature | — | N/A | N/A | N/A | N/A |
---
About This Item
Perfect for removing urine and other hard-to-clean odors from fabrics, carpets, litter boxes and more!
Concentrated formula can be added to regular cleaning regimen to boost odor removal.
Non-enzyme formula quickly and effectively stops foul odors at the source without masking smells.
Made in the USA with pet-friendly ingredients, so it's safe to use on any surface or directly on animals.
Excellent odor eliminating solution for clinics, shelters, groomers, kennels and homes with multiple pets.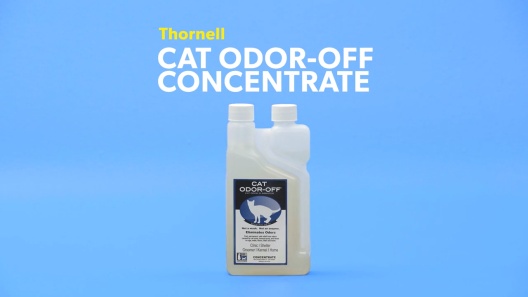 Learn More About Thornell From Our Team of Experts
---
---
Questions & Answers
12 Customer Questions
---
There is a stray spraying my shrubs. Can you use it on outdoor shrubs?
Answer by • May 09, 2019
This product does not contain enzymes, bacteria, nor oxidizers. It's nontoxic, nonirritating, biodegradable, nonflammable, and safe for use on any surface.
---
Can you put this in your washing machine when doing the laundry?
Answer by • May 04, 2019
This is not designed to be used in the laundry.
---
I have 12 ferrets and 1 cat. Would this or the regular kennel light scent formula be better? I also have sensitivities to strong perfumes...
Answer by • Jun 18, 2019
This product is formulated with perfume if you're sensitivities smells it's recommended to use the light scent formula.
---
Is this safe to be used near rabbits or for cleaning their cages?
Answer by • Apr 25, 2019
While this product has not been tested around rabbits, it's recommended to remove them from the room while using this product.
---
---
---
By Caty on May 4, 2022
Worth keeping
Love the product, so grateful to find it here Box was soaked and bottle levels lower Compensation?
---
By siftingliners on Sep 12, 2021
Surprise...Works for ants too!
I had an incontinant elderly cat that I needed to clean up after and this product worked. I made the concentrate into a spray bottle and used it to clean up after my 20 year old cat. It worked great for getting rid of the smell and had a tolerable fragrance. Other odor control products have offended my nostrils. Last week I woke up to an army of ants on my counter and grabbed the spray bottle that I had this product in as it was close by and sprayed everywhere I saw those nasty little beasts. I was pleasantly surprised that they have not returned since. I know that's not what this product was designed for, but I'll definately use it again for ants at my house.
---
By Babesey on Jul 14, 2021
Best CoverUp and smells WONDERFUL
I not only appreciate that this product removes the urine odor from my carpeting, it also smells really nice.
---
By CassieCat on Jan 19, 2021
Cat Odor Off Love It
This was recommended to me some time ago and I didn't know where to buy it. Now since I've found it I'll never be without it again. This stuff is fantastic! It is sooo much better than what it out there on the market today. It gets rid of the cat odors, in carpets, on the sofa, on the outside where those pesky outdoor cats that come around leave their mark. No more smell. And because it is measured, it has lasted me over 2 yrs. Now that is a savings.
---
By KrazyKatLady on Oct 11, 2020
Awesome product!
I have 5 adult cats and have had a couple litters of foster kittens the past few months. My adult have had issues urinating inappropriately and this stuff is great for cleaning up those messes and keeping the cats away! I've cleaned my entire house (counters, floors, furniture and litter boxes) 3 times already and have only used half the bottle!
---
By Animal on Feb 15, 2021
A Must Have
This has the best scent and cat urine still is gone!
---
By curious on Feb 1, 2020
Have used for over 15 years- it works
I have used this since a recommendation from my holistic vet circa 2002 as this is what they used in their office. It saved my housemate's leather couch when my older cat started using it instead of an over full litterbox.(my bad). I followed directions and it worked! He said the couch smelled better than before as well. I have continued to use Thornell Cat Odor Off over the years with now multiple cats in many settings and situations and it absolutely works- I rely on it. I use it on outside-the- box urine, spray, vomit, to clean litter boxes and travel crates, and launder cat beds and fabrics which got peed on. Using has helped me save rental deposits and leave a hotel room with no lingering cat smell. By the way, the company has white paper full of research and testing documenting how the product works. This is not just a me- too product. It seems other brands have paid a lot for retail space in the major retailers and so I could not find it in stores, but the professionals had it- which says something about effectiveness to me. For years I mail ordered it directly from the company - until now that it is on chewy - at a better price with faster free shipping! I am happy about that. I recommend getting both the soaker bottle and the big concentrate bottle so you can refill the soaker bottle when you run out. I also just want to say that: Just because one product dominates big box retail pet stores shelves does not mean it is better; it only means they pay retailers a lot of money for shelf space, or the company is aggressive in its marketing.
---
By Sadie on Nov 28, 2019
Love this product!
This is a great product for cleaning up cat messes. Works on hard surfaces, wood, tile grout, but I also use it in the washer and even my carpet shampooer. It gets rid of the cat pee smell better than any other product I've used. It doesn't just mask odors, like some other products do. And it smells great!!!
---
By Prairierose on Sep 23, 2019
This really works
I had tried to bring in a stray cat, but found she hated indoors and had peed all over the spare bedroom, so I tried another name brand product first, and the cat urine odor, and the scent of the odor remover was there still.This product I found really does work, and it works great! The scent is so good, I wish I had this scent all over the house. It has a very fresh pleasant scent. The odor in the bedroom is now gone. Being it was a whole room, I called the company and got a real person answering the phone right away and was helpful. I made this solution in a water bucket with the required water,and formula, and poured into our hoover steam cleaner, and only put down this formula. I did not suck it up, but rather air dried and used a dehumidifier. This product I highly recommend
---
By OctaviaLikesIt on Dec 6, 2019
Smells like Ginger
Love this stuff. Amazing odor elimination. When I walk past the washing machine the whole room has the fragrance of ginger. It is a nice breath of fresh air after cat pee!
---