Tidy Cats Instant Action Unscented Non-Clumping Clay Cat Litter
---
---
Try This Similar Item By Chewy
---
---
About This Item
Virtually maintenance-free for up to a week.
Designed to be low-tracking.
Non-clumping for easy litter box maintenance.
Formulated for multiple-cat households.
Moisture-activated odor-control system.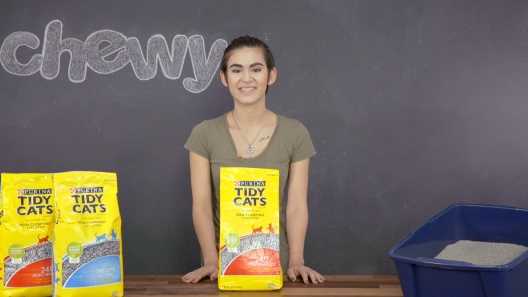 Learn More About Tidy Cats From Our Team of Experts
---
Compare Similar Items
| | | | | |
| --- | --- | --- | --- | --- |
| | | | | |
| Customer Rating | | | | |
| Price | | | | |
| Litter Feature | Non-Clumping, Odor Control, Unscented, Dust Free, Low Tracking | Non-Clumping, Scented, Odor Control, Dust Free | Odor Control, Non-Clumping, Scented | Multi-Cat |
| Packaging Type | Bag | Bag | Bag | Bag |
| Lifestage | Adult | Adult | Adult | — |
| Top Ingredients | — | — | — | Mordenite Zeolite, A Natural Mineral And Fragrance. |
---
Questions & Answers
12 Customer Questions
---
Is it flushable?
Answer by • Jan 09, 2018
This litter is not flushable. Please do not flush cat litter in toilets or dispose of it outdoors in gutter or storm drains.
---
I have one male cat, that pees a lot. Clumping litter sticks to his paws.....will this be a better option?
Answer by • Jul 05, 2018
This litter is designed to be low-tracking and should work better for your cat's paws.
---
is this unscented?
Answer by • Nov 22, 2018
This litter is unscented.
---
What is the difference between Purina non-clumping performance and Purina non-clumping instant action? Also, is the consistency (size of annuals) the same?
Answer by • Jan 02, 2020
Both Tidy Cats formulas have deodorizing systems meant to leave your cats litter smelling fresh and clean, and have similar consistencies. The Tidy Cats Non-Clumping Instant Action Immediate Odor Control Cat Litter is designed to trap odors quickly, whereas the Tidy Cats Non-Clumping 24/7 Performance Long Lasting Odor Control Cat Litter is designed to feature an extended release deodorizing system.
---
---
---
By Susie on Aug 6, 2022
My cats like this litter
I had tried clumping cat litter and one of my cats developed sore paws from it so I bought this type of Tidy Cats cat litter from chewy.com. They seem to really like it a lot and no more "accidents" outside of the litter boxes. I don't notice any scent from it nor is it overly dusty. I like the 20 lb. bag option as I'm able to life this size without putting too much strain on my back. It is very convenient having this litter delivered to my house. It prevents accidentally running out. I will continue to buy this specific type of cat litter. Thank you chewy.com!
---
By Rosey on Jul 8, 2022
Great price, but mixed quality control!
I found this litter recently after getting a more expensive brand that got stuck to my cats paws. I wanted unscented and non clumping, it lived up to that, literally no smell and it didn't hard clump, after a few minutes you couldn't smell that they "eliminated". HOWEVER: The last two times, the litter has a smell of printed paper and it's big, heavy rocks, my kittens go "number two" on top of the litter and don't cover it. Would you use your bare hands and dig through hard rocks and heavy dirt to cover your waste? I doubt it. Looking for an alternative!
---
By siouxsie on Jun 28, 2022
Autoship doesn't cancel correctly!
I canceled my cat litter shipments back in March from AUTOSHIP. I'm still getting them, and being charged. There's a clear drop of shipments from March to MAY, but now I have May and June both shipped to me, but I had canceled autoship. The "autoship #2" was still in there, with a 6 weeks delay, but I got the same shipment back to back months May and June - and CHARGE. I went in AGAIN today, and CANCELED the full shipment. This time, I'm saving proof of my cancelation. I want to ship these BACK, and get my money back. I like CHEWY, but I don't want to use autoship ever again.
---
By Russcat on Aug 11, 2022
Works well!
I was recently in the market for a new cat liter since crystal liter is so ridiculously expensive! This works just as well for half the cost, in fact it worked better at controlling odors. I will be sticking with Tidy cats.
---
By Nickname on Jul 28, 2022
Basic is Best!
I know clumping litter is popular, but it is not good for the environment. I prefer this litter. Both for my cats and the environment. I can use it for a multitude of tasks not all related to kitties. Count on Chewy to have the very best!
---
By KittycatMomma on May 26, 2022
BEST LITTER
I've been using Tidy Cats for 18 years for my cat, who is 18-1/2. There is never an odor, and it clumps quickly for easier removal. The first day my kitten experienced this litter, she jumped in the litter box and began playing! She did not like the litter her breeder recommended. So we've stuck with it all these years, and now the easier handled bags are so much easier for me to lift! Good job, Purina.
---
By Yulia on Jun 20, 2022
SCENTED!!!
I needed UNscented litter for kittens, now I'm stuck with this huge bag of litter that I cannot use because it's scented. I don't know why it says that this litter is unscented, because it has a very VERY strong scent.
---
By tham153 on Jul 3, 2022
Litter Serves Cats Promptly
The house has about a dozen cats, so demands on litter are real. I ordered three 20 pound bags (no intention to carry a 60 pound bagn up stairs), andn theynwere delivered THE NEXT DAY!
---
By Barbara on May 28, 2022
Chewy gets my Vote!
I've never had a problem that Chewy did not make every effort to correct. Delivery is very fast and usually accurate. Excellent company to deal with. Telephone service is also great. I don't make a habit of referring businesses, but this one is worth sharing. Thank you, Chewy.
---
By SUZIE on May 7, 2022
Very disappointed, but my own fault
Not sure why I thought this would work for my guy who pees a lot. Can't clean the box without emptying everything and he requires a very large step in box. My error. The clay smell is very high when wet.....and I got two bags since price was so good. I'll keep second bag for other purposes. Buying clumping now.
---